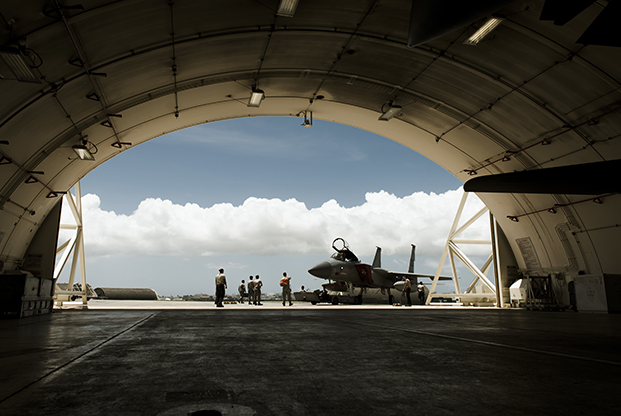 Maintainers from the 18th Aircraft Maintenance Squadron tow an F-15C from the flightline into a protective aircraft shelter during preparation for Typhoon Maria on July 9, 2018, at Kadena AB, Japan. Three House Armed Services Committee Democrats criticized a recent DOD report for not evaluating climate change-related risks to international installations. Air Force photo by SrA. Omari Bernard.
A trio of House Armed Services Committee Democrats wants the Defense Department to revise its January 2019 climate change report.
In a Jan. 25 letter to Acting Secretary of Defense Patrick Shanahan, HASC Chairman Adam Smith (D-Wash.); Rep. James Langevin (D-R.I.), chair of the intelligence, emerging threats and capabilities subcommittee; and readiness subcommittee Chairman Rep. John Garamendi (D-Calif.) contend the original report omitted a 2018 National Defense Authorization Act-mandated list of "the top 10 military installations that are most vulnerable to climate change over the next 20 years," along with details of and "specific mitigation measures" that can be taken to make sure those installations remain operationally viable and resilient. They also want cost projections for those recommended steps.
The legislators called out DOD for leaving Marine Corps bases and overseas installations out of its analysis without justifying the omissions. The only international installations that were evaluated for climate-related vulnerabilities, both of which made the Navy's list of "mission assurance priority installations," are located in the US territory of Guam—Naval Base Guam and Andersen Air Force Base.
In a Jan. 30 press release shared with Air Force Magazine, Smith said the omission "demonstrates a continued unwillingness to seriously recognize and address the threat that climate change poses to our national security and military readiness."
"The Department of Defense must develop concrete, executable plans to address the national security threats presented by climate change," Smith said. "As drafted, this report fails to do that."
In the same release, Langevin said the existing report "does not reflect the magnitude of the threat that climate change" poses to US military installations the world over, and Garamendi said he's worried about how climate change may affect readiness.