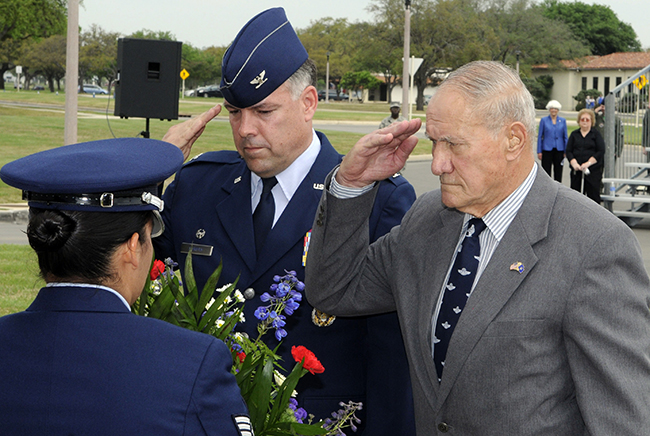 Retired Col. William Goldfein?, right, along with ?S??Sgt. Christina Blake, Randolph Air Force Base honor guard, and Col. Richard Murphy, 12th Flying Wing commander, lay a wreath at the Missing Man Monument at JBSA-?Randolph, Texas,? on March 25, 2011. ? Air Force photo by Don Lindsey.
Retired Col. William Goldfein, father of Air Force Chief of Staff Gen. David Goldfein, passed away quietly after a long illness June 18. He was 87.
A 33-year Air Force veteran and father of three Air Force officers, Goldfein enlisted in the Naval Reserve in 1949 after graduating high school, but after flying once in a Navy trainer, cast his eyes skyward.
"I was so impressed with flying that I knew I had to become a pilot," he said in an interview years later. The Navy required two years of college to fly at the time, but the Air Force needed pilots badly and only required a High School diploma. He transferred to the Air Force, spent two years as a technician working with guided missiles, then went to flight school. In November 1953 he earned his commission and his wings.
Throughout his career, Goldfein flew F-16s, F-4s, RF-101s, RF-80s, RF-84Fs, and RF-86s. "There wasn't an airplane that I didn't enjoy, and fall in love with," he recalled later in an extensive video interview, adding that he, "attempted to fly [each] to its limits—and mine."
He completed 216 missions in Southeast Asia as part of the 555th Fighter Squadron, the Triple Nickel. With some 30 kills during the war, Goldfein said, "We jokingly used to say it was the largest distributor of MiG parts in Southeast Asia."
He met his wife, Mary, then a first grade teacher at Yakota AB, Japan, and the two were engaged two months later.
An active member of the Red River Valley Pilots Association, which raised scholarship funds for the children of downed pilots and prisoners of war, Goldfein remained close to his former Air Force colleagues his whole life; all three of his sons followed him in the Air Force, all three attended the Air Force Academy.
"He had a tremendous sense of humor," recalled fellow RRVPA member Dave Brog. "A good friend, great person."
This story has been updated to correct retired Col. William Goldfein's age. He was 87.