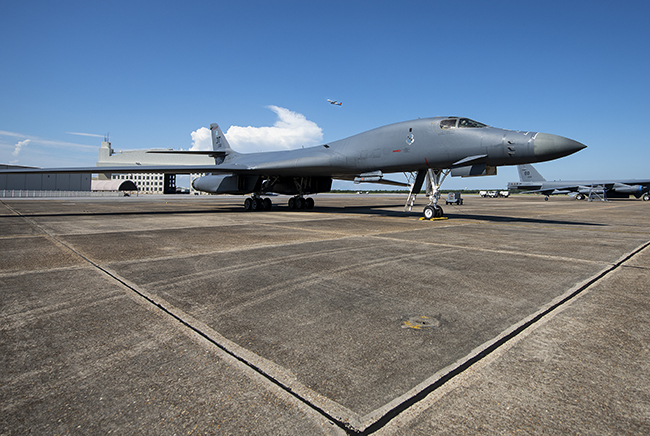 Preflight checks are performed on a B-1 Lancer prior to take off Aug. 1, 2019, at Eglin AFB, Fla. The 53rd Wing bomber was flown from Dyess AFB, Texas, to allow wing personnel an opportunity to see one of their geographically separated aircraft up close. Air Force photo by Samuel King Jr.
Bombers pose a unique readiness concern compared to the rest of the Air Force's fleet: it's the only part of the US air inventory that other services or countries can't backfill in times of need, Chief of Staff Gen. David Goldfein told Air Force Magazine in a recent interview. Still, the service isn't worried that its nearly 60-year-old B-52, shouldering more of the load as the B-1 recovers, will face the same stresses as the other bomber airframes.
"Unlike other portfolios, I can't go to anyone to help me out," Goldfein said. "There's not a single ally, nor is there a single joint teammate that has bombers. In the [tactical air] portfolio, I've got NATO. Other countries have tankers, other countries have AWACS. I don't have any other countries that have bombers. We're it. We're the only game in town."
With the B-1 fleet seriously run down in depot, and the Lancer's mission-capable rate falling into the single digits, the Air Force has burdened its B-52s while considering what the future bomber fleet should offer.
B-52 squadrons are flying combat missions in the Middle East and training missions throughout Europe, are deployed for the continuous bomber presence in the Pacific, and are flying regular training at home while the B-1 recuperates.
"The B-52 is designed for the regime we're using it in," Goldfein said.
B-52s are subsonic and built for long flights. Early on, B-52s flew constant alert missions for Strategic Air Command, staying aloft for missions like Operation Chrome Dome.
B-1s and B-2s are expected to retire in the next few decades as Stratofortresses, approaching 100 years old, keep up the heavy lifting. The service plans to fund bomber improvements like new engines and radars, but the B-1's issues are prompting the Air Force to determine if it would be better off using that money to buy more B-21s.
Goldfein agrees with recent studies by the Center for Strategic and Budgetary Assessments and MITRE Corp., in addition to the service's own "The Air Force We Need," which argue the Air Force needs more bombers. The service and its chief believe they need at least 175 bombers, including 100 future B-21s from Northrop Grumman at minimum. Goldfein said 220 bombers or more would more effectively accomplish long-range strike, deterrence, and other missions.
The former Combined Forces Air Component commander in the Middle East—said he flew a Lancer mission every Christmas Day he spent in theater—is quick to point out that he is "one of the guilty guys" who heavily relied on the B-1.
Goldfein and Air Force Global Strike Command boss Gen. Timothy Ray have both highlighted the heavy use of B-1s in the Global War on Terror, largely flying missions outside of what they were designed to do. B-1s are meant to fly with their wings back, at supersonic speeds and low altitudes. But in the Middle East—especially in Afghanistan—B-1s are filled with heavy bombs, flown long distances to their target areas, and used wings-forward as weapons trucks to provide air support for ground troops.
"You think it wouldn't be a demanding environment, but it turns out it puts stresses on the airplane you don't anticipate," Goldfein said.
Demand for the B-1 led to excessive flight hours and unexpected, significant structural issues like airframe stress fractures, Goldfein said.
Still, the Air Force doesn't regret heavy use of the bomber because it was the best asset what the military needed in recent years.
"But now we're having to pay the piper," Goldfein said.