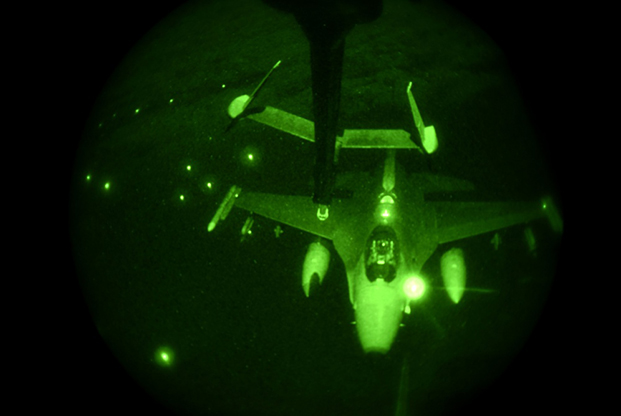 A USAF F-16 assigned to the 36th Fighter Squadron at Osan AB, South Korea?, positions to receive fuel midair during a training flight over South Korea on Nov. 19. Air Force photo by SrA. Kelsey Tucker.
Global aerospace and defense industry spending is expected to increase again in 2019 due to heightened tensions around the world and geopolitical risks, especially in Korea and the Middle East, according to a new report from Deloitte.
As technology advances, countries are paying more attention to cybersecurity, which is "expected to play a vital role in the near term," according to the report. Another growth area will be in space, as the US and other spacefaring nations look to protect satellites that are instrumental to virtually all military operations.
Though the United States leads aerospace and defense industry growth, other countries also are investing heavily in defense.
"China's 2018 defense budget grew 8.1 percent year over year to US $175 billion, which is the largest increase in the past three years," the report states. China, which is second only to the United States in defense spending, is expected to grow its defense spending by 9 to 10 percent "in the near future."
NATO countries also are bolstering defense, as US leaders continue to push Alliance members to meet the goal of spending 2 percent of gross domestic product on defense. Over the next six years, France is slated to boost defense spending by 40 percent in an effort to meet the 2 percent goal by 2025.
Japan's defense budget also was up 2.1 percent to $47.6 billion US dollars in 2018-19. Though that number is still below 1 percent of GDP, the increased spending marked an "all-time high and the seventh straight annual increase," according to the report.
The report also noted that seven of the top 10 countries with the highest defense spending as a percentage of GDP are in the Middle East. They are: Oman, Saudi Arabia, Kuwait, Jordan, Israel, Lebanon, and Bahrain.