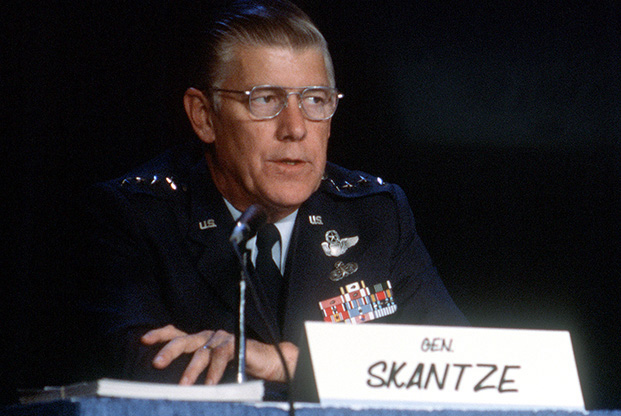 USAF Gen. Lawrence A. Skantze speaks during a symposium held during the Air Force Association's Gathering of Eagles, ?April 27, 1986. DOD photo via National Archives.
Gen. Lawrence Skantze, who headed up the E-3A AWACS development program and oversaw the buildup of Air Force stealth technology, died June 18, at age 89.
Skantze enlisted in the Navy in 1946, serving as a radio operator until his 1948 appointment to the US Naval Academy. Upon graduation, he accepted a commission in the Air Force. He won his wings in 1953 and flew the B-26 bomber, taking a first assignment in Korea after the end of hostilities there. In 1959 he earned his master's degree in nuclear engineering through the Air Force Institute of Technology, after which he worked on a commission exploring the feasibility of atomic-powered airplanes. Following Armed Forces Staff College, he was assigned to Air Force Systems Command, where he headed system engineering and advanced planning for the Manned Orbiting Laboratory, USAF's never-launched space station. Later he ran the AGM-69A Short-Range Attack Missile nuclear weapon program.
In June, 1973, Skantze took over the E-3A AWACS program, shortly after its first flight. He directed its development through initial operational capability and frequently testified before Congress to explain the politically beleaguered system's military worth. In 1977, he became deputy chief of staff of AFSC, taking over Aeronautical Systems Division two years later. In those jobs he oversaw prototype projects for stealth technology. He continued that work in his next post, as deputy chief of staff for research, development, and acquisition. In that job he presided over all USAF technology development and fielding programs, which at that time centered on the Senior Trend program (the F-117), the Advanced Technology Bomber (B-2), introduction of the F-16, and the restart of the B-1 bomber program.
Skantze received his fourth star in 1983 and served as vice chief of staff until 1984, when he became head of AFSC, the position he held until his retirement in July, 1987. On his watch at AFSC, he supervised the Air Force's share of the 1980s US military reset, which included the buildup of the F-117 fleet to near-wing strength; the redesign and production launch of the B-2; production of the F-15, F-15E, and F-16 fighters; and launch of the Advanced Tactical Fighter program, which led to the F-22, as well as a number of classified space projects. Skantze was planning to make a flight aboard the Space Shuttle as a mission specialist on a classified mission, but the 1986 Challenger disaster eliminated VIP astronaut flights and the shuttle did not resume missions until after his retirement.
Skantze was a consultant in his post-Air Force career, and he received the AFA Lifetime Achievement Award in 2010.