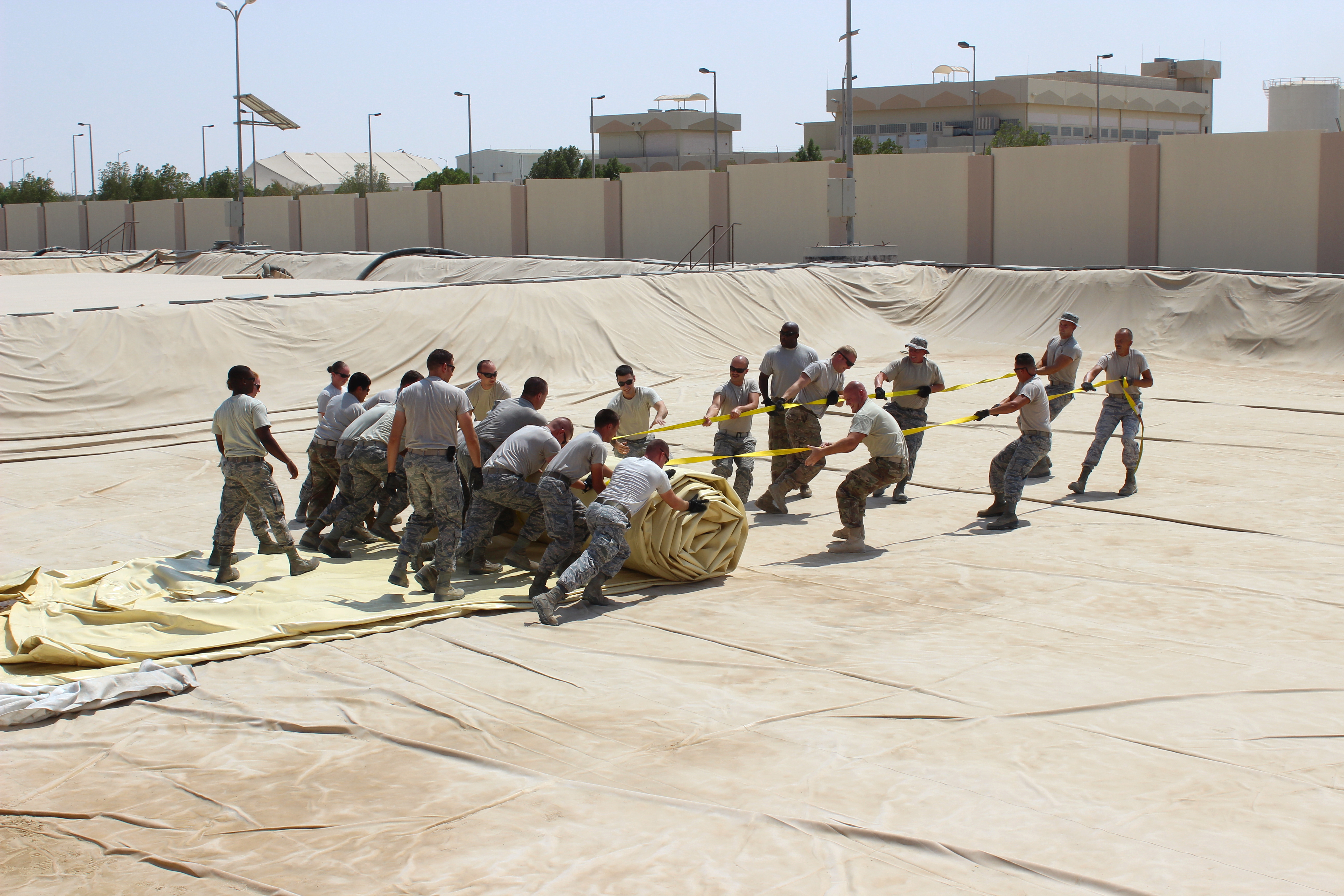 Airmen from the 380th Expeditionary Readiness Squadron unroll a fuel bladder at the DOD's largest fuel bladder farm, at Al Dhafra AB, UAE. Photo by Jennifer Hlad.
AL DHAFRA AB, United Arab Emirates—It's midday here in the desert, and the sun is beating down on the runway and a KC-10 preparing for an eight-hour flight over Iraq.
The pilots and flight engineer leave the six shiny sun shades in the cockpit windows as long as possible, before they finally have to remove them to taxi.
Not long after takeoff, the boom operator heads down to his seat and controls, to begin the plane's first refueling of the day, over the Arabian Gulf.
Throughout the afternoon and into the evening, they'll refuel a set of F-22s over and over, making it abundantly clear why the KC-10 is called the "Extender."
"We are able to extend the sortie duration for multiple airframes so they can provide cover to troops on the ground, so they can collect intelligence and do reconnaissance missions, [and] so they can take off and land out of places that are safer, rather than having them be in-country," co-pilot Capt. Rebecca Sullivan explained.
The plane carries around 250,000 pounds of fuel and has a maximum takeoff weight roughly equal to that of "60 full-grown elephants," Sullivan said.
The fuel itself comes from the largest fuel bladder farm in the Department of Defense, which, like the 908th Expeditionary Air Refueling Squadron, is based at Al Dhafra Air Base. The farm stores approximately 8 million gallons of fuel in more than 20 fuel bladders, and processes roughly 500,000 gallons of fuel each day.
The airmen of the 380th Expeditionary Readiness Squadron like to say they're "fueling freedom."
A1C Steven Newberry, a fuel storage technician, explained they have various fuel bladders ranging from 50,000 to 210,000 gallons, and they check them every day to make sure there aren't any leaks or cuts.
The aircraft fuel is transferred via a series of pipes and equipment designed to mock permanent infrastructure in a deployed environment, said A1C Austin Coe, a fuel storage operator. A constant pressure hydrant system makes the transfer to the flight line go much faster than a fuel truck, which can only dump a few thousand gallons at a time, he said.
The farm stores three grades of aircraft fuel and two grades of ground fuel, and it's tested regularly to make sure it is "clean" and "dry," said SrA. Dustin Hicks, a fuels lab technician.
It's critical the fuel is high quality, because it could be going into a number of US or coalition planes on any given day.
A quarter of the Air Force's KC-10 fleet is based here, and though the aircraft has more pallet positions than a C-17, the bulk of what they do is mid-air refueling, Sullivan said.
The aircraft has a boom and drogue, and can refuel all types of aircraft, as well as be refueled itself. Some KC-10s also have wing air refueling pods, which allow them to refuel two aircraft at once, she said.
"It allows us to have a lot of flexibility in theater, and essentially refuel any one [of] … our coalition partners that's out there that needs the gas, whether it's an emergency or whether it's planned," Sullivan noted.