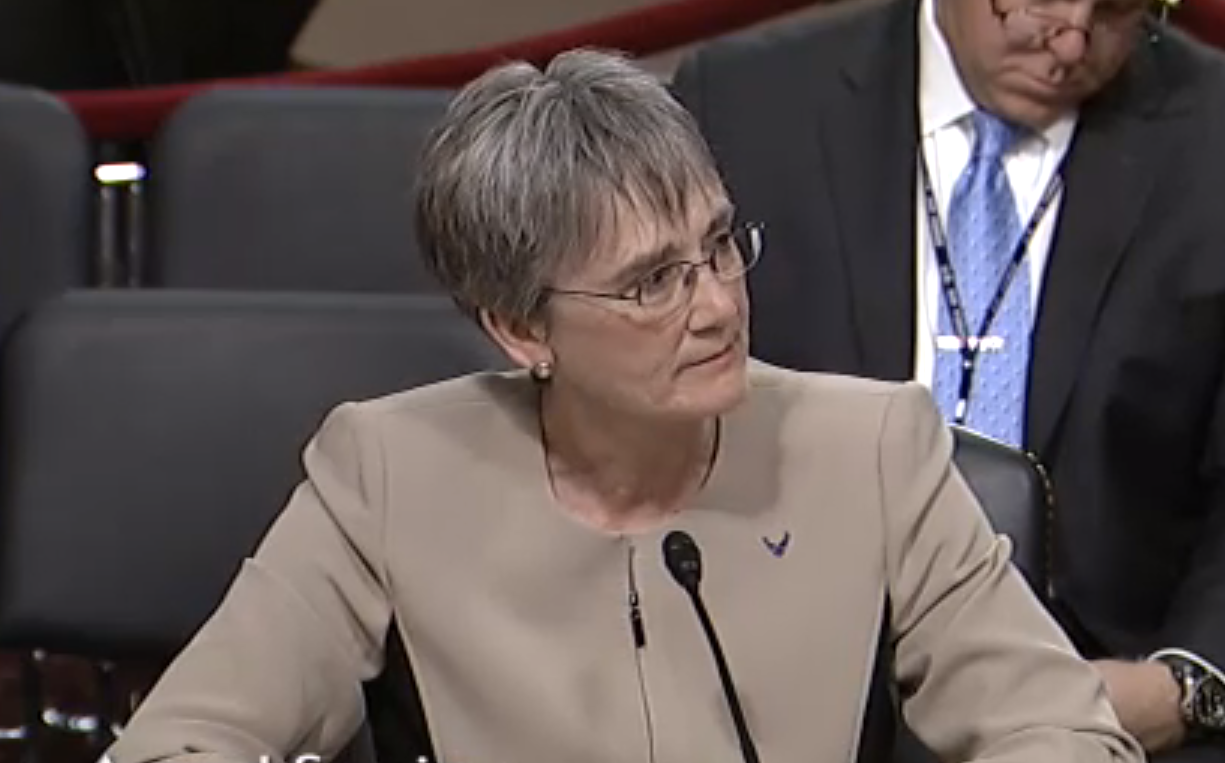 Air Force Secretary Heather Wilson testifies on the Air Force's posture alongside Chief of Staff Gen. David Goldfein before the Senate Armed Services Committee, June 6, 2017. Screenshot photo.
The administration's Fiscal 2018 budget plan, which includes a three percent jump in overall funding, is a "good start" to the climb back to readiness, but overall more funding and stable budget plans will be needed, Air Force leaders told lawmakers Tuesday.
Testifying in front of the Senate Armed Services Committee, Air Force Chief of Staff Gen. David Goldfein said the small increase is a start to "arresting the decline that we've seen over the years. It's a only a start to where we need to get with stable budgets that we can plan for."
Eight years of stable funding, including the purchase of more aircraft such as F-35As and KC-46s, will be needed to get back to full-spectrum readiness. The requirements come as the service is facing a dramatic shortfall in pilots and tightened funding for other acquisition programs such as the UH-1N Huey replacement and Combat Rescue Helicopter, and maintaining the current fleet.
"We're going to keep fourth generation aircraft into the 2040s," Goldfein said. "And so what you'll see in this budget, in addition to buying fifth generation aircraft, is actually modernizing our fourth gen. And here's what we've found when we talk about the fighter inventory; what we found and continue to develop is the ability to fly these aircraft together in a complementary fashion so that fourth gen actually makes fifth gen better and fifth gen makes fourth gen better."
The budget is moving forward on the B-21 next generation bomber program, including $2 billion in research and development funding. That number faced criticism from committee chairman Sen. John McCain (R-Ariz.), for being under the "veil of secrecy."
"We are very open with the appropriate committees and the Congress about exactly what we're doing and what we're spending it on," Air Force Secretary Heather Wilson said.
"That's not true, Madame Secretary," McCain quickly responded. "That is simply not true. The American people need to know if we're going to spend $2 billion on what, R&D? Does the Air Force plan on releasing any further details on the program?"
Wilson said there "is a balance" between informing Congress and telling enemies about the program. The Air Force has determined that it requires a total of 165 bombers in the future, including at least 100 B-21s, Goldfein said. However, the Pentagon is reviewing its national security strategy and that could impact future Air Force bomber force structure, he said.
Wilson also warned lawmakers that another schedule slip with the KC-46 tanker program is likely. There was a meeting at the Pentagon on Tuesday morning to assess risk in the testing schedule, with an independent assessment on timing expected. "We may see a couple of month slip is what I'm hearing informally," she said.
The Air Force is looking at two major helicopter acquisition programs, two of which are also seeing issues in the current budget process. The UH-1 replacement program had to be adjusted after contractors said they could not meet requirements with current aircraft. The service now expects its formal request for proposals in July, Wilson said Tuesday.
The Combat Rescue Helicopter program, which will replace the Air Force's HH-60G Pave Hawk fleet, saw a budget cut of $100 million in the Fiscal 2018 request. Goldfein said this is a "disconnect that we continue to watch." Asking about this shortfall, Sen. Richard Blumenthal (D-Conn.) said it is a "disservice" to those in uniform "who need that helicopter."