The first of 10 EC-37B electronic warfare aircraft has been delivered for Air Force testing, BAE Systems and L3Harris Technologies announced Sept. 12. Gen. Mark D. Kelly, head of Air Combat Command, said the aircraft is arriving not a moment too soon and will not be made obsolete when Collaborative Combat Aircraft with electronic warfare/electronic attack capabilities come along in a few years.
The Air Force needs the EC-37B to succeed the aging EC-130 Compass Call "yesterday," Kelly told reporters at AFA's Air, Space & Cyber Conference. Both aircraft carry that mission name.
The first EC-37 aircraft will undergo a combined developmental and operational test program—similar to what the Air Force is doing with the Boeing F-15EX fighter—made possible by the fact that the aircraft largely uses electronic equipment ported from retiring EC-130s, whose operations are well understood.
The EC-37B mission hardware is built by BAE at its Hudson, N.H., facilities; the Gulfstream G550 business jet platform is made in Savannah, Ga.; and the aircraft is modified at L3Harris' Waco, Texas, plant. Testing is likely to be conducted at Edwards Air Force Base, Calif., and the EC-37B fleet will be based at Davis-Monthan Air Force Base, Ariz.
"It's all about the mission systems," Kelly said of the testing.
"When we dial up the jamming power or ask for a specific waveform, that waveform needs to come out exactly [with] the amount of … power and [at the] frequency we asked for," he said. Testing will ensure that the integrated core processors on the aircraft can "talk to" the mission systems, and that "when you ask for a certain amount of jamming, that's all you get. And when you turn it off, it turns off."
Like the EC-130, the EC-37B will be able to conduct jamming of radars, electronic systems and communications. The aircraft will also play a role in the Suppression of Enemy Air Defenses (SEAD) mission by disrupting an enemy's ability to coordinate sensors and command-and-control weapon batteries that target friendly aircraft.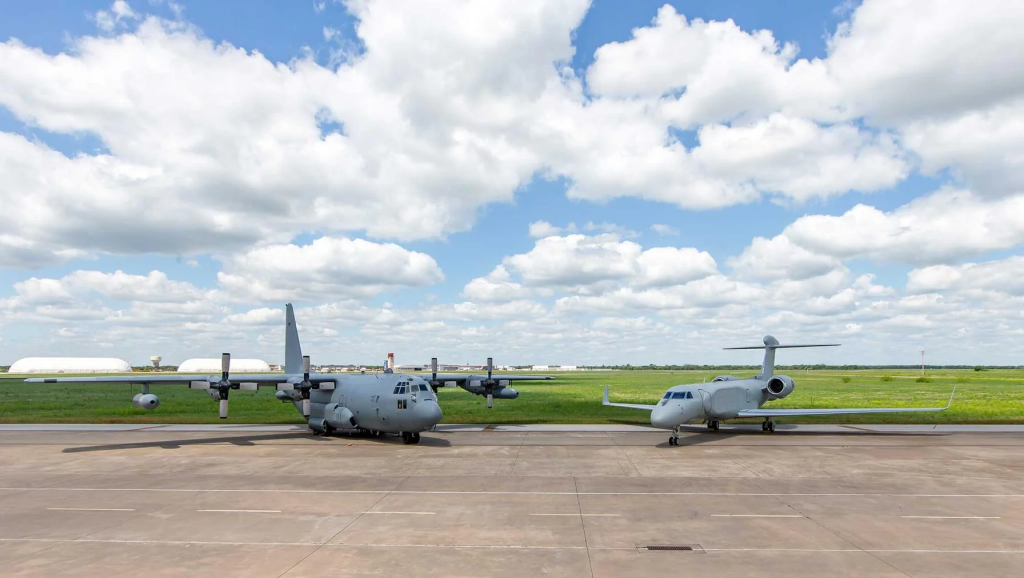 The G550 can operate at higher altitudes than the C-130, and its higher speed means the EC-37B can move around more quickly, Kelly said. The EC-37B's ability to fly at 40,000 feet and 600 knots—versus the EC-130's ceiling of 25,000 feet and 300 knots.
Combined with the new aircraft's reduced need for maintenance and greater reliability, the Air Force will get a leg up in electronic warfare, Kelly said.
"Most of what it does is highly classified and so I'm limited in what I'm going to say about it," Kelly noted. "But, bottom line is, we needed to enable our ships and aircraft to get closer [to an adversary] by electromagnetic protection and…electronic attack, to make it more difficult for adversary ships and aircraft to operate across" the electromagnetic spectrum, or EMS.
Kelly said the operating concept between the EC-130 and EC-37B is "not overly different," and in fact, the EC-130s not yet being retired have been updated with new gear so that their "techniques [can] catch up with what will be on the EC-37."
Kell said the EC-37 will not be rendered obsolete by CCAs, the autonomous drones the Air Force plans to pair with manned aircraft—electronic warfare has been identified as one of first missions for CCAs.
"I see it as complementary," he said, noting the EC-37's abilities will also complement Block 4 of the F-35, which will also has an extensive electronic warfare suite. It will also work with the F-15's EPAWSS, or Eagle Passive Active Warning Survivability System, but Kelly cautioned that all of these need to be harmonized so "they don't have electronic fratricide on each other."
Col. Joshua Koslov, commander of the 350th Spectrum Warfare Wing, told reporters in a separate press conference that he does not see CCAs displacing existing electronic warfare aircraft.
"I think they're not going to be a replacement for any of the big electronic platforms," Koslov said.
"They're not going to replace the [Navy EA-18G] Growler or any of those systems. I think they're going to complement our strike packages, and provide that 'fullback blocking package for the running back,' basically, and they're going to work in concert with our weapons and our fighters," he added.
Koslov also said the electronic warfare CCA mission "will come to us when that program is ready to go, and we'll be the guys to fill in those capabilities."