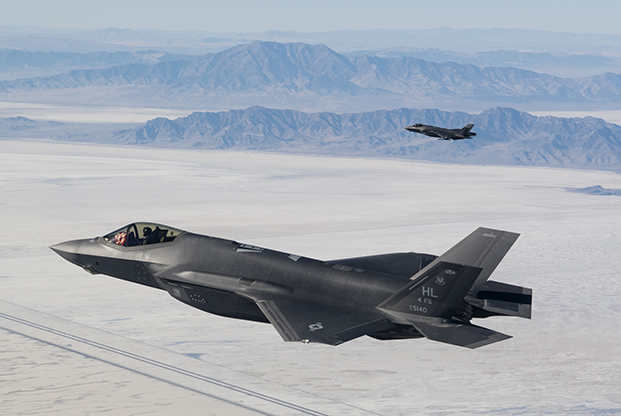 A formation of F-35s from the 388th and 419th Fighter Wings stationed at Hill AFB, Utah, perform aerial maneuvers during a combat power exercise over Utah Test and Training Range on Nov. 19, 2018. ?Air Force photo by SSgt. Cory Payne.?
The F-35 Joint Program Office is working to help the Air Force and its sister services meet the 80 percent mission capable rate for the fleet, ordered by former Defense Secretary Jim Mattis, by accelerating and streamlining parts production, said program executive officer Vice Adm. Mat Winter.
In a December interview, Winter explained that "parts are a major contributor" to the readiness rate of the F-35, which is pegged at just over 54 percent, according to a 2017 Pentagon report.
"We have initiatives underway to increase spare parts production," including new parts from industry and repaired parts from military depots, Winter said. Those initiatives are "fully funded and supported" by the Air Force and should increase squadron-level readiness rates. There's a "strategic focus" on increasing the number of parts repaired at the depots "and get them back in the bin … so that industry can then ramp up and build more new parts, without having to spend time repairing parts."
Mattis ordered the readiness increase of the F-35—along with that of the F-22, F-16, and Navy F/A-18—in an October memo. The services have until the end of fiscal year 2019 to get there.
One of the problems that was vexing the parts supply chain was that the services were operating not only different types of F-35s, but different configurations within types, requiring industry's limited capacity for production to be spread across many dissimilar components. That's largely been solved, Winter reported. The configurations have been reduced by the "Tech Refresh 2" modifications, which are installing new cockpit displays, core processors, radar elements, and other items in depot-level modifications that take several months.
"Those are well underway and resourced appropriately and we have a good plan," Winter asserted, such that "by the end of 2019, and maybe into the beginning of 2020, the technical refresh modifications will be in their final throes and deliveries." The "majority of parts are common," he asserted, in turn allowing industry and depots to speed up their production and increase capacity.
"Supply chain performance" is Winter's biggest concern when it comes to readiness, he said. Efforts are aimed at "a strategic focus to take the repair demand signal off the industry [and] bring it into the Air Force depots." He added that "75-80 percent of the aircraft is in the supply chain, not at Lockheed [Martin], right? So we are getting after that supply chain performance and their ability to meet the capacity demands we need. So, that's working."