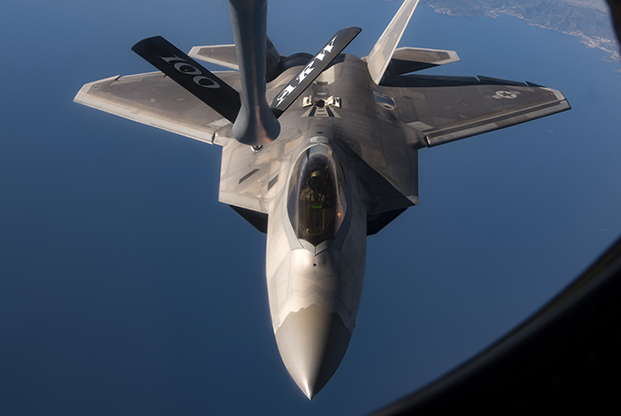 USAF F-22s—like the one pictured above, which was photographed while being refueled over the Mediterranean Sea— have gotten the all-clear to fly faster during Coronet missions to reduce mission length and conserve fuel. Air Force photo by SrA. Preston Cherry.
The Air Force's stealth fighters have been approved to fly faster during deployment missions in an effort to reduce the time it takes to complete the mission and the amount of fuel required.
The Air Force Operational Energy office determined that during Coronet missions—long-distance deployments in which the aircraft do not land—F-22s and F-35s can fly closer to their maximum-range airspeed though they must stay within boom limits, according to a USAF release.
The approval follows an August 2017 demonstration, in which six F-22s flew a five-hour flight from Alaska to Hawaii supported by two KC-10s. During the flight, one cell of F-22s with one tanker flew at a higher airspeed, while another cell of Raptors acting as the control group and different tanker flew the standard flight profile. The test cell was able to cut 10 percent off the total flight time and 6 percent of fuel required, according to a release at the time.
Coronet missions can take massive amounts of fuel and require dozens of refuelings. For example, when USMC F-35Bs deployed to Japan in January 2017, USAF tankers refueled the aircraft a total of 250 times, passing 766,000 pounds of fuel, according to Air Mobility Command.
The strike fighters flew without long-distance pods and had their refueling probe exposed much of the time, reducing their range. The January mission caused some frustration in the Marine Corps, with the then-deputy commandant for aviation Lt. Gen. Jon Davis calling for changes to tanker plans to reduce the number of refuelings needed.