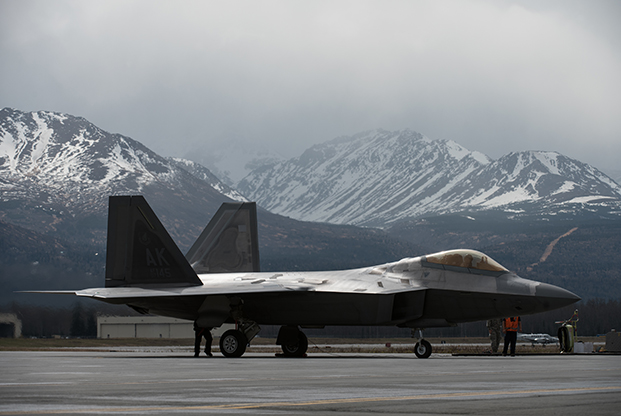 Thursday's incident marks the third Elmendorf F-22-related mishap this year. Air Force photo by SrA. Curt Beach.
An F-22 at JB Elmendorf-Richardson, Alaska, made an emergency landing at about 1 p.m. Wednesday, and ended up off the runway because of a landing gear malfunction causing an unidentified amount of damage.
The aircraft, assigned to the 3rd Wing at JBER, touched down on an active runway, but did not stop until it was partially off the tarmac and resting on its side, according to a picture of the scene. The pilot was able to egress safely, the wing said in a statement.
The incident is under investigation.
A picture of the aircraft, posted Wednesday on the unofficial Air Force amn/nco/snco Facebook page, shows the aircraft leaning to its left side, surrounded by emergency response vehicles.
The 3rd Wing did not say what type of training the aircraft was flying, though Red Flag 19-1 is underway at JBER and Eielson AFB, Alaska.
The incident follows two mishaps earlier this year involving Elmendorf F-22s. On April 6, a JBER F-22 suffered engine failure at Tyndall AFB, Fla., and the pilot was able to land safely. On April 13, another F-22 suffered engine failure during takeoff and skidded on the runway.