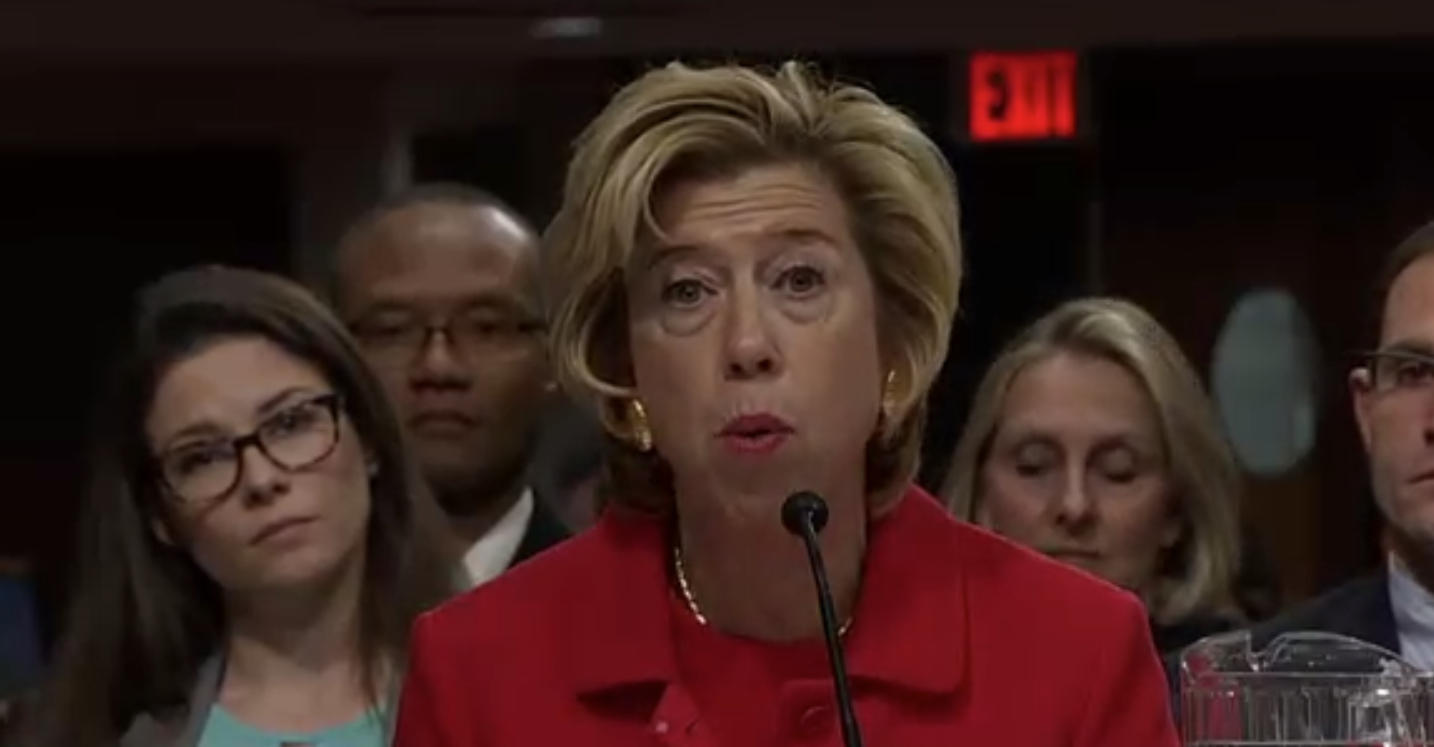 Ellen Lord, under secretary of defense for acquisition, technology, and logistics, testifies before the Senate Armed Services Committee on Department of Defense acquisition reform on Dec. 7, 2017. Screenshot photo from C-Span video.
A new spirit of experimentation is being foregrounded in the Department of Defense, undersecretary of defense for acquisition, technology, and logistics Ellen Lord told Congress Thursday.
The Pentagon is exploring various ways of structuring new acquisition programs, Lord told the Senate Armed Services Committee, and her goal is to "get these … procurements done within 210 days from the issuance of the request for proposals." Ultimately, she wants to whittle the process down to just "180 days."
Lord said she's taking the same experimentation approach to the reorganization of the AT&L office. She's launched a "two-year, eight-quarter transition" plan to divide the single position into separate offices for research and engineering (R&E) and acquisition and sustainment (A&S), she told the committee.
"We have a model for what we're going to do, but we're not being rigid about it," she said. "We're experimenting and seeing what works."
Pentagon acquisition "needs to be a strategic body," Lord said, meaning DOD officials need to keep "focusing on prototyping and experimentation." She told senators the Rapid Capabilities Office and US Special Forces acquisitions had pioneered faster procurement methods by "getting away from the 5,000 process," the Defense Department's bulky set of regulations governing the traditional acquisitions process. Lord praised the successes emerging from these "silos of excellence," and said, "what we have to figure out how to do is scale that" across the entire DOD.
One helpful change, she said, is "new rapid hiring flexibilities," which are allowing the Pentagon to "bring in world class talent in areas like robotics, lasers, artificial intelligence, as well as new contracting specialists and test engineers."
Among emerging capabilities, Lord said the department is prioritizing "hardened microelectronics," hypersonics, and "the whole cyber area … offensive and defensive." The military has identified these systems as "critical to reach the overmatch capability we want to have," Lord said.
She also addressed current acquisition programs, focusing on the F-35 Joint Strike Fighter. The Pentagon is "determined to reduce the cost of production and sustainment," she said, and "we have initiated an extensive JSF cost deep-dive led jointly by my office … and [the Cost Assessment and Program Evaluation office]."
This study will look at prime contractor Lockheed Martin, as well as all system subcontractors, to discern "what [the] JSF costs, why it costs what it costs, and most importantly, what we can do to improve cost performance at the prime contractor and up and down the supply chain." Lord said the findings of the F-35 study will "inform our product contract negotiations and all of our sustainment efforts on a go-forward basis."