The Air Force and contractor BETA Technologies started flight testing "Alia," a sleek, quiet, electric aircraft, last week at Duke Field, Fla.
The electric aircraft, delivered to Duke Field on Oct. 26, is owned and operated by BETA crew, but the Air Force's rotary wing test squadron, the 413th Flight Test Squadron, wrote the test and safety plan.
On Nov. 7, Alia flew 68 nautical miles from Duke to Tyndall Air Force Base, Fla,, landed and recharged, and returned. The aircraft took about an hour to fully recharge.
"This process is similar to the military flight operation, hot-pitting, where an aircraft flies a mission, lands for refueling and then flies again. Only with Alia, the fuel is electricity," the service noted in a release.
It was also the aircraft's first mission without being accompanied by a chase aircraft.
Since that first test flight, the aircraft has been undergoing two flight missions per day to check how the battery performs during flights over a set distance with different power settings and assess ground operations for consecutive flights.
The tests are also focused on the aircraft's potential in aiding flexible combat logistics, involving testing the aircraft's payload capacity up to 1,000 pounds.
The aircraft's heat patterns are also being recorded during takeoffs and landings, providing essential data to establish a standard in infrared technology for the team.
"We want to compare electric aircraft IR (infrared) signatures to conventional fuel aircraft signatures," said Josh Bohannon, 782nd TS senior electronics engineer. 
The infrared engine signature is the heat emitted by an aircraft's engine. A lower signature makes the aircraft more difficult to be detected and traced by the heat-seeking missiles.
Alia is 50 feet wide and can fly up to 250 miles at a maximum speed of 138 mph. It is also 90 percent quieter than helicopters and produces zero emissions.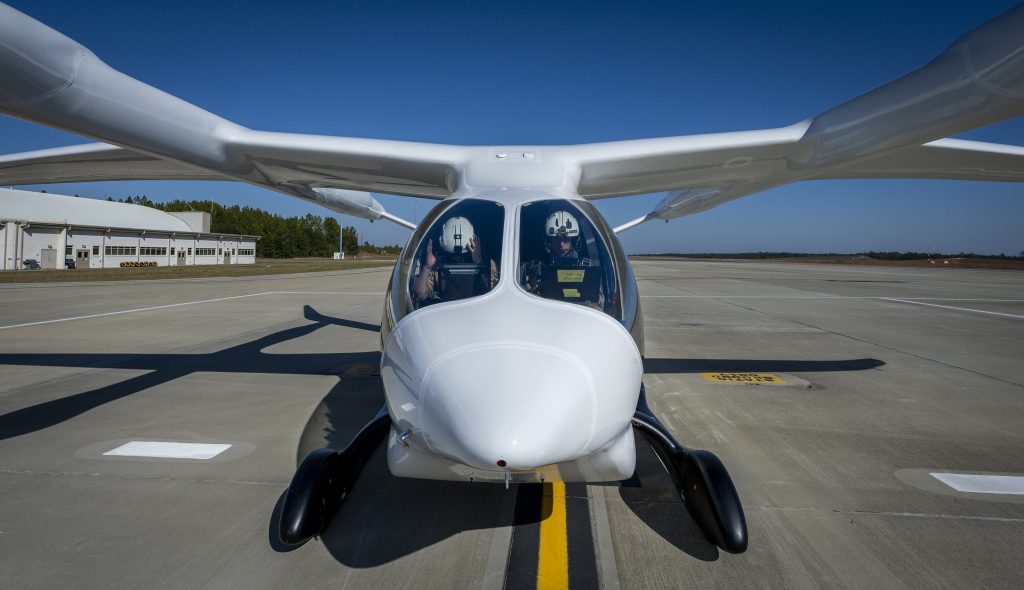 The Air Force Research Laboratory's innovation arm AFWERX first partnered with BETA in December 2019 to explore zero-emission aviation. BETA has since won multiple contracts and supplied the Air Force with three simulators, including a mobile one for pilot training, and two Level-3 electric chargers.
One of the chargers was installed at Duke Field earlier in October, becoming the Department of Defense's first and so far only on-site electronic aircraft recharging station.
AFWERX's Agility Prime program has been focused on bolstering innovation in the eVTOL (Electronic Vertical Take-off and Landing) space and has taken steps to broaden field testing this year.
In September, the Air Force's first "electric air taxi," a six-rotor eVTOL aircraft from Joby Aviation was unveiled at Edwards Air Force Base, Calif. That aircraft has undergone three hover tests, with a second aircraft expected to arrive in early 2024.
Alia comes in conventional and vertical takeoff configurations. The version at Duke Field is a conventional takeoff and landing (CTOL) model.