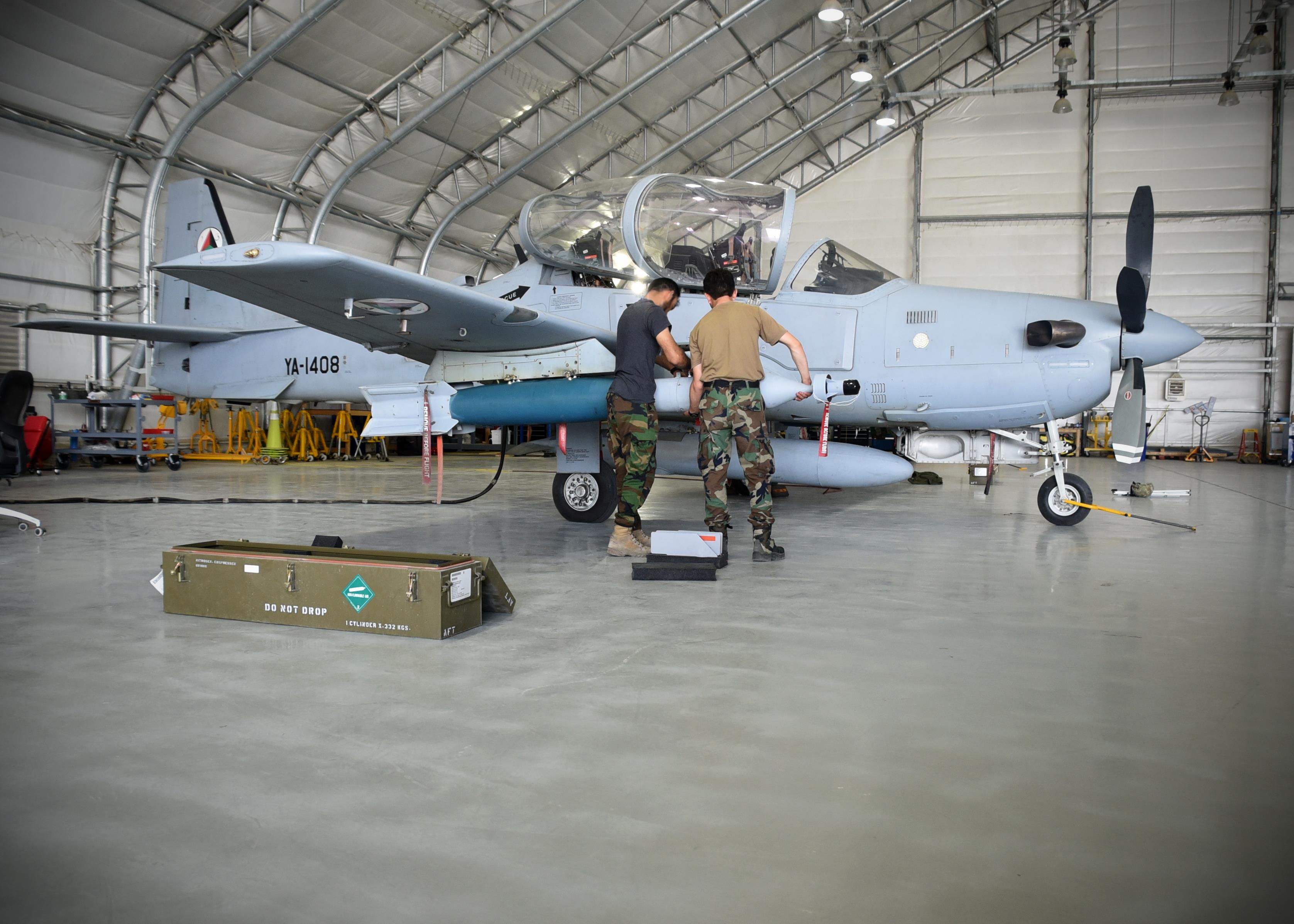 Two Afghan Air Force A-29 maintainers work on a Super Tucano at Kabul Air Wing, Afghanistan, in July. Air Force photo by TSgt. Veronica Pierce
The Air Force's mission to train the Afghan Air Force has taken major steps, but the US training mission does not have a plan to define its mission, a Pentagon investigation finds.
The Defense Department Inspector General, in a report released Jan. 4, states the US Train Advise Assist Command-Air mission in Afghanistan has recently achieved "notable accomplishments" in three areas: A-29 Super Tucano mission performance, night vision capability, and air-ground integration. These accomplishments came through the TAAC-Air winter training plan, between October 2016 and April 2017.
"The Afghan Air Force continues to expand its capabilities and missions sets in support of the Afghan National Army corps," the report states. "Both US advisors and Afghan National Army leaders have expressed growing confidence in the Afghan Air Force, which results in the Afghan National Army requesting more Afghan Air Force support."
However, US advisers cannot measure the Afghan Air Force's progress toward a "defined end-state." While TAAC-Air has a mission statement of developing a "professional, capable, and sustainable" force, it doesn't have associated metrics to measure this progress, the report states. The training command also does not integrate its planning with Operation Resolute Support's overall campaign plans.
"This lack of integration can result in inefficient and potentially ineffective use of US and Coalition resources as incoming advisors perform train, advise, and assist activities that may not align with either TAAC-Air's or [NATO Air Training Command-Afghanistan]'s envisioned end state," according to the report. "Without focused development, the Afghan Air Force may lack the desired skills, capabilities, or capacities necessary to support [Afghan National Defense Security Force] operations, which would prevent the United States and the Coalition form transferring important functions to Afghan control."
In a response to the report, the training command agreed with the assessment and is planning to include lines of effort "and a set of metrics that measure the development of the Afghan Air Force's capabilities and capacities."