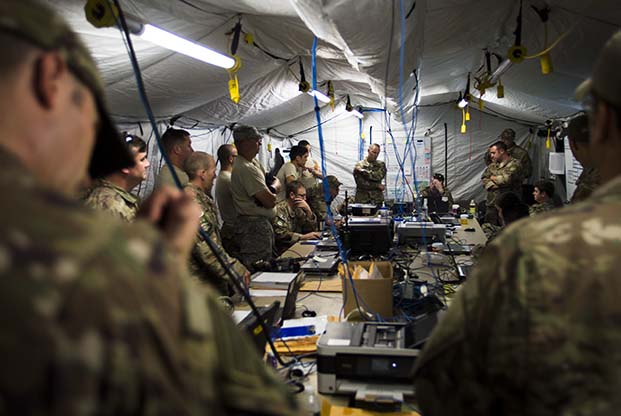 Air National Guardsmen from the 123rd Contingency Response Group, 23rd Air Wing, Louisville, KY, have their morning brief at Puerto Rico's Luis Munoz Marin International Airport on Oct., 3, 2017. Air Force photo by A1C Nicholas Dutton.
The Defense Department needs an additional $395.6 million in federal funding to fix or replace its facilities in Puerto Rico and the US Virgin Islands that were damaged during the 2017 hurricane season, according to a Jan. 2 DOD report that was viewed by Air Force Magazine this week.
That figure is based on firsthand inspections of facilities that were conducted after its November 2017 budget request submission "and initial estimates," stated the report, which was submitted by Ellen Lord, under secretary of defense for acquisition and sustainment, to Senate Armed Services Committee Chairman Jim Inhofe (R-Okla.). The number includes the $50 million price tag of replacing the Air National Guard's C-130 maintenance hangar and communications facility at Puerto Rico's Luis Munoz Marin International Airport.
As part of an amendment to its Fiscal 2018 budget request, DOD estimated in November 2017 it needed $1.2 billion to respond to and recover from the 2017 hurricane season.
This total includes $721 million for military construction and $434 million for repairing facilities that incurred storm damage during the season that included Hurricanes Harvey, Irma, and Maria, which ravaged Puerto Rico and parts of the US Virgin Islands in addition to impacting the continental US.
While evaluating DOD facilities in these affected locales that were partially inaccessible prior to November 2017, "facility engineers identified infrastructure that sustained excessive damage which combined with age and prior condition, resulted in unsafe facilities beyond economical repair, or facilities unable to support mission requirements requiring replacement," the report said. The majority of the damaged facilities were built before modern building codes were put into place and before "hurricane design technology" was incorporated into construction, it also noted.
According to the report, of the $395.6 million figure, $333.2 million needs to be allocated for construction, and $62.4 million needs to go towards planning and design. The report suggests these funds be broken down on a component-by-component basis, as follows:
Army National Guard: $214.2 million for construction, and $44.4 million for planning and design
Air National Guard: $50 million for construction, and $5 million for planning and design
Army Reserve: $69 million for construction, and $13 million for planning and design
"Once these requirements have been validated against mission needs and the cost estimates refined, they will be incorporated in the department's regular military construction program," the report said.
DOD says it's keeping a watchful eye on the scope of these recovery and rebuilding efforts "to ensure correct sizing and modernization to meet current mission needs," according to the report. It also plans on revising cost projections "as preliminary design concepts become more defined."
"The installations have workarounds in place to mitigate mission impacts until the improvements can be made," the report said.
The document also stressed DOD's efforts to pursue innovative ways to help keep the past from becoming prologue when it comes to hurricane damage.
"Applied scientific research is taking place on multiple fronts to provide engineers, inventors, and entrepreneurs new data to develop the next generation of hurricane protection products, with DOD at the forefront of such innovation," the report stated.
It cited the US Naval Research Laboratory's work on "an ultra-hard ceramic transparent armor material called Spinel," that's reportedly nearly as clear as glass and "may someday provide unbreakable "hurricane-proof windows" as one such endeavor.
The report comes as Tyndall AFB, Fla., held its first industry focused on an anticipated $3 billion rebuild of the base after Hurricane Michael tore through in October 2018.