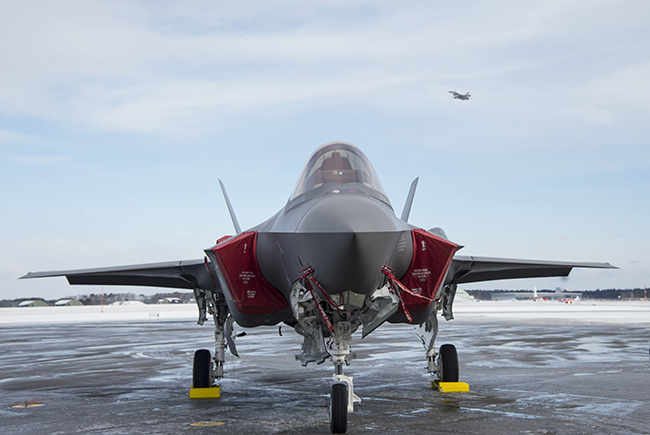 The first operational Japan Air Self-Defense Force F-35A sits on the flightline while an F-16 Fighting Falcon takes off during the F-35A's arrival ceremony at Misawa AB, Japan, on Jan. 25, 2018. Air Force photo by SSgt. Deana Heitzman.
Search and rescue crews on Wednesday found debris from a Japan Air Self-Defense Force F-35 that went missing during a Tuesday training flight out of Misawa AB, Japan, as USAF and US Navy aircraft joined the search for the pilot and aircraft.
The F-35 was part of a four-ship training flight that took off from Misawa Tuesday evening. The aircraft went missing from radar about 28 minutes after taking off, approximately 84 miles east of the base.
A spokesman for JASDF told Reuters the Japanese military found some wreckage and positively identified it as part of an F-35. The rest of the aircraft and the pilot were still missing as of Wednesday evening.
The specific aircraft was identified as the first one to be assembled by Mitsubishi Heavy Industries in Japan and the fifth to be delivered to the JASDF, Reuters reported. The pilot had about 3,200 total flight hours, 60 of which were in the F-35, according to the JASDF.
Following the incident, the JASDF grounded its other 12 F-35s. The service plans an eventual fleet of 87 strike fighters. US services have not grounded their aircraft.
The US military has joined the search effort, sending a P-8 from the 7th Fleet and the guided-missile destroyer USS Stetham to the search area. Fifth Air Force is coordinating requests for assistance to other mission partners. Aircraft trackers spotted a B-52 from Andersen AFB, Guam, joining the search on Wednesday.
"US Forces Japan will continue to work closely with the Japan Self Defense Forces and Ministry of Defense to assist with search and rescue efforts, as requested," USFJ said in a release. "We continue to hope for the safe recovery of the pilot, and our thoughts are with his family and all of our Japanese partners as they conduct this search."