The T-38 Talon was the world's first supersonic jet trainer. Airmen and astronauts have flown it. It entered service with the U.S. Air Force in 1961, and nearly 1,200 were produced.
After more than six decades, the venerable trainer finally has a replacement in the T-7 Red Hawk. It also gets a place in the world's premiere aerospace museum thanks to a remarkable female pioneer.
When the Smithsonian Institution's National Air & Space Museum in Washington, D.C., reopens to the public Oct. 14, it will showcase a T-38 for the first time. The Smithsonian received the plane from the Air Force in 2004. It was stored outside of public view but was recently restored and briefly displayed at the museum's Udvar-Hazy Center in Chantilly, Va., to prepare it for its place in the nation's capital.
The T-38 has remained a stalwart of Air Force training. The Thunderbirds used it—the Air Force's aerial demonstration team. Hardly cast off, the aircraft has served the Air Force well into the 21st century, but the airframes are aged, and its characteristics do not suit the skills required of pilots of the Air Force's current fighters and bombers.
But the T-38 has always been fast.
"This Trainer Can GO, GO, GO!" Air Force Magazine proclaimed in March 1961. The epithet is now quoted on a massive video screen behind the museum's T-38.
That speed was why Jacqueline "Jackie" Cochran chose the aircraft to set eight aviation world records in 1961, including a speed record of 844.2 miles per hour over a 15km oval course Aug. 24, 1961. Those records are painted under the aircraft's canopy.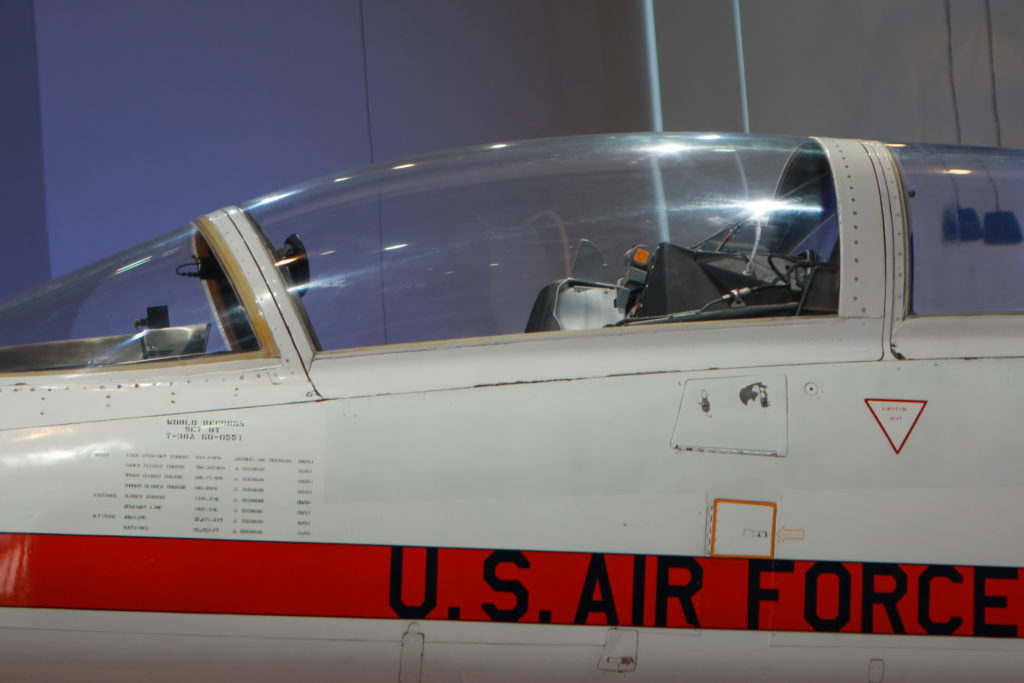 With many T-38s in existence, the National Air & Space Museum is selective when it adds to its collection. When the aircraft flow by Cochran became available, they chose it for a prominent role in the redesigned building on the National Mall, one of the world's most visited museums.
"It has qualifications as an exciting design and record-setting design on its own," Dorothy Cochrane, a curator at the museum, told Air & Space Forces Magazine. "Then you add Jackie Cochran to it and all her legacy."
Cochran, nicknamed the "Speed Queen," was a pioneer of women's aviation. She became the first woman to break the sound barrier in 1953 while flying the Canadian variant of the F-86 Sabre.
Born in the Florida panhandle, Cochran wanted a more prosperous life. She became a hairdresser in New York City.
"She was determined to make a life for herself, to become someone of note," Cochrane said. "Then, because she was in the cosmetic and hairdressing business, she rubbed elbows down at Palm Beach, Fla., with some very wealthy people down there."
Cochran met Floyd Odlum, a financier who was involved in aviation. They married in 1936. Oldlum suggested Cochran use the glamor of flying to market her business.
"She was so good at it, so adept at it, that it became her driving force," Cochrane said. "Her business was fine. It flourished for years. But then her business was setting records. And being the best pilot out there."
Cochran was more than just a daredevil. As World War II broke out, the U.S. military was unsure if it could find enough men to be pilots. Gen. Henry "Hap" Arnold, commander of the Army Air Forces, turned to Cochran.
"In that emergency, I called in Jacqueline Cochran, who had herself flown almost everything with wings and several times had won air races from men who now are general officers of the Air Forces," Arnold said in a speech in 1944. "I asked her to draw a plan for the training and the use of American women pilots."
The program, which eventually became the Women's Airforce Service Pilots (WASP), was a massive success. It trained about 1,100 pilots for wartime service, with Cochran at the head. It played a crucial role in the war effort, as women ferried aircraft from production facilities, towed targets for live-fire training, and served as instructors. Thirty-eight women died in service.
Technically, the women were government civil service employees and were not entitled to any military benefits or honors. The women lobbied for the WASP to be militarized, which Arnold strongly supported.
However, male pilots pushed back, and the media and Congress soon piled on. In the face of public backlash, the program ended in December 1944.
"If ever there was a doubt in anyone's mind that women can become skillful pilots, the WASP have dispelled that doubt," Arnold told the last WASP school graduates on Dec. 7, 1944.
The Air Force did not allow female pilots until 1976. In 1977, WASP members received retroactive military status.
After the war, Cochran turned her attention back to civil flight and attempted to set more records, which she did in 1961 at the age of 55 in the T-38 that will now be on display.
"Her goal that at that point was to set these records," Cochrane said. "The T-38 was what she chose because it's so fast and nimble."
Cochran died in 1980 as a retired Air Force Reserve colonel and a recipient of the Distinguished Service Medal and the Distinguished Flying Cross.
"When she died, she had more records than any man or woman at the time—speed, altitude, distance," Cochrane, the curator, said. "Because that's what she did. She loved speed. She loved to set records."