US-Backed Fighters Move Deeper into Raqqa With Coalition Air Support
US-led coalition air support is helping allied fighters move deeper into ISIS's capital of Raqqa, Syria. At the same time, Syrian regime fighters are making a move on the city. Read the full report by Brian Everstine.
Trump Orders Review of Defense Industrial Base
President Donald Trump signed an executive order on Friday implementing a comprehensive review of the US defense industrial base and supply chain. The order cites the "loss of more than 60,000 American factories, key companies, and almost 5 million manufacturing jobs since 2000" as motivation for the review. The situation, if not addressed, "threatens to undermine the capacity and capabilities of United States manufacturers to meet national defense requirements," the document states. Secretary of Defense James Mattis will oversee the review, which will also involve the Secretaries of Commerce, Labor, Energy, and Homeland Security, with consulting roles played by the Secretaries of Interior and Health and Human Services, as well as the Director of National Intelligence among others. Mattis has nine months to produce a report that surveys US capabilities in manufacturing capacity, supply chain management, energy resiliency, education and workforce skills, and alternative sources of necessary goods. The report is required to identify weaknesses in the industrial base and supply chain and to recommend solutions in the form of suggested policy, regulatory, or legislative actions. _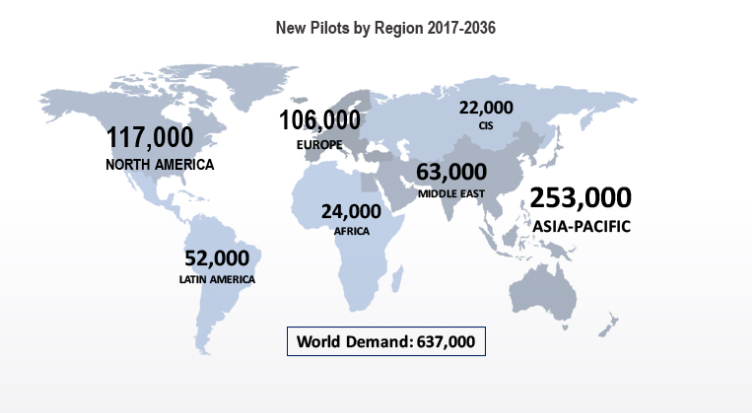 This map shows the regions that will require the most pilots in the next 20 years. Boeing infographic
Boeing: More Pilots, Fewer Technicians Needed
Boeing forecasts even more pilots and fewer technicians will be needed in the next twenty years than its research showed last year. By 2036, Boeing says there will be a global need for 637,000 new commercial airline pilots—that forecast up from last year's 617,000—and 648,000 new commercial airline maintenance technicians—that forecast down from last year's 679,000, according to Boeing's 2017 Pilot and Technician Outlook. The lowered maintenance forecast is "primarily driven by the reduction in maintenance hours" needed on the 737 MAX, an update to the company's best-selling 737, a Boeing release states. In one of her first speeches since being confirmed as Secretary of the Air Force, Heather Wilson in early June spoke about USAF's pilot shortage and how the service will be attending to it, announcing a "tiered" system of aviation career incentive pay, which will pay more to those flyers in greatest demand. There will also be new "flexibility in the length" of flying-personnel contracts, she said. The Boeing report shows the Asia-Pacific to be requiring the most pilots at 253,000 as opposed to North America's 117,000. The Asia-Pacific will also require the most technicians at 256,000 as opposed to North America's 118,000. — Gideon Grudo
US Preparing Another THAAD Test
The US military is preparing to conduct another test of the Terminal High Altitude Area Defense system in Alaska, just weeks after a previous ?successful test. A US Coast Guard announcement states a launch from the Pacific Spaceport Complex-Alaska on Kodiak Island is scheduled for this weekend, and that mariners should stay clear of the area, The Associated Press reported. Earlier this month, the Missile Defense Agency conducted a successful test from the same location. In that test, a THAAD system intercepted a ballistic missile target launched by an Air Force C-17 over the Pacific Ocean. The test comes as North Korea has continued testing missile systems, including its first intercontinental ballistic missile earlier this month. The US has deployed parts of a THAAD system to South Korea, though that deployment has been halted after concerns raised by the South Korean government. — Brian Everstine
Chinese Fighters Reportedly Conduct Unsafe Intercept of US Navy Plane
Two Chinese J-10 fighters intercepted a US surveillance plane in an unsafe manner on Sunday, American officials said. A US Navy EP-3 Aries was flying in international airspace over the East China Sea when the two Chinese jets intercepted, flying as close as 300 feet from the plane, Reuters reported. The US aircraft was forced to change its direction. This was the latest in a series of intercepts by Chinese aircraft in the region, both of US and Japanese aircraft. In May, two Chinese fighters conducted an unsafe intercept of a USAF WC-135 Constant Phoenix in the same region. — Brian Everstine
Lawmakers Appoint Members of Defense Strategy Commission
Leaders of the House and Senate Armed Services committees have appointed 12 members to serve on a Commission on National Defense Strategy. The Commission, which is required by the 2017 National Defense Authorization Act, is tasked to provide a comprehensive review of the global strategic threat environment, the current posture of US forces including readiness and resources, and current strategic and military risks for US forces. By law, the chairman and ranking member of each committee select three members each to fill out the commission. It will be made up of a mix of former military officers and ambassadors, current and former Department of Defense civilian leaders, and think tank experts. Former Sen. Jon Kyl (R-Ariz.) is the only former lawmaker included. Michael Morrell is a former deputy director of the Central Intelligence Agency. The other members are Army Gen. (Ret.) Jack Keane, Thomas Mahnken, Christine Fox, Anne Patterson, Eric Edelman, Andrew Krepinevich, Roger Zakheim, Adm. (Ret.) Gary Roughead, Kathleen Hicks, and Mike McCord. The commission is required to prepare a report, which replaces the Quadrennial Defense Review, by Dec. 1, 2017. The report will be delivered to the president, Congress, and the defense secretary. According to the 2017 NDAA, the commission was also required to present an interim briefing on their work to Congress by June 1, 2017. _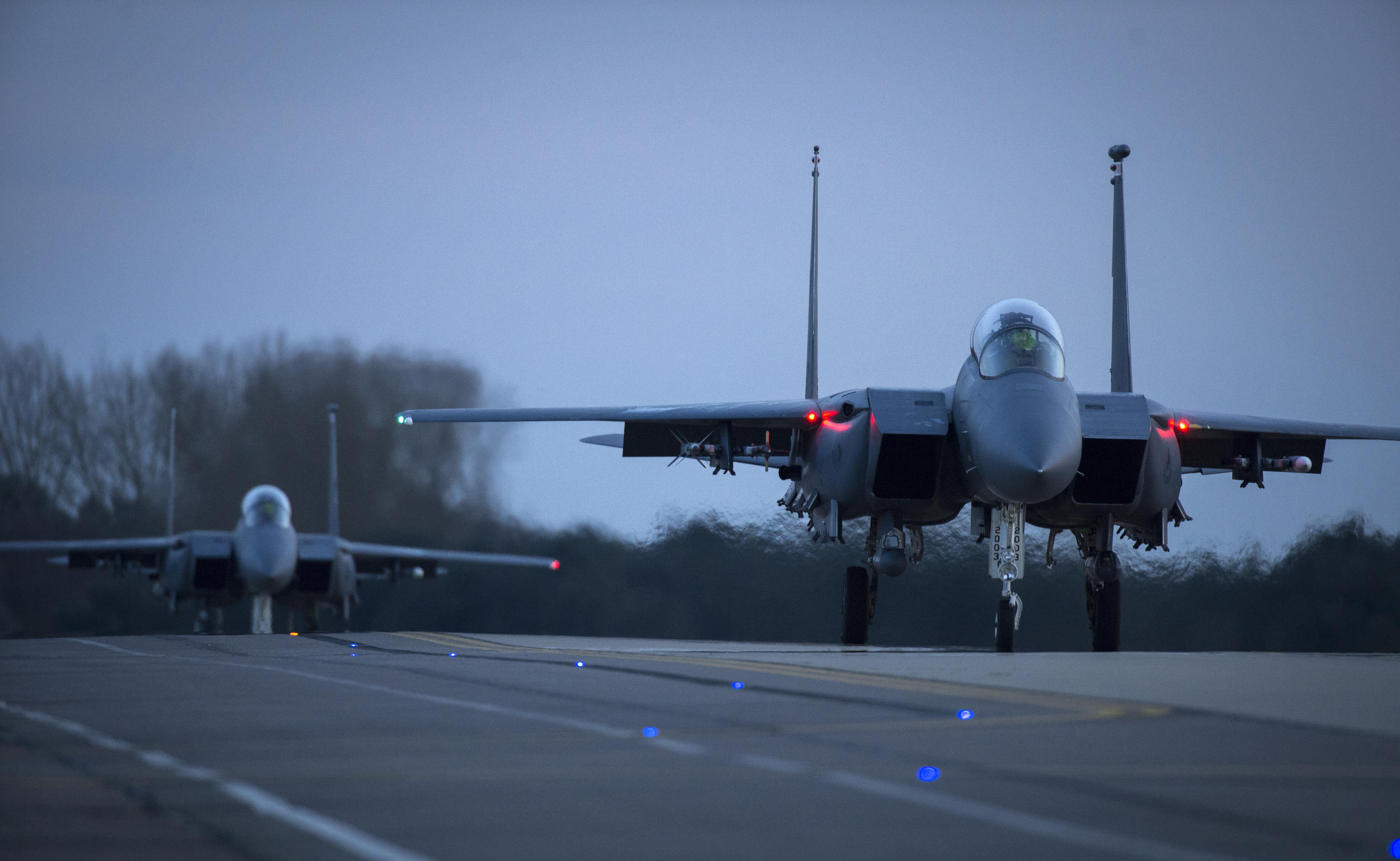 F-15s from RAF Lakenheath, England, taxi before takeoff in April. Two F-15s from Lakenheath were reportedly involved in a near-miss with an RAF tanker earlier this year. Air Force photo
Lakenheath F-15s Had Close Call With UK Tanker in January
Two USAF F-15s from RAF Lakenheath came within seconds of colliding with a UK tanker early this year. The two F-15s flew as close as 50 meters from a RAF Voyager tanker during a January flight about 10 miles off the coast of Norfolk, the BBC reported. The tanker was refueling two RAF Typhoons when a military air traffic controller misunderstood the flight path of the F-15s, and took a phone call distracting him from controlling the area. The F-15s, flying visually, did not spot the tanker on their radar before the near miss. The tanker pilot reported he could feel the turbulence from the F-15 passing by, according to the BBC. — Brian Everstine
RADAR SWEEP
—The Taliban claimed credit for a bombing Monday in Kabul, killing dozens on a commuter bus. The New York Times
—The F-35 program recently surpassed 100,000 flight hours. Lockheed Martin release.
—Secretary of the Air Force Heather Wilson objects to a possible nuclear waste route through the Nevada Test and Training Range. Las Vegas Review-Journal
—Contingency Response airmen support exercise Sabre Guardian in Bulgaria. AMC release
—USAF B-1s train with Royal Australian Air Force JTACs during Talisman Sabre 2017. AFGSC release
—US Central Command kicks off large-scale exercise in Kazakhstan. CENTCOM release