House Panel Calls for New AUMF
A House committee on Thursday voted to force Congress to debate and approve a new authorization for the continued fight against ISIS. The House Appropriations Committee adopted an amendment to the defense spending bill that was introduced by Rep. Barbara Lee (D-Calif.) that repeals the current Authorization for the Use of Military Force, adopted after Sept. 11, 2001, and forces Congress to adopt a new one. The move surprised many, including Lee herself, who called a new debate "long overdue." If the amendment is adopted, Congress would have 240 days to pass a new authorization. Pentagon leaders, including both Defense Secretary James Mattis and Chairman of the Joint Chiefs of Staff Gen. Joseph Dunford, have called for Congress to adopt a new AUMF as a way to show the public's support to the military mission against ISIS. However, a spokesman for the House Foreign Affairs Committee said the Appropriations Committee does not have the jurisdiction to be making such decisions. "House Rules state that 'a provision changing existing law may not be reported in a general appropriation bill.' The Foreign Affairs Committee has sole jurisdiction over Authorizations for the Use of Military Force," Cory Fritz, the Foreign Affairs panel's deputy staff director for communications, told The Hill. The 2001 AUMF has been used to justify military "more than 37 times in 14 countries," reported the Hill, citing the Congressional Research Service. The Senate still must approve of the measure. —Brian Everstine
Iraqi Forces Proclaim the End of ISIS's Caliphate
Iraqi Prime Minister Haider Al Abadi says ISIS's caliphate is over after Iraqi forces reclaimed a symbolic mosque in Mosul, though the US-led coalition cautions heavy fighting still lies ahead. "The old city still remains a difficult, dense, suffocating fight," said Army Col. Ryan Dillon, spokesman for Combined Joint Task Force-Operation Inherent Resolve, in a Thursday briefing. However, he also noted that, "ISIS's so-called caliphate is crumbling from the outside and from within." Read the full report by Brian Everstine.
NATO Announces It Will Surge Troops in Afghanistan
NATO on Thursday announced it will increase its troop level in Afghanistan, as the US mulls a surge of its own to help Afghan forces fight a resurgent Taliban and ISIS. The total number of additional troops is yet to be decided. Stoltenberg said the increase will focus on training the "key enablers" of the Afghan military—building up the special operations forces and helping build up the Afghan Air Force. Read the full report by Brian Everstine.
Air Force's Newest RPA Makes Combat Debut
The Air Force's newest remotely piloted aircraft variant made its combat debut recently. The Block 5 MQ-9 Reaper flew its first successful combat mission on June 23, flying more than 16 hours with a full payload, dropping one GBU-38 Joint Direct Attack Munition, and firing two AGM-114 Hellfire missiles against ISIS targets in support of Operation Inherent Resolve. The newest variant arrived to the 432nd Wing at Creech AFB, Nev., in February and shipped to US Central Command in May. The updated Reaper includes better software and hardware upgrades, and requires a different Block 30 cockpit for aircrew, according to an Air Force release. —Brian Everstine _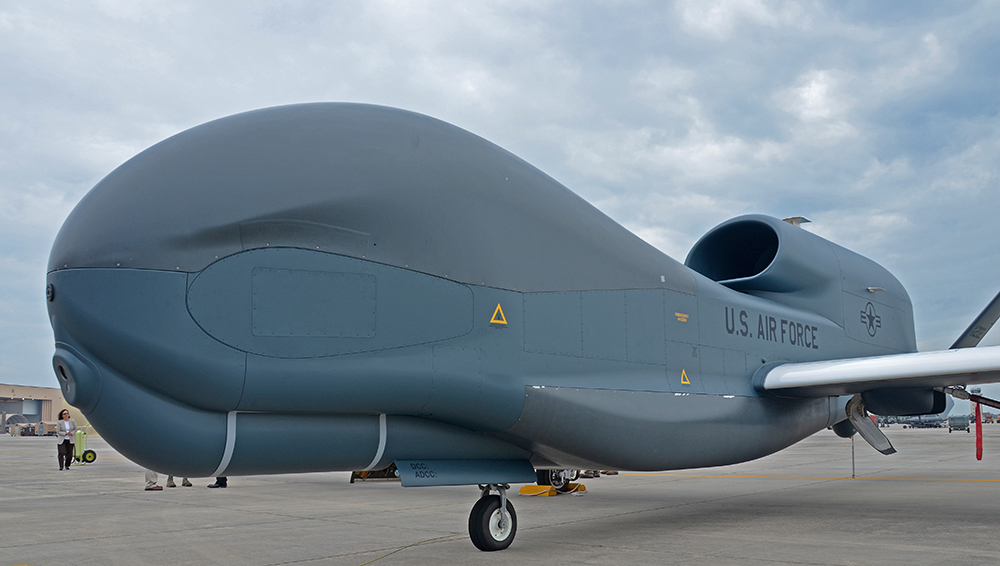 The RQ-4 Global Hawk worked on by maintainers at Robins AFB, Ga., sits on the flight line June 29, 2017. Air Force photo by TSgt. Kelly Goonan.
Work Completed on First Global Hawk to Fly into USAF Logistics Complex
Officials at Robins AFB, Ga., have completed work ahead of schedule on the first RQ-4 Global Hawk to fly into an Air Force logistics complex. Maintainers at the Warner Robins Air Logistics Complex painted the aircraft to prevent corrosion. "While a programmed depot maintenance requirement for Global Hawk has not been established, the Air Force recognizes that having an organic maintenance capability for Global Hawk enhances our ability to manage the fleet and keep this resource flying," states a June 29 release. Before the Global Hawk could land at Robins, members of the 78th Air Base Wing first had to construct a "building-based Launch and Recovery Element," the first of its kind in the Air Force. The Federal Aviation Agency also had expressed some concerns about flying an RPA in Atlanta's airspace, considering the Hartsfield-Jackson Atlanta International Airport is one of the busiest in the country. "Aside from its home base, it's a rarity for this aircraft to land anywhere inside the continental United States," said Col. Sarah Christ, vice commander of the 78th Air Base Wing. She added, "The Global Hawk helps provide an unblinking eye that our Air Force provides to our joint partners, and the work we just did here will ensure that unblinking eye will be there when it's needed."
RADAR SWEEP
—Talisman Saber 2017, the largest joint exercise between the US and Australia, kicked off on June 29 as tensions over China's activity in the region rise: Reuters
—The Air Force's first operational F-35A squadron received its final two strike fighters on June 21: USAF release
—The Air Force recently completed its final Silver Flag Exercise in South Korea, consolidating the training in Guam: USAF release