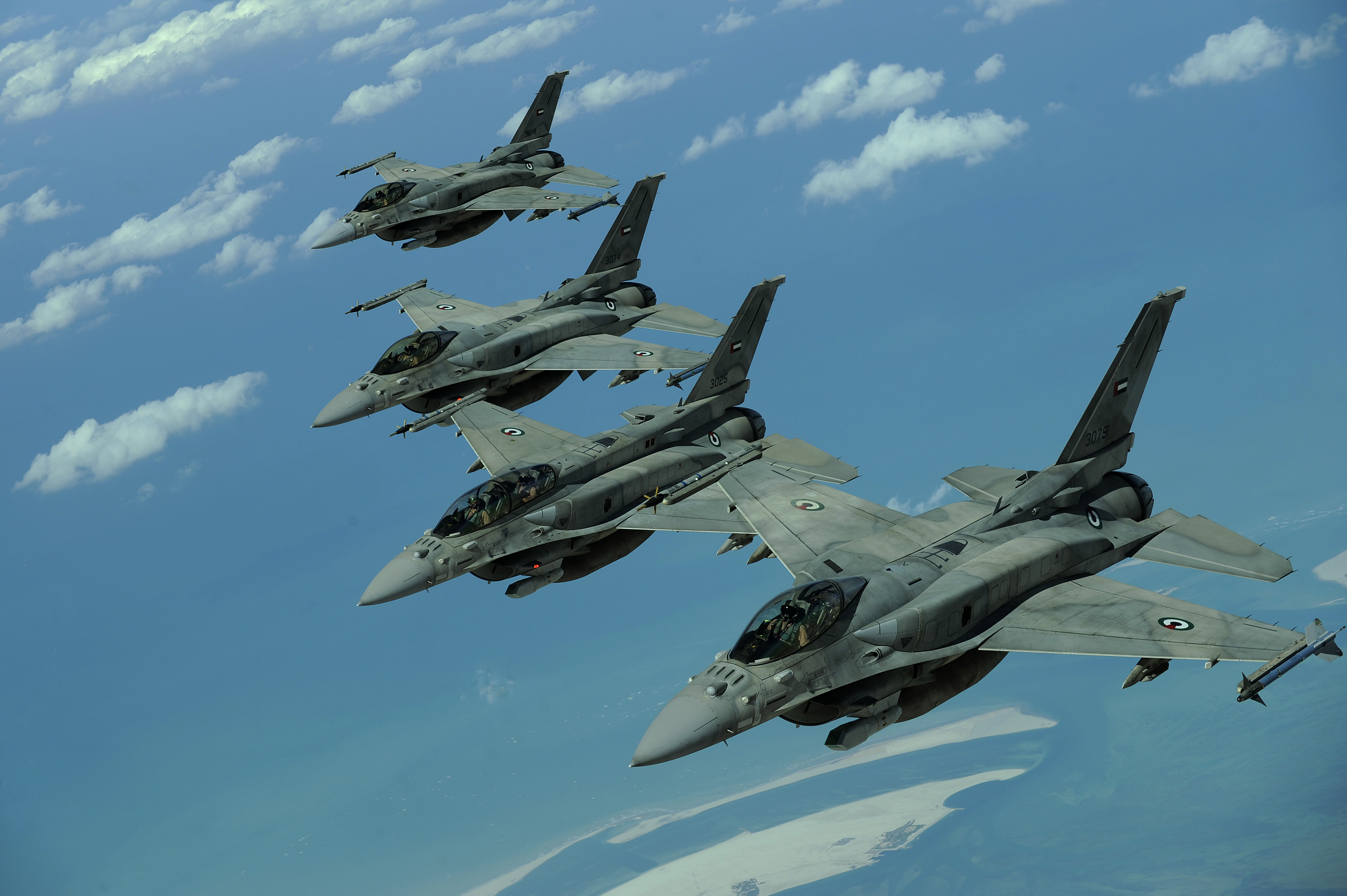 Emirati F-16 Fighting Falcon aircraft fly in formation over Southwest Asia Dec. 9, 2009, during a multinational exercise. During the exercise, aircrews from France, Jordan, Pakistan, the United Arab Emirates, the United Kingdom, and the United States trained together in the US Central Command area of responsibility. DOD photo by USAF SSgt. Michael B. Keller.
For almost a decade, what has been known as the "Gulf Air Warfare Center" has served as a low-key hub for training, exercising, and academics for US security cooperation in the Middle East. But with the success of Operation Inherent Resolve, both US Air Forces Central Command and the UAE, who hosts the center at several bases in the country, are now touting its work more openly.
The training center's hub is at Al Dhafra Air Base, in the United Arab Emirates, and is operated jointly by the UAE Air Force and Air Defense and AFCENT, the center's commander Col. Mark Blomme told Air Force Magazine. The respective militaries maintain staff at the AWC, composed of subject matter experts who conduct integrated training operations. Representatives from France, Germany, and the United Kingdom also participate along with UAE and USAF personnel to provide "regionally focused" air and missile defense training for around 2,000 participants from 10 nations every year.
Since a bilateral agreement to establish the center was first signed in February 2006, the AFCENT AWC has grown into one of the most significant capacity building missions in the broader Middle East, Blomme said. So much so that Congress has authorized USAF Title 22 authority to expend US funds to train the air forces of US allies in the region—in particular the six member states of the Gulf Cooperation Council: Kuwait, Saudi Arabia, Bahrain, Qatar, the UAE, and Oman—in order to improve their operational readiness.
AWC has grown into a regional center for training, much like the Air Force Warfare Center at Nellis AFB, Nev., serves as the nerve center for USAF tactics. It is comprised of a joint cadre of experts from the US Air Force and US Army, Blomme noted, with "significant efforts" now under way to get the US Navy involved as well in order to provide Aegis-ballistic missile defense and tactical air electronic warfare expertise as part of the curriculum.
"Whereas many other (building partnership capacity) efforts tend to be bilateral in nature, the (AWC) is focused on building GCC-wide capability and capacity," Blomme said. Its activities help develop lasting relationships between allies, and these relationships have served as the "cornerstone of coalition air operations and regional missile defense."
A large portion of the funding for the center's activities is contributed from the UAE, and helps build leadership and tactical skills for students.
The UAE Air Force and Air Defense Force, sponsors a seven-week "Advanced Tactical Leadership Course" twice at year at the AWC's Al Dhafra Air Base hub. This course is focused on developing mission commanders who can lead large "coalition packages" of aircraft, Blomme said.
The AWC also operates an Integrated Air and Missile Defense Center, at Al Bateen AB, UAE. Instead of live fly training for air operations, the IAMDC is simulation and modeling based instruction, and combines a large amount of training for both ballistic and cruise missile defense education. The AWC also supports a joint terminal attack controller schoolhouse, combat search and rescue training, and a course of academics designed to "bridge the gap between pilot training and fighter training," Blomme said.
In the future AFCENT and the UAE seek to integrate the various training venues under the AWC through a live virtual constructive environment, to facilitate distributed training operations for both US forces based in the region and GCC air and missile defense personnel, Blomme said.
AFCENT personnel at the AWC also provide an air defense liaison team and intelligence engagement cell to the UAE, which helps build command and control and intelligence sharing partnerships—both areas that have paid off in OIR sorties and taskings.
Blomme said he routinely receives feedback and comments from airmen who attend from GCC States pointing out their experiences in real world operations have proved very similar to the training they received at AWC.
"It is common to witness participants from various nations reconnecting during (AWC) events," Blomme said, and the relationships prove resilient as they continue on in their careers.