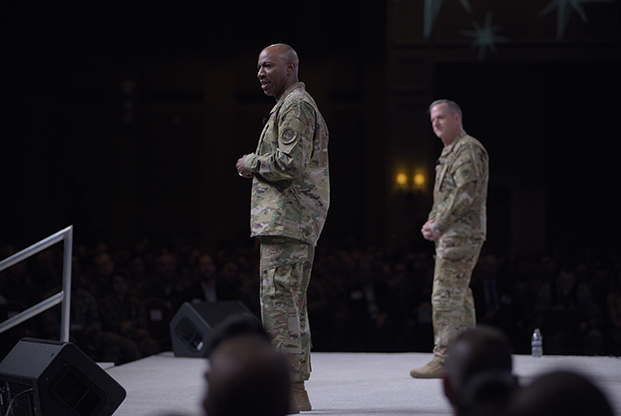 Chief of Staff of the Air Force Gen. David Goldfein and CMSAF Kaleth Wright speak at AFA's 2019 Air Warfare Symposium on March 1, 2019, in Orlando, Fla. Staff photo by Mike Tsukamoto.
Air Force Chief of Staff Gen. David Goldfein and CMSAF Kaleth Wright tackled the topic of social media during a joint appearance at AFA's Air Warfare Symposium on Friday, with Goldfein calling it "a double-edged sword" that warrants consideration, and Wright praising it as a potentially solid source of constructive criticism for the service.
Goldfein said the ability of airmen to use social media to directly speak with their squadron leadership "is both a challenge and opportunity."
The challenge, he explained, is rooted in the fact that the same "rank structure and organizational layers" that social media lets airmen subvert are still necessary for the service to get its job done.
"We need those low organizational layers because it's how we fight, it's how we employ combat power, and it's how we remain disciplined," Goldfein said.
The opportunity, he said, lies in social media's empowerment of airmen to seek and receive "answers straight from the source."
At the end of the day, he said, the service must ask itself how it can leverage social media to strengthen itself organizationally. "If we get it right," its potential benefits most likely outweigh its obstacles, he added.
Wright, on the other hand, said he and his public affairs staff have become adept at mining these platforms for potentially useful feedback they can bring back to USAF's drawing board. He called "that criticism" necessary.
Wright encouraged airmen to be respectful in the face of digital criticism of the service or the Total Force. Whether they are talking online or in real life, he stressed, "people have a right to their opinions, and they don't have to like everything" the Air Force does.
He also advised them to seek balance in terms of the social media content they consume.
"Just like I would encourage anyone when it comes to watching the news, right, make sure you have a variety, you get it from all perspectives," Wright said.