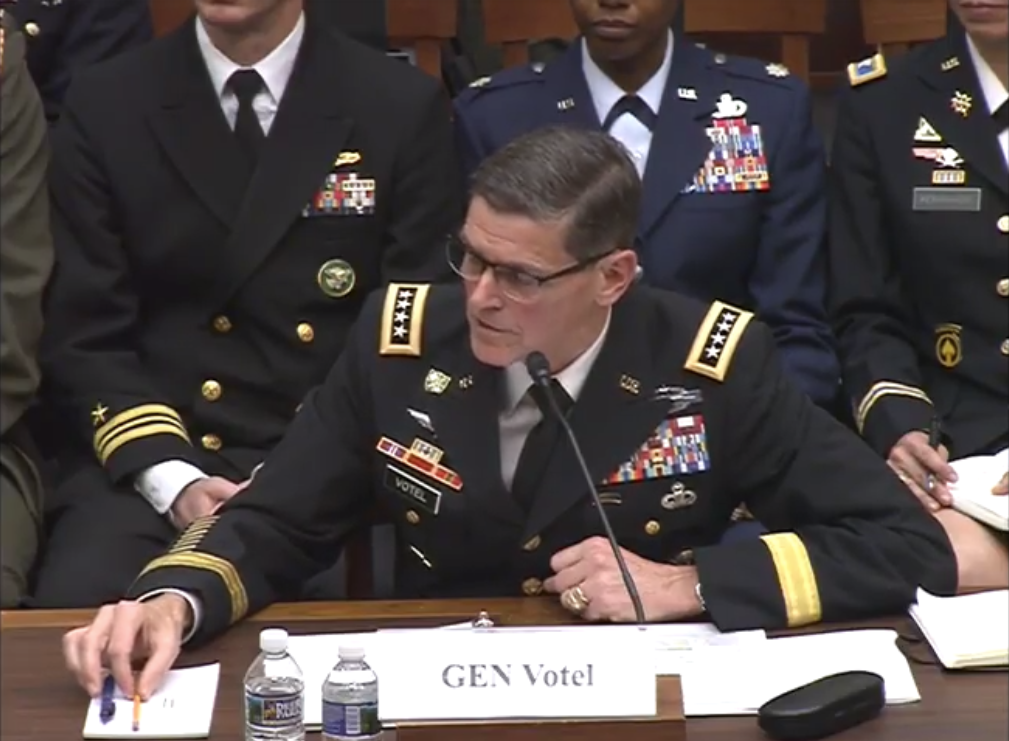 Gen. Joseph Votel, commander of US Central Command, testifies Tuesday at a House Armed Services Committee hearing on Tuesday. Screenshot photo
US Central Command is working to ensure it retains "sufficient capability" to continue ongoing efforts against ISIS and protect US interests in Syria as the broader military is shifting its focus in the Middle East back to Afghanistan, the top US general in the region said Tuesday.
ISIS has lost 98 percent of the territory it once held in Iraq and Syria, and the "destruction of the physical caliphate is imminent," Gen. Joseph Votel, commander of US Central Command, said at a House Armed Services Committee hearing Tuesday.
The US has moved assets away from Operation Inherent Resolve and back toward Afghanistan, such as A-10s that were previously set to deploy to Turkey instead going to Kandahar Airfield last month. This is "despite an increasingly complex situation across Syria," Votel said.
For example, fighters supporting the Syrian regime on Feb. 7 attacked US special operations forces. In response, a series of aircraft, including MQ-9s, AC-130s, B-52s, and F-15Es dropped a large amount of bombs on this attacking force, killing more than 100 fighters. US special operators responded correctly to the threat, Votel said.
Going forward, the US-led coalition and allied fighters, such as the Syrian Democratic Forces, need to "consolidate our gains" and ensure they have the right security and stability so ISIS "cannot resurge" in Iraq and Syria.
Also as ISIS has lost its territory, CENTCOM is working to counter the threat of fighters from the group returning to western nations. These fighters take their "experiences and tactics that can potentially be applied to other places," Votel said. They have been radicalized and are able to bring other fighters "on board" for their cause.
In Afghanistan, the US has taken its tactics from the anti-ISIS fight and is using them on the Taliban. For example, US-led coalition aircraft in Iraq and Syria targeted ISIS's oil production facilities as a way to hit their revenue. In Afghanistan, this has translated to targeting the drug trafficking system that is the group's main source of funding, Votel said.
The A-10s at Kandahar are supporting this mission and "they are doing the things we expect the A-10s to do" in effectively hitting targets and providing close air support, he said.