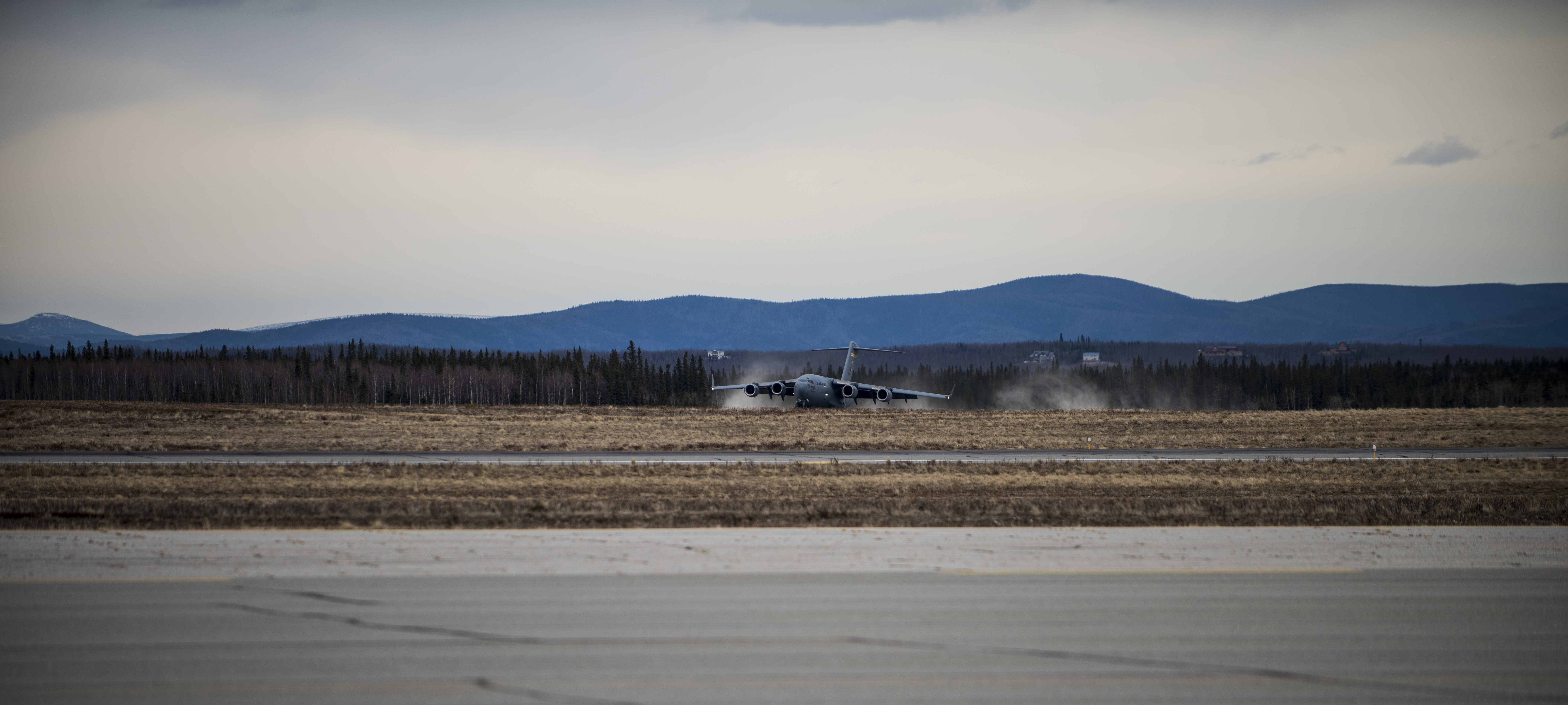 A C-17 Globemaster III assigned to JB Pearl Harbor-Hickam, Hawaii, lands at Allen Army airfield for a High Mobility Artillery Rocket System (HIMARS) rapid infiltration mission during RED FLAG-Alaska 18-1 on May 4, 2018. USAF photo by SrA. Isaac Johnson.
Pacific Air Forces last year told mobility units to get ready for a busy year. For the 535th Airlift Squadron, a C-17 Total Force unit at JB Pearl Harbor-Hickam, Hawaii, this has translated to constant airlift missions in support of presidential travel—including President Trump's summit with North Korean leader Kim Jong Un—along with humanitarian aid, cargo hauling, and training to increase readiness for higher end fights, the squadron's commander Lt. Col. Chad Cisewski said.
"It's been a busy six months. … Our focus is operating safely, getting the job done on our routine mission side, and doing what we can on the readiness side," Cisewski told Air Force Magazine during a recent visit there.
Nine C-17s and 101 airmen are a part of the squadron at Hickam. The highest profile mission for the unit was last month's summit in Singapore, with the C-17s tasked with bringing in equipment—including helicopters and limousines—to Changi Airport, and returning it all safely to JB Andrews, Md., after the summit.
"That was a big move for us," Cisewski said, adding that anytime the president moves through the Pacific his C-17s are busy. In November 2017, the 535th carried presidential equipment through five nations in Asia, including China, for Trump's first visit to the continent.
Activity really picked up when the Olympics took place in South Korea, with VIP travel and military support required. In March, Tropical Storm Gita hit American Samoa and the 535th C-17s helped transport Federal Emergency Management Agency materiel. On top of this, the squadron's aircraft carry cargo to locations such as Diego Garcia, Guam, Australia, and Japan.
In May, C-17s with the squadron deployed to Eielson AFB, Alaska, for Red Flag-Alaska. During this exercise, they recorded a first: A C-17 flew the US Army's High Mobility Artillery Rocket System in the Pacific, Cisewski said.
The routine cargo hauling missions, including presidential support, means that the 535th's crews are well versed in that mission set. However, the squadron has to work to carve out time for mission areas they do not get to fly as often, such as assault landing zones, contested environments, flying into smaller semi-prepared airfields, aerial refueling, and air drops.
"Anything we're not doing on a routine basis we need to train for while we're here in garrison," Cisewski said. "Those areas are really focused. If we deploy, those are the things we have to do that are non-standard."
The C-17s have been able to deploy for other training exercises to help focus on this, including flying a joint forcible entry exercise at Nellis AFB, Nev., during a Red Flag there. "Anything can happen" in the West Pacific and C-17s need to counter the "tyranny of distance" and provide equipment when called upon.
"In any corner of the AOR, we can be a helping hand for good, or we deliver US firepower," Cisewski said.