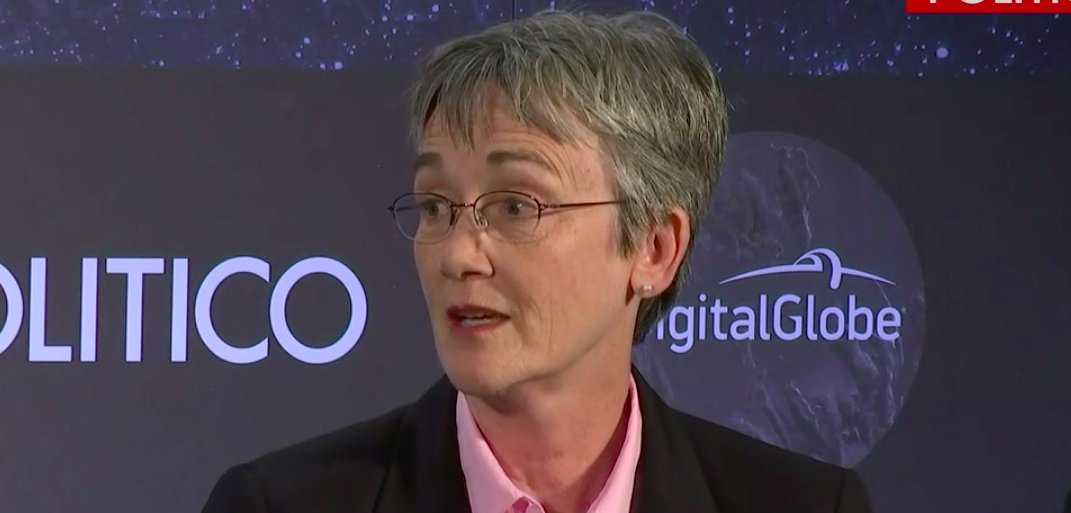 Air Force Secretary Heather Wilson speaks at a Politico event in Washington, D.C., on Sept. 12, 2017. Screenshot photo.
In the near future, space will become a "domain for common human endeavor," Air Force Secretary Heather Wilson said Tuesday. Led by a dramatic "decline in the cost of launch" and the "miniaturization of technology" seen in systems like cube satellites, space is opening up so that "more players can do more things from space," Wilson told the audience at a Politico event in Washington, D.C.
While she sees opportunity for peaceful collaboration in space, "it will be more congested, it will be potentially more contested," Wilson warned. "I think space will become more like the oceans" with governmental and non-governmental entities increasingly interacting in a common domain. Like the oceans, Wilson said space is likely to remain "ungoverned" but with "common practices and agreements on appropriate behavior" between "countries and allies who protect the security" of the space domain for all users.
Wilson said the Department of Defense will be a "partner and defender" in space going forward. As a partner, "we provide GPS for the world, for a billion people everyday," Wilson said. The service that has assumed the status of a worldwide public utility is "operated by a squadron of 40 people in the Air Force in Colorado Springs, Colo."
As a defender of space, Wilson pointed to the space situational awareness mission of the Air Force. "We were the leader for the United States on space and we took over the responsibility to keep the catalogue" of space debris to prevent on-orbit collisions, she said. Because of the more recent rise of objects too small to track using current technology, Wilson said "part of our budget this year and next year is to increase our space situational awareness so that we have a better catalogue of what's in space." The goal, she said, is to provide "real-time situational awareness."
The future of space will be built on an already existing network of government and industry accomplishment, Wilson said. Pointing to the Expanded Evolved Launch Vehicles competitive space launch program, she celebrated the reality that, in the Air Force, "we can buy launch instead of building rockets."
In space, as in so many other sectors, "everybody benefits if there's a vigorous competition," Wilson said.