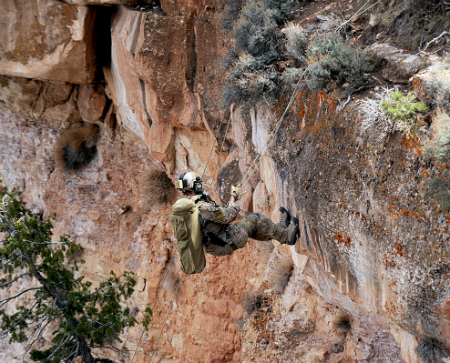 April 17, 2013: Davis-Monthan AFB, Ariz.—Not only did Angel Thunder escape the budget ax following sequestration's implementation, but the Defense Department's only personnel recovery exercise continues to double in size nearly every time it's held.
In 2006, when the Air Force hosted the first Angel Thunder here, there were just 22 aircraft involved and 175 personnel who participated, said Brett Hartnett, Angel Thunder creator. At the time, Hartnett was an HH-60 pilot assigned here, though he had an extensive background in planning. He found that other major Air Force exercises, such as Red Flag, offered superb training for pilots, but weren't really designed to accommodate personnel recovery.
Since then, the exercise has grown to nearly 3,000 participants, including members of all four US services and 11 partner nations. An additional 10 countries are observing the exercise this year—there is a two-year observation requirement before an international partner can be accepted as a participant, said Hartnett.
"We've hit the ceiling" as far as growth is concerned, Col. Jason Hanover, exercise director and commander of the 563rd Rescue Group here, told the Daily Report in mid-April. He added, "You can have [the exercise] more often, but we are absolutely not staffed [for that]. At that point, you need a whole separate organization because we can't take it out of hide."
That may mean becoming more selective in the future, especially as troops begin transitioning home from Afghanistan. However, Hanover said it's too early to say for sure.
The training area also has grown significantly since Angel Thunder's inception. This year's exercise, which began on April 7 and runs through April 20, includes four wartime scenarios that will play out anywhere from New Mexico to California—roughly one quarter of the territory of the United States. Operations planning, though, will be conducted at the rescue operations center in the makeshift, but realistic "tent city" known as Desert Lightning City.
The vast geographic area is intended to mirror the tyranny of distance crews could face as the United States shifts its focus from Iraq and Afghanistan to the Asia-Pacific, said officials.
"That changes the calculus when it's long-range and you are dealing with helicopters," said Hanover.
Still, Angel Thunder remains relatively inexpensive as far as military exercises are concerned, said Hartnett. The entire budget is just $3.5 million, of which the Air Force pays $2.5 million and the remaining $1 million comes from joint accounts. However, the exact cost is a bit nebulous, acknowledged Hartnett, because each unit or agency pays to bring its own personnel and assets to the exercise.
For example, one year Angel Thunder took advantage of millions of dollars' worth of satellite coverage at no extra cost because organizations such as the National Reconnaissance Office and National Geospatial-Intelligence Agency were paying for the space coverage as part of their own training, he noted.
In addition to its affordability, this year's Angel Thunder was dubbed a "predeployment exercise" since all 14 Active Duty and Air National Guard units participating are slated to deploy within the next 90 to 100 days, said Hanover. That has allowed Angel Thunder to remain funded even though the Air Force has canceled most of its other exercises, such as Red Flag, as part of the service's sequestration-mitigation efforts.
"Angel Thunder is like a weed. No one planned it. It just popped up and it won't go away," said Hartnett.
Officials also changed the curriculum a bit this year. Instead of two weeks of exercises, the first week is dedicated to academics and individual training, while the second has been set aside for scenarios. Hanover said he hopes to carry this template over to future exercises, allowing Angel Thunder to be held annually instead of every 18 months.
Planners also will incorporate modeling and simulation for the first time this year to "create false tracks" on crews' data links, simulating as many as 120 aircraft on an air tasking order even though there may only be 20 aircraft actually in the air.
Thus, if a rescue mission commander sees an enemy threat and wants to bring in an F-16 to suppress the threat, he can do so even though there are no F-16s actually participating in Angel Thunder, said Hanover.
Personnel assigned to the Combined Air Operations Center North at Nellis AFB, Nev., will "actually change the track of the F-16s that are notionally flying toward the target and when the aircraft gets within the weapons-engagement range, it will show the threat disappearing, the aircraft turning off and going back to its orbit," he added.
Hanover said it's estimated that modeling and simulation will save up to 3,000 man-hours and around $25 million.
"It really makes the participants think more and that's part of the focus of this second week of scenarios," he said. "If we did our job right, every one of them will land exhausted. They will want to go into the corner and suck their thumb."