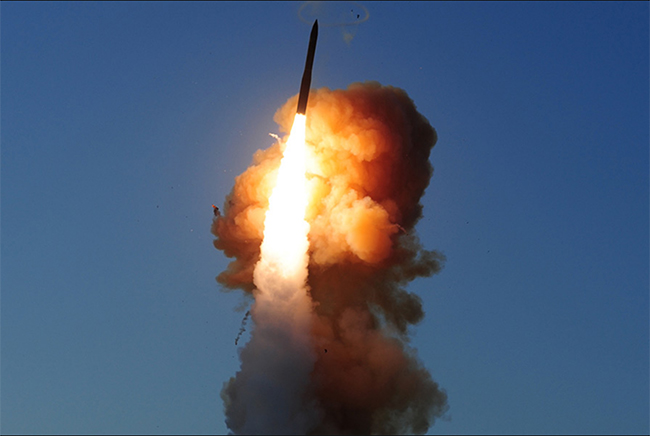 Boeing is not expected to bid on the Ground-Based Strategic Deterrent nuclear missile program, which will replace the company's Minuteman III intercontinental ballistic missiles. Air Force photo via Boeing.
Northrop Grumman has rejected a Boeing overture to form a joint team on the Ground-Based Strategic Deterrent nuclear missile, intended to replace the Minuteman III intercontinental ballistic missile, Boeing said in a statement released Sept. 13.
The move leaves Northrop as the sole anticipated bidder on the contract, expected to be at least $85 billion.
"In our discussions to date, Northrop Grumman has expressed that they are not interested in partnering with Boeing to form a best-of-industry GBSD team," a Boeing spokesman said in an email.
A Northrop Grumman spokesman did not respond to requests for comment by press time. However, sources said the company plans to unveil its industry team for GBSD at AFA's Air, Space & Cyber conference, which begins Sept. 16.
In July, Boeing informed the Air Force it would not bid on the GBSD because it felt Northrop holds an unfair advantage as the owner of solid rocket motor provider Orbital ATK, which is now Northrop Grumman Innovation Systems. Boeing Defense CEO Leanne Caret said in a letter to the Air Force that the final request for proposals "takes no steps to mitigate Northrop's anticompetitive and inherently unfair cost, resource, and integration advantages."
Although the Air Force had given Boeing and Northrop the option to form a joint team, it did not direct the two to do so, creating few incentives for Northrop to include its rival in its lineup of contractors on the engineering and manufacturing phase of the program.
"We are increasingly concerned that the Air Force's deterrence mission and the nation's security will be deprived of the best solution – a proven approach that leverages both companies' technical strengths and decades of ICBM experience," Boeing said in its statement.
An industry source said Northrop informed Boeing of its final decision not to accept the teaming arrangement proposal around Sept. 3.
Both companies have been working on technology-maturation and risk-reduction contracts for GBSD for about two years. Senior Air Force leaders have consistently praised their efforts, pleased with the range of options being offered and the digital models that allow comparisons of many variations, calling GBSD one of the best-run programs in the service.
Frank McCall, Boeing's vice president of strategic deterrent systems, told Air Force Magazine in a Sept. 5 interview that Boeing's proposal would have produced the GBSD "sooner, and with lower risk than either of us could do alone." The two have collaborated before—"we worked together on Minuteman," McCall noted, including on sustainment and modernization of the system.
The GBSD is a "vast and complicated" project, with more than 600 missiles to be procured and built, then installing 400 in modernized silos across five states. That "demands the best the nation can give it," McCall asserted. "It warrants the capabilities of the entire industrial base that has knowledge and expertise" to carry it out, he argued.
McCall said Boeing had been in talks with Northrop but would not discuss the details. He acknowledged that, as the sole bidder expected to remain in the program, Northrop was "in the driver's seat" as to what solution to offer and whether to consider a joint effort.
"The Air Force is in a great position to define the future of GBSD," McCall said. "They have seen the best of what both companies and our teams have to offer through the TMRR and its innovative model-based systems engineering approach that has given them unprecedented insight into design solution alternatives, what their performance would be and what their cost is."
The Air Force could have chosen the best design approach and put the team to work on it if the two competitors joined forces, he said.
The Air Force released the final request for proposals for the GBSD in July, and responses are due in mid-December.