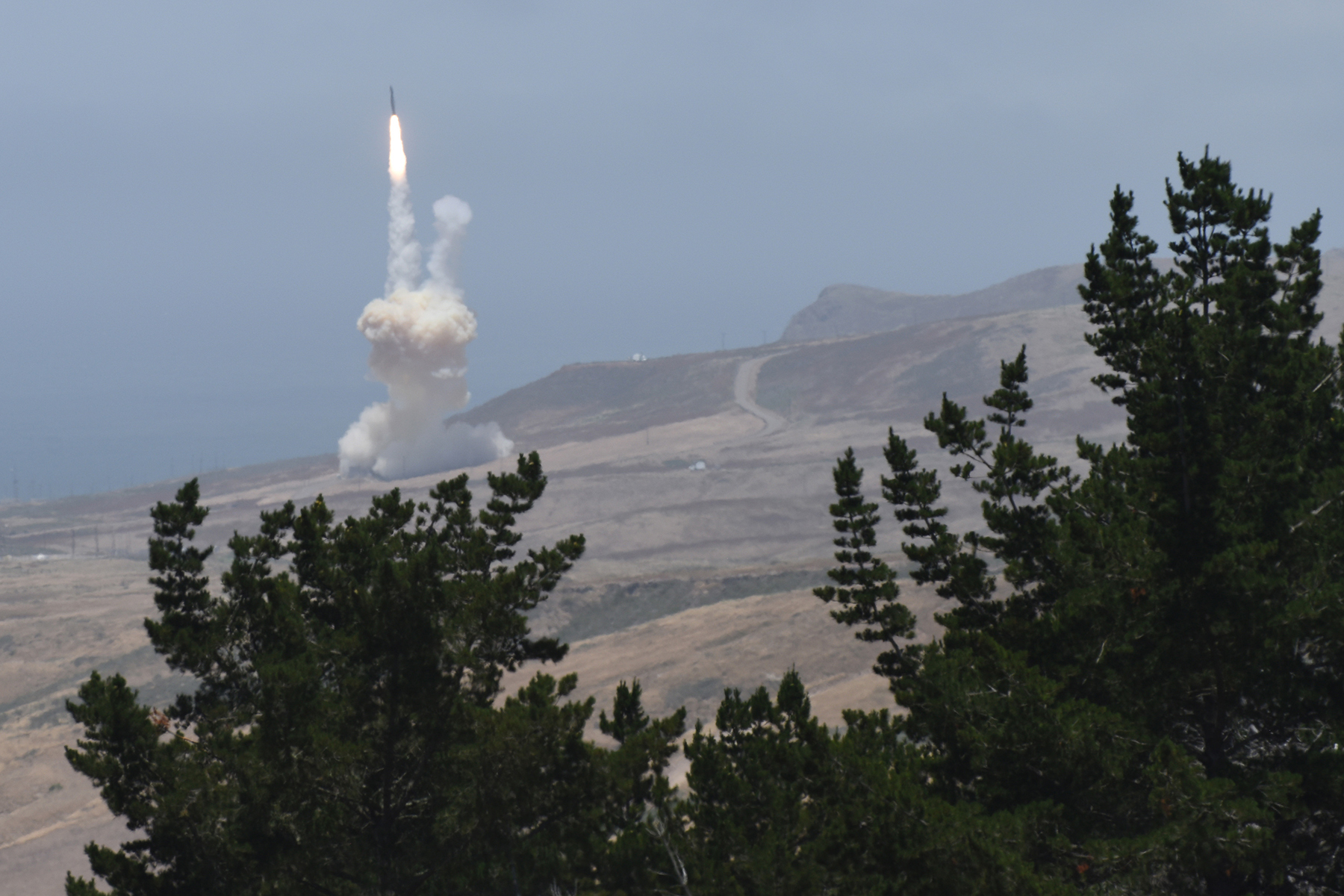 The Missile Defense Agency—in cooperation with the 30th Space Wing, the Joint Functional Component Command for Integrated Missile Defense and US Northern Command—intercept an ICBM target during a test of the Ground-based Midcourse Defense element of the nation's ballistic missile defense system. During this 2017 test, a ground-based interceptor was launched from Vandenberg AFB, Calif., and its exo-atmospheric kill vehicle intercepted and destroyed the target in a direct collision.
Boeing has received a $6.56 billion contract modification from the Missile Defense Agency to extend its Ground-based Midcourse Defense (GMD) development and sustainment contract through 2023, the Pentagon said Wednesday.
The deal completes "accelerated delivery of a new missile field with 20 additional silos" as well as another two silos at Fort Greely, Alaska. It also includes the "procurement and deployment of 20 additional Ground Based Interceptors," according to the contract announcement. It potentially more than doubles the value of the contract, from $6.14 billion to $12.64 billion.
The GMD system protects the country from long-range ballistic missiles, using interceptors in silos at Vandenberg AFB, Calif., and at Fort Greely. After a successful test in June, Boeing announced in November that eight interceptors had been added to the system, bringing the total to 44.
Under this week's contract modification, the Missile Defense Agency "executes missile defeat and defense enhancements" to deliver a new missile field with 20 silos and two new silos at an existing missile field at Fort Greely, as well as procurement and deployment of 20 new interceptors.
The existing contract covers "development, fielding, test, systems engineering, integration and configuration management, equipment manufacturing and refurbishment, training, and operations and sustainment" for the GMD weapon system and support facilities.
"The scope of work includes technical capabilities to expand and improve a state-of-the-art, missile defense system to ensure defensive capabilities remain both relevant and current, to include but not limited to: boost vehicle (BV) development; integration of redesigned kill vehicle (RKV) with BV; providing GBI assets for labs and test events; development, integration, testing and deployment of ground systems software builds to address emerging threats; acquisition and emplacement of launch support equipment; expanded systems testing through all ground and flight testing; cyber security support; and, performance based logistics," according to the announcement.
Work will be performed at a variety of locations, including Air Force facilities such Vandenberg AFB, Calif.; Schriever AFB, Colo.; Peterson AFB, Colo.; and Cheyenne Mountain Air Station, Colo.
Other companies involved in the modification include Orbital ATK; Northrop Grumman Systems Corp.; and Raytheon Co.