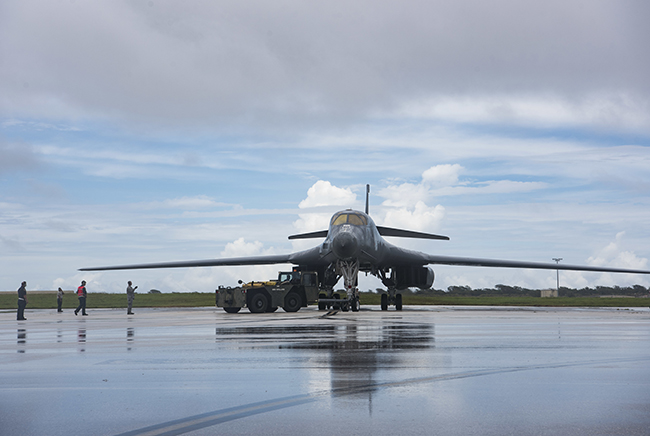 A USAF B-1B is pushed into place on Andersen AFB, Guam, in preparation for exercise Valiant Shield 18, Sept. 15, 2018. Air Force photo by SrA. Zachary Bumpus.
The B-1 bomber fleet remains grounded three weeks after inspectors identified issues with a Lancer's drogue chute system, but Air Force Global Strike Command boss Gen. Timothy Ray approved a recovery plan on Tuesday.
After three incidents in a year involving the B-1's escape systems, Ray told reporters in Washington, D.C., on Wednesday, he "didn't like what I saw." He approved the plan on April 16 to implement some Time Compliance Technical Orders for inspections of all B-1 egress systems.
Ray acknowledged the downtime hurts the fleet's readiness, but said he's placing a higher priority on flight safety.
"The typical aircraft will take seven to 10 days to inspect, [including] a thorough scrub of the egress system," Ray noted. "It's not a young airplane; wear and tear is part of the things we find." However, he said maintenance crews have not found any systemic problems and he has "no deep concerns" about the B-1's safety.
"There's no shortcuts," he asserted. "Every aircraft will get inspected."
Dyess AFB, Texas, expects to inspect three B-1s per week, while Ellsworth AFB, S.D., will do two, "so this is going to be a slow and steady process." As soon as the inspections are complete, the aircraft will be "cleared to fly," he said.
During the last 18 years, the Air Force's fleet of 66 B-1s has been "overextended" in the US Central Command area of operations, Ray explained. Normally, no more than 40 percent of a fleet would be committed for an operation of that magnitude, but he said, "We were probably approaching [a] 65-70 percent commit rate [for] well over a decade."
The "wear and tear on the crews, the maintainers, and certainly the airplane" led him "to ask for us to get out of the CENTCOM fight so we could turn," and "prepare for … the high-end conflict" as former Defense Secretary Jim Mattis had directed.