US, Russia Stop Sharing Nuclear Forces Data
The U.S. will not share data on its nuclear arsenal with Russia after Moscow refused to do the same, Biden administration officials said March 28, the first time the Biden administration has responded to Russian President Vladimir Putin's announcement that he was "suspending" Moscow's participation in the New START treaty.
"Under the treaty, we exchange data on kind of high-level numbers," said Assistant Secretary of Defense for Space Policy John Plumb in testimony before the House Armed Services Strategic Forces subcommittee. "Russia responded that they will not be providing that information. So as a diplomatic countermeasure, the United States will not be providing that information back."
The two countries faced a March 31 deadline for exchanging detailed data on their numbers of deployed nuclear forces as part of a regular six-month cycle.
New START limits the U.S. and Russia to 1,550 deployed warheads. U.S. officials say they assess that Russia is still under its treaty limits, and Pentagon leaders have stated they plan to adhere to the other provision's limits and are not keen to engage in an arms race.
We all understand that nuclear deterrence isn't just a numbers game. … In fact, that sort of thinking can spur a dangerous arms race.

Secretary of Defense Lloyd Austin III
"We all understand that nuclear deterrence isn't just a numbers game," Secretary of Defense Lloyd J. Austin III said in December before Putin announced his suspension of the treaty. "In fact, that sort of thinking can spur a dangerous arms race."
The data the U.S. plans to withhold includes information on the number of bombers, missiles, and nuclear warheads that are deployed at specific U.S. bases. However, the U.S. is continuing to provide Russia with notifications of the movements of its strategic bombers, missiles and submarines, and their operational status as required under the treaty.
"We are going to continue to examine what diplomatic countermeasures are appropriate," Plumb said. "What we're trying to do is balance both responding to Russia's irresponsible behavior, but to continue to demonstrate what we believe a responsible nuclear power actually should be."
Daryl Kimball, the executive director of the Arms Control Association, was critical of the U.S. decision not to share data but said the administration was right to continue the notifications. "That will reduce the possibility that Russia misconstrues a particular movement of a strategic system as something that it is not."
Russia has refused onsite inspections, declined to attend meetings on compliance issues, refused to exchange data, and stopped notifying the U.S. of the movements of its strategic nuclear forces. Moscow, however, hasn't rejected all limitations on its nuclear forces. In suspending its participation in the accord, Russia's Foreign Ministry said Moscow would continue to observe limits on the number of nuclear warheads it can deploy under the treaty "in order to maintain a sufficient degree of predictability and stability in the sphere of nuclear missiles."
Moscow will continue to notify the U.S. when it plans to test-launch intercontinental and submarine-launched ballistic missiles under a 1988 agreement, the foreign ministry said.
The White House noted the tit-for-tat nature of the U.S. response but said it made the decision not to provide the data to Russia because Moscow was unwilling to hold up its end of the bargain.
"We would prefer to be able to do them, but it requires them being willing as well," National Security Council Strategic Communications Coordinator John Kirby said of the data exchanges.
Kirby said the Biden administration is still holding out hope to revive the treaty, which expires in 2026.
"We believe that the New START treaty is good for both our countries—heck, it's good for the world—when our two countries are in full compliance with our New START obligations," Kirby said.
The future of arms control is unclear. U.S. officials and military leaders have cautioned that with China's increasing nuclear expansion, the U.S. will face two large, and possibly unconstrained, nuclear-armed countries for the first time in history. But China has shown no interest so far in joining nuclear talks with the U.S., and the U.S. and Russia are not currently involved in talks about a possible agreement after New START and have previously had deep differences over what should be covered under a future accord.
"A competition is underway among major powers to try to shape what comes next," Air Force Gen. Anthony J. Cotton said when he took over U.S. Strategic Command in December. "New perils are ahead of us."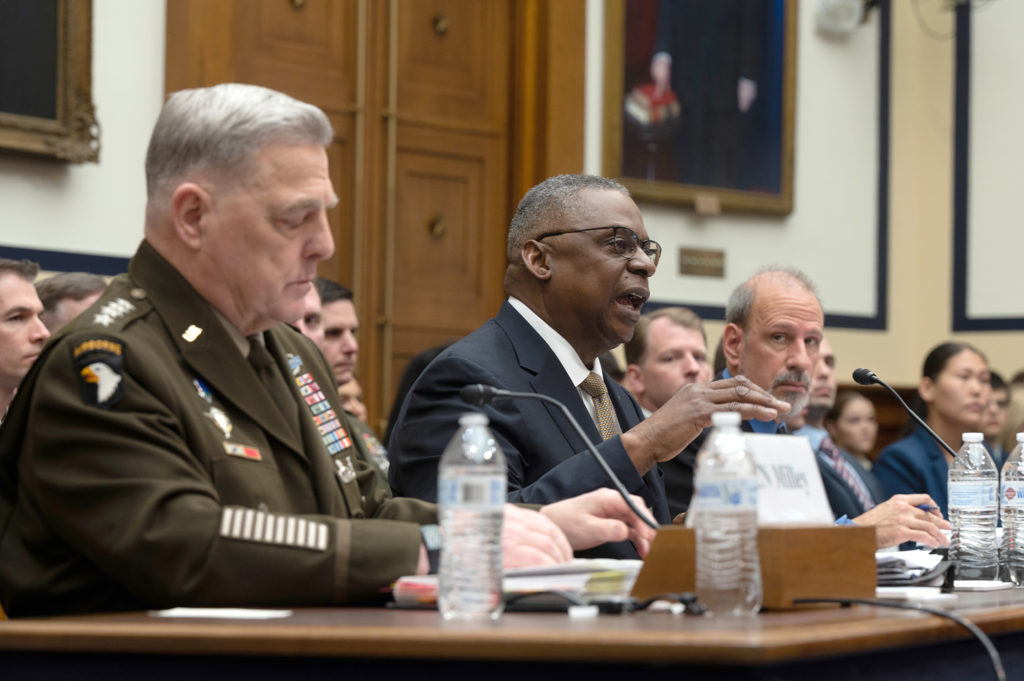 DOD Balks at F-16s, MQ-9s for Ukraine
Top U.S. defense officials dismissed the notion that the U.S. would provide aircraft—manned or unmanned—anytime soon to Ukraine in congressional hearings March 28 and 29.
While Kyiv has repeatedly asked for F-16 fighters and MQ-9 drones, the Biden administration has refrained from providing them and argued the systems would be of limited use to Ukraine in the current phase of its fight against Russia's invasion.
Instead, U.S. officials argue Ukraine has more pressing needs such as air defense, armor, and artillery. They also contend that Russia's own capable air defense systems would limit the utility and employment of manned aircraft.
"That air domain is a very hostile airspace because of the capability that the Russians have for air defense," Secretary of Defense Lloyd J. Austin III told the Senate Armed Services Committee on March 28. "That won't help them in this current fight. … And will they have a capability at some point down the road? We all believe that they will, and what that looks like, it could look like F-16s, it could look like some other fourth-generation aircraft."
Poland and Slovakia said they are providing 17 Soviet-era MiG fighters to Ukraine, a move U.S. Air Forces Europe Commander Gen. James B. Hecker said would offer a helpful capacity boost. Ukraine has lost about 60 planes to date. But Hecker said the new aircraft would not significantly change battlefield dynamics.
Some members of Congress have expressed willingness to send aircraft to Ukraine, but Biden administration officials have held fast in opposing such a move.
"If you're talking to F-16s, whenever you make that decision, in order to put together what needs to be put together to provide that capability is going to be 18 months or so in the making," Austin said. "We will continue to work with our allies and partners to make sure that Ukraine has what it needs."
Another system the U.S. has declined to provide is the unmanned MQ-9 Reaper drone. MQ-9s have been a hallmark of U.S. counterterrorism operations in the Middle East, most notably firing Hellfire missiles at targets. They have the ability to loiter for over 20 hours and gather intelligence.
They also are available. The Air Force wants to divest 48 older MQ-9s in fiscal 2024, and the manufacturer of the aircraft, General Atomics, has pledged to provide its company-owned drones to Ukraine. To date, the U.S. has given Ukraine only smaller tactical drones. Austin and Gen. Mark A. Milley, the Chairman of the Joint Chiefs of Staff, oppose providing MQ-9s.
"It is not a survivable platform if they try to use that in that environment," Austin said.
Indeed, a Russian fighter jet downed a U.S. MQ-9 in March on a surveillance mission over the Black Sea when the jet clipped the propeller while harassing the American drone.
"It's big and slow," Milley said of the MQ-9, which has a 20-meter wingspan and a cruising speed of about 230 mph. "It's going to get nailed by the Russian air defense systems. And in terms of its capabilities, I'm not sure what it'll get you beyond the smaller, faster, more nimble UAV systems that we are providing."
Others counter that Ukraine has much to gain from the aircraft. "The proposed use of the MQ-9 is as a long-range sensing and targeting aircraft at a stand-off range—not to fly into the teeth of a fully robust and operational IADS," said retired Lt. Gen. David A. Deptula, dean of AFA's Mitchell Institute for Aerospace Studies. Even if the aircraft were shot down, he said, they would still be valuable to Ukraine, forcing Russia to expend air defenses and exposing Russian radars so Ukrainian forces could attack them.
Deptula said the U.S. appears to be "deterred by the concern of escalation" with Russia and is not "making choices that provide the best military advice for the Ukrainians."