A KC-46A takes off during a system evaluation at Yokota AB, Japan, on Oct. 25, 2018. Photo Yasuo Osakabe/USAF
NOT QUITE PERFECT
The Air Force accepted the first KC-46A Pegasus tanker from Boeing for operational testing—two years behind schedule, with known deficiencies in the boom operator's vision system, and with the boom itself that could take years to resolve.
The decision to accept the jet, announced Jan. 10 in a short USAF press release, is a "major milestone for our next generation tanker," the Air Force said, and allows the Air Force to begin operational testing and flight training on the aircraft. The service said the deficiencies "do not prevent the tanker from carrying out its primary mission."
Delivery of the first aircraft to McConnell AFB, Kan., and an official ceremony to mark that occasion, was set for Jan. 25. Boeing said in a statement that nine more aircraft are undergoing Air Force acceptance testing, and four could be delivered to Altus AFB, Okla., as early as next month.
Boeing and the Air Force initially expected to take the first delivery of a KC-46 in early 2016, and the fixed-price contract called for 18 aircraft to be delivered by the end of 2017. The schedule has repeatedly slipped as deficiencies were discovered in testing.
The Air Force accepted the first aircraft with deficiencies in the "remote vision system" and the boom's ability to properly sense "axial loads."
"We have identified, and Boeing has agreed to fix at its expense, deficiencies discovered in developmental testing of the remote vision system," the service said. "The Air Force has mechanisms in place to ensure Boeing meets its contractual obligations while we continue with initial operational testing and evaluation."
The Air Force is withholding up to $28 million per aircraft if the deficiencies are not adequately addressed. If this amount is applied to all 52 aircraft currently on contract, total withholding could be as high as $1.5 billion, Air Force spokeswoman Capt. Hope Cronin said. This amount would be in addition to the $3.2 billion Boeing has absorbed in cost overruns on the KC-46 thus far. It was not clear from the Air Force's comments whether the $28 million per jet would be paid to Boeing later or represented a permanent reduction in progress payments. A Boeing spokesman deferred all comment about penalties to the service.
The Jan. 10 event acceptance is known in the trade as a DD250, for the form the Air Force signs to accept an airplane. It is not uncommon for a DD250 to have deficiencies noted. A decision to accept an aircraft with defects is made at the service's discretion.
The remote vision system is necessary on the KC-46 because, unlike the KC-135 or KC-10, the boom operator sits at the front of the aircraft, behind the cockpit. The series of cameras provide the boom operator with a three-dimensional view of the rear of the airplane, wingtip to wingtip, as refueling takes place. The cameras also allow the operator to see what's going on in blackout conditions, using thermal cameras.
Two problems persist with the remote viewing system. Under certain lighting conditions, and when the sun is at a particular angle, the boom operator's view of refueling could be impaired. Also, boom operators couldn't tell during testing if the boom was scraping the receiving aircraft outside the protected area around the refueling receptacle. This problem could damage stealth coatings on a low-observable aircraft, ruining or degrading its ability to conduct its mission. Boeing has said a software update could address this issue.
Another issue involves the inability for the boom operator to detect additional loads put on the boom by the KC-46 pilot and sensing the stiffness of the refueling boom during initial contact.
The Air Force expects the implementation of solutions to these deficiencies to take "approximately 3-4 years to complete," though it does not project any delays to delivery schedules as a result of these solutions, Cronin asserted.
The decision to accept the aircraft was made by Ellen M. Lord, undersecretary of defense for acquisition. She made the call because Patrick M. Shanahan, Acting Defense Secretary, has recused himself from actions regarding Boeing, where he worked for 31 years before retiring as a senior executive.
Pentagon spokesman Lt. Col. Mike Andrews said in a statement that the Department is in "complete agreement" with the Air Force about the delivery of the aircraft. The Pentagon "remains committed to providing the most cost-effective platforms" for the taxpayer while also delivering the "best capabilities" to the military, Andrews said.
So far in flight testing, six KC-46s have completed more than 3,800 flight hours and off-loaded more than four million pounds of fuel to nine different aircraft in day, night, and covert flights, Boeing said in a release.
"This is an exciting and historic day for the Air Force and Boeing, as we hand over the first of many KC-46 tankers," Boeing CEO Dennis Muilenburg said in the release. "I'm proud of the dedication and commitment by our enterprise-wide team, and we're honored to provide this valuable and capable aircraft to our customer.
The Air Force said it expects the initial 18 aircraft to be delivered by the end of 2019.
The service in September awarded Boeing $2.9 billion for 18 more KC-46s plus spares, support gear, spare engines, and wing air refueling pods.
Contracts for the first two production lots—seven and 12 aircraft—were awarded in 2016 and the third—for 15 aircraft—was awarded in 2017. Delivery of 179 total aircraft is expected by the end of 2028.
The Air Force and Boeing recently finished Phase II of flight certification at Edwards AFB, Calif., and are beginning the next phase of testing focused on 11 total aircraft.
"We look forward to working with the Air Force, and the Navy, during their initial operational test and evaluation of the KC-46, as we further demonstrate the operational capabilities of this next generation aircraft across refueling, mobility, and combat weapons systems missions," Boeing Defense President Leanne Caret said in the release.
McConnell Air Force Base has been preparing for the arrival of the aircraft, having completed 16 military construction and facility projects at a cost of $267 million since 2014. These include a fuselage trainer, hangars, and simulators, among others.
"We stand ready," Air Mobility Command boss Gen. Maryanne Miller said in October. "Aircrews are excited, we're excited to get it."
—John A. Tirpak

Gen. Jim Mattis speaks to troops at Camp Jordania, Afghanistan, as head of USCENTCOM in 2011. Photo: DOD
MATTIS BIDS FAREWELL TO TROOPS
Secretary of Defense Jim Mattis resigned Dec. 20, one day after President Donald J. Trump's plans to withdraw troops from Syria became public. Mattis urged military members to remain focused on the mission, saying the Department of Defense remains in good hands.
"I am confident that each of you remains undistracted from our sworn mission to support and defend the Constitution while protecting our way of life," wrote Mattis in a farewell address to troops on Dec. 31. "Our department has proven to be at its best when times are most difficult. So keep the faith in our country and hold fast, alongside our allies, aligned against our foes."
Mattis, who led the department since January 2017, resigned citing multiple policy differences with the administration. He offered to stay on through Feb. 1, to ensure a smooth transition to the next Defense Secretary, but Trump days later announced that Deputy Defense Secretary Patrick M. Shanahan would temporarily assume the position until a new SECDEF, who has not yet been named, is confirmed.
The official transition took place Dec. 31 via a scripted telephone call between Mattis and Shanahan, according to a defense official. The department "is not authorized" to release a transcript of that call, but its purpose is to "ensure all members within the government know who is in command," according to the official.
Mattis is a retired United States Marine Corps general who served in the Persian Gulf War and the war in Afghanistan. His career included stints as commander of the US Joint Forces Command, NATO'S Supreme Allied Commander Transformation, and the head of USCENTCOM. After retirement and before taking the job of SecDef, he served on the board of Theranos, a now-defunct health technology corporation.
Shanahan was a Boeing executive for more than 30 years and served as deputy defense secretary since July 2017. He oversaw many of the department's acquisition programs and the development of the plan for a separate military service for space.
On his first day on the job, Shanahan met with civilian military leaders and stressed the importance of the National Security Strategy, in particular it's position on near-peer competitors such as "China, China, China." In a statement released that day, Shanahan said, "As Acting Secretary of Defense, I now look forward to working with President Trump to carry out his vision alongside strong leaders including the service Secretaries, the Joint Chiefs of Staff, the combatant commanders, and senior personnel in the Office of the Secretary of Defense."

Harold Brown was a key figure in developing the nation's nuclear policies. Photo: DOD via National Archives
HAROLD BROWN: 1927-2019
Harold Brown, Secretary of the Air Force from 1965-1969 and Secretary of Defense during the Carter Administration, died Jan. 4 in California at the age of 91. Brown also served as president of the California Institute of Technology and as an arms control negotiator under the Nixon Administration. He was a key figure in the development of the nation's nuclear arsenal and policies and defied attempts to label him as a "hawk" or "dove."
Perhaps the definitive "whiz kid" of the Kennedy Administration, Brown received a doctorate in nuclear physics from Columbia University at the age of 21, and went on to a distinguished career in nuclear weapons design, eventually becoming head of the Lawrence Livermore nuclear laboratories, a protégé of its former director, Edward Teller. He played an important role in the development of the Polaris nuclear missile during the 1950s.
Defense Secretary Robert S. McNamara brought Brown into the Pentagon at the age of 33 to serve as director of Defense research and engineering. In that role he oversaw the development of Multiple, Independently targeted Re-entry Vehicles (MIRVs) and pushed for an attempted multiservice combat aircraft called the TFX. Intraservice politics doomed it as a joint effort, but it succeeded in the Air Force as the F-111.
Elevated to Secretary of the Air Force in 1965 at the age of 38, Brown argued for and oversaw the bombing of North Vietnam during the Johnson Administration. After the change of administrations, President Richard M. Nixon appointed Brown to serve on the Strategic Arms Limitation Talks (SALT) I negotiating team, which led to an agreement between the US and Soviet Union to curtail the growth of their respective nuclear arsenals.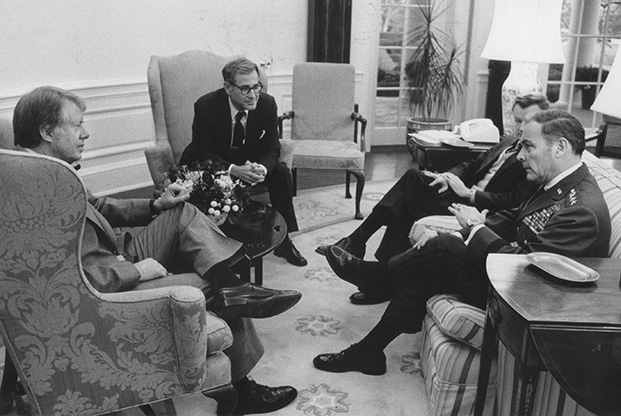 Brown (center), as Secretary of Defense, meets with President Jimmy Carter, Zbigniew Brzezinski, and Gen. Alexander Haig in the Oval Office. Photo: USAF/AFA Library
President Jimmy Carter appointed Brown Defense Secretary in 1976; the first scientist to hold that position. Though he had a mandate from Carter to reduce defense spending, Brown laid the technological groundwork for many of the "second offset" technologies that underwrote US military dominance in the period of the 1980s-2010s, such as stealth, cruise missiles, satellite guidance, advanced propulsion, and advanced sensors. He also persuaded Carter to seek a substantially larger defense budget in the last year of that administration. He was not persuaded of the effectiveness of the B-1 bomber, however, and canceled that program in favor of equipping B-52s with Air-Launched Cruise Missiles and investing in the Advanced Technology Bomber, which became the B-2 stealth bomber. He also approved development of the M-X missile, intended to be the successor to the Minuteman, and persuaded NATO allies to accept the deployment of Pershing II and Griffin land-based theater nuclear missiles on their soil.
Under Carter, Brown also established the "countervailing" strategy for use of nuclear weapons, which went beyond the targeting of cities and industry to focus on "options to attack the targets that comprise the Soviet military force structure and political power structure and to hold back a significant reserve."
Brown believed such a strategy to be more credible than the threat of attacking only civilians.
Brown provided technical and security direction to the negotiations ultimately leading to the Camp David Accords between Israel and Egypt and was the key figure in developing the SALT II nuclear arms agreement between Carter and Soviet leader Leonid Brezhnev. His most notable failure, however, was the "Desert One" mission intended to rescue American hostages held in Iran.
Brown later described the decision to undertake that risky mission as the "least bad" of the options available. The failure of the rescue mission was considered a key factor in Carter's overwhelming electoral loss in the 1980 election to Ronald Reagan.
In 1986, Brown, along with many other defense luminaries, successfully lobbied Congress to fund the public-private Sematech partnership to regain American competitiveness in the semiconductor industry, which Japan had begun to dominate. Brown argued that semiconductors were a critical enabling technology for all US weapons and a vital national need was served by ensuring American innovation and manufacturing capability in the field.
In later years, Brown served on many corporate boards and scientific advisory committees to the Air Force, Pentagon, and White House. He was a trustee of the RAND Corporation for more than 35 years and taught international relations at Johns Hopkins University. He was a member of the Trilateral Commission and a philanthropist.
Carter presented Brown with the nation's highest civilian award, the Medal of Freedom, while President Bill Clinton presented him with the Department of Energy's Enrico Fermi Award for achievements in science, technology, and national security. He received the Lifetime Achievement Award from the Air Force Association in 2008.
—John A. Tirpak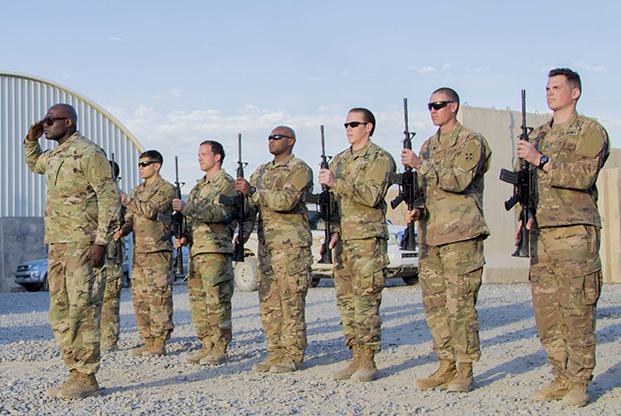 Soldiers memorialize the four military members killed by an IED in Afghanistan in November. Photo: SSgt. Shaiyla Hakeem/USAF
FIRST AIRMAN KILLED IN AFGHANISTAN SINCE 2015
A USAF combat controller and two US Army Special Forces soldiers were killed in late November when an improvised explosive device struck their vehicle in Ghazni Province, Afghanistan.
The blast killed SSgt. Dylan J. Elchin, 25, of Hookstown, Pa., who was assigned to the 26th Special Tactics Squadron at Cannon AFB, N.M. He was the only airman killed in action in Afghanistan in 2018, and the first since a suicide attack killed six airmen near Bagram Airfield in late 2015.
The blast also killed Army Capt. Andrew Patrick Ross, 29, of Lexington, Va., and Sgt. 1st Class Eric Michael Emond, 39, of Brush Prairie, Wash. They were both assigned to 1st Battalion, 3rd Special Forces Group (Airborne) at Fort Bragg, N.C. —Amy McCullough
USAF LACKS "ACHIEVEABLE PLAN" FOR BASE IN A BOX
The Air Force failed to create an "achievable plan" to preposition base supplies and materiel in the European Theater, and it lacks a single program manager to oversee efforts from multiple organizations, both of which are causing delays, according to a Dec. 27, 2018, Defense Department Inspector General report.
US Air Forces in Europe was authorized $797 million in Fiscal Years 2018 and 2019 for storage facility construction and procurement of the Deployable Air Base Kits, otherwise known as a "base in a box." The massive kits include everything from riot-control gear for security forces to fuel trucks to mess tents. Basically, everything necessary to rapidly generate sorties and establish air superiority in a crisis.
"The program involves … multiple organizations that are responsible for construction, management, and procurement; however, without a designated manager responsible for periodically updating the overall plan, [US European Command] and USAFE will not know when each of the 24 Deployable Air Base Kits will be available," states the report. "As a result, USEUCOM and USAFE will have fewer options for airlift capability when rapidly responding to a contingency" within the theater, states the report.
The IG faulted the Air Force for failing to provide a date by which all 24 kits will be procured, noting the overall plan states that enough equipment should have been procured for the first five kits in Fiscal 2018, but officials in USAFE's logistics division told auditors "they do not expect to have the equipment procured to fulfill the first complete Deployable Air Base Kit until FY 2020 or 2021," according to the report.
During a visit to Germany this summer, officials declined to say how many kits it planned to procure or how many would be based at each location, citing operational security concerns.
The IG recommended the service designate a program manager "at least at the director level" for the Deployable Air Base Kits program. That program manager should review and update the overall plan "at least semi-annually."
Air Force officials agreed with the IG's recommendations. Supporting organizations met in October 2018 and agreed on the need for an overall program manager, but they have not yet decided what organization should fill that role. They plan to "continue their discussion" at the next meeting in February, according to the report. In addition, the Air Force said it will update Air Force Instruction 25-101 "to include a requirement to designate a program manager for US Air Force pre-positioned equipment."
The IG said it now considers the recommendations resolved, though they will remain open until it receives the updated AFI.
For more about the Air Force's "Base in a Box" concept and how it's using EDI finds in the European Theater read "Deterrence in Europe" from the December 2018 issue of Air Force Magazine.—Amy McCullough
REPORT PROVIDES MORE INFORMATION INTO LAUGHLIN FIRINGS
Three commanders at Laughlin AFB, Texas, were removed from their positions because of unsafe leadership, poor oversight of alcohol consumption at official events, and missed "opportunities to establish a culture of dignity and respect," Air Education and Training Command said in a mostly redacted report.
AETC boss Lt. Gen. Steven Kwast removed Col. Charles Velino, commander of the 47th Training Wing, operations group commander Col. Robert Pekarek, and Lt. Col. Tom Allen, commander of a flying training squadron, from command in late October.
"The prior command team chronically failed to appropriately care for people and the mission," Kwast said at the time. "They failed to correct an evolving situation that led to an environment where some airmen did not feel safe or respected."
AETC released the report in late December, briefly detailing incidents of drinking at unit-sponsored events, incidents of sexism, and an allegation of a "frat boy" atmosphere among student pilots. Additionally, the report states Velino was largely absent as commander because he was away at another base and unable to integrate enough with the wing.
The report provided a total of 19 recommendations to improve the organizational climate at the wing, such as evaluating the use of alcohol at unit events, investing in quality-of-life programs, and developing anonymous feedback mechanisms.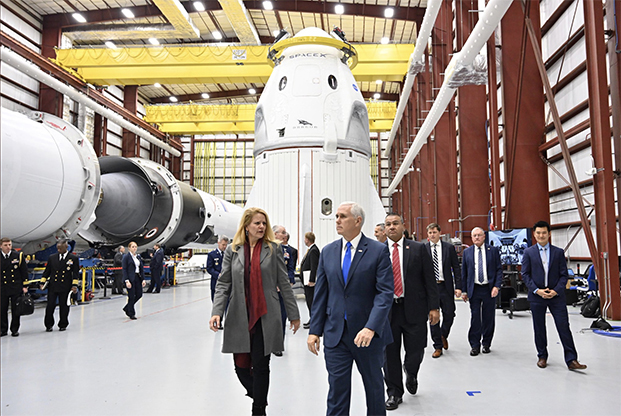 Vice President Mike Pence and SpaceX President Gwyne Shotwell visit the company's Dragon 2 Capsule. Photo: Twitter via Mike Pence
US SPACE COMMAND ANNOUNCED
Vice President Mike Pence on Dec. 17, 2018, officially announced the recreation of US Space Command as the 11th combatant command in the US military, moving one step closer to the creation of a new separate service for space operations.
During a visit to Cape Canaveral AFS, Fla., for the launch of the first GPS III satellite, Pence said the new directive from President Trump creates the command, which will "integrate space capabilities across all branches of the military."
SPACECOM will be tasked with developing doctrine, tactics, techniques, and procedures to operate in space and its establishment marks a "new era of American national security" in space, Pence added.
US Space Command was first created in 1985, but was realigned under US Strategic Command 17 years later. The time line to re-establish the command was laid out in policy memos from the Pentagon, which stated that initially the commander of Air Force Space Command would be dual-hatted as the leader of SPACECOM. Pence has previously said the White House wants the new Space Force to be created by 2020.
The Air Force Association believes the establishment of a US Space Command is the best way to address advancing threats to space.
"Re-establishing US Space Command is a logical and necessary step," AFA president, retired Gen. Larry O. Spencer, said. "AFA supports the creation of a new unified combatant command, the US Space Command, to lead the use of space assets in warfighting and accelerate integration of space capabilities into other warfighting forces."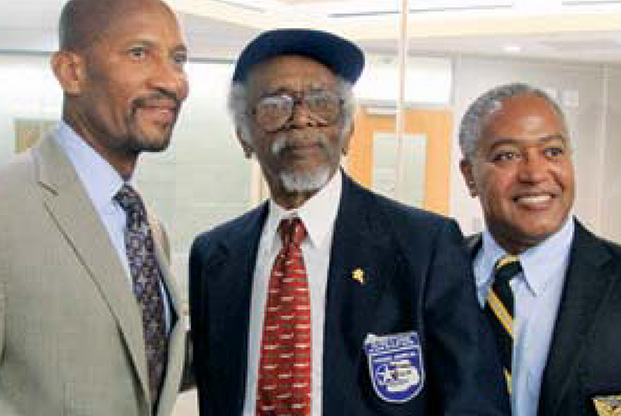 Wilfred DeFour, Tuskegee Airman, center, with Col. Kermit Jones (retired), left, and Arthur Almore Sr, at the dedication of the new Davis Barracks at West Point in 2017. Photo: Anthony DiNoto/courtesy West Point AOG
DEFOUR, LYLE, TUSKEGEE AIRMEN DIE
Wilfred DeFour, who served with the Tuskegee Airmen—a group including pilots, navigators, bombardiers, and maintenance and support staff who went through a US Army Air Corps training program to bring African-Americans into the war effort during World War II—was found dead Saturday Dec. 8, 2018, in his apartment in New York. He was 100 years old.
DeFour attended a ceremony in November 2018 for the renaming of a Harlem post office in honor of the Tuskegee Airmen.
DeFour was an aircraft technician during World War II. After the war, he worked for the US Postal Service for 33 years.
Tuskegee Airman John Lyle, a World War II fighter pilot, died at the age of 98 on Jan. 4. Lyle died Saturday at his home on Chicago's South Side.
Lyle, who named his plane "Natalie" after his first wife, was credited with shooting down a German Messerschmitt.
"We flew 500 feet above the bombers to keep enemy fighters from hitting our guys," he recalled in a 2012 interview with Jet magazine. "I loved flying, being up in the clouds, the scenery. I flew 26 combat missions, from southern Italy to Austria and southern Germany, over the Austrian Alps, Lyle told Jet magazine.
AIR STRIKE KILLS OPERATIVE INVOLVED IN COLE BOMBING
An al Qaeda operative involved in the 2000 bombing of the USS Cole was killed in a precision strike on Jan. 1 in Yemen, US Central Command said. US forces confirmed the death of Jamal al-Badawi "following a deliberate assessment process," Capt. Bill Urban, a CENTCOM spokesman, said in a written statement. The Cole was refueling in Yemen when it was attacked on Oct. 12, 2000, killing 17 US sailors. President Trump on Twitter praised the "GREAT MILITARY" for delivering "justice for the heroes lost and wounded" in the bombing. "We have just killed the leader of that attack, Jamal al-Badawi. Our work against al Qaeda continues," he tweeted. Al-Badawi was wanted for the Cole bombing, had been indicted by a federal grand jury in 2003 and charged with 50 counts of terrorism offenses, and had been charged as a co-conspirator in an attempt to attack a US Navy vessel in January 2000, Urban said.
MQ-1B LOST IN CENTCOM AOR
An MQ-1B Predator was lost while supporting a combat mission in the US Central Command area of responsibility on Sept. 4, 2017, after the satellite link connecting the mission control element to the aircraft failed and airmen were not able to re-establish contact, according to a recently released abbreviated accident investigation board report. However, officials could not determine what caused the link to break, citing "insufficient evidence of any substantially contributing factors," according to the report.
LIGHT ATTACK REQUEST FOR PROPOSALS DELAYED
The Air Force will not release its final request for proposals for its new light attack fleet this month as planned, and it does not have a time line for when the program will proceed. Chief of Staff Gen. David L. Goldfein said earlier this year the expected December release would occur after a dialog with industry following a series of draft requests. "The Air Force does not anticipate release of the final Light Attack Request for Proposal by the end of the calendar year as we complete additional analysis," Air Force spokeswoman Capt. Hope Cronin said in a statement. The light attack experiment began last year to see if the Air Force could quickly field an off-the-shelf aircraft to fly close air support missions in permissive environments. Two finalists, the A-29 Super Tucano and the AT-6 Wolverine, remain in the competition. The delay was first reported by Defense News. See also: "How the OA-X Might Change Air Force Acquisition" from the January 2018 issue of Air Force Magazine.—Brian Everstine
THE WAR ON TERRORISM
Casualties:
As of Jan. 9, a total of 63 Americans had died in Operation Freedom's Sentinel in Afghanistan, and 69 Americans had died in Operation Inherent Resolve in Iraq and Syria.
The total includes 128 troops and four Department of Defense civilians. Of these deaths, 58 were killed in action with the enemy while 74 died in noncombat incidents.
There have been 360 troops wounded in action during OFS and 75 troops in OIR.