The extent and types of arms sent to Ukraine from NATO and other nations continues to grow in scale and sophistication, with the latest escalation coming in the form of tanks, Challengers from the UK, M1s from the United States, and Leopards from Germany. Continued aggressive attacks by Russia have kept the flow of military aid from the west rising and the sophistication of the weapons on offer growing.
Yet the one line the United States and its allies have thus far not crossed is delivery of modern combat aircraft, such as U.S. F-16s. U.S. officials worry that fighter jets would be a logistical and training challenge and that providing combat airpower could escalate tensions, complicating attempts to keep the war contained to Ukraine. But Ukrainian officials continue to press for combat air power to strengthen their capacity to fight Russian invaders.
"Until today, the major focus in the discussions have been the tanks," Yuriy Sak, an adviser to Ukraine's defense minister Oleksii Reznikov, told Air & Space Forces Magazine after Ukraine had finally secured Western tanks. "Now we'll start talking about jets."
The Ukrainians have proven that they can learn complicated, complex, and challenging systems.

Pentagon Deputy Press Secretary, Sabrina Singh

American-made F-16s top Ukraine's wish list, though Swedish-made Gripens, designed to operate from spartan airfields with a limited support crew also would be welcomed by Kyiv. Sak said Ukraine's hope is that Washington will eventually support the transfer of F-16s.
"F-16[s] are best suited for our situations," Sak said.
Ukraine has asked for Western jets since the start of the war, along with longer-range ground weapons, such as ATACMS surface-to-surface missiles. The Biden administration has tried to thread the needle between strongly supporting Ukrainian independence, on the one hand, and avoiding anything that could be seen as escalatory in order to keep the war from leading to a direct clash between U.S. and Russian forces or spreading to NATO allies. If Russia were to attack a NATO ally, that would bring the entire alliance into the fight.
Deputy Pentagon Press Secretary Sabrina Singh said in a Jan. 26 briefing that F-16s were "another challenging system that would require training," noting that even if the aircraft were provided, it would take time for Ukraine's pilots to become proficient enough for combat.
The West has relented on providing some weapons that were initially denied, including the PATRIOT air defense system and M1 tanks. Today, Ukrainian troops are training to operate PATRIOT at Fort Sill, Okla., and the Netherlands and Germany have also pledged to provide PATRIOT systems. Biden's change of heart over the M1 Abrams tanks was particularly swift, and once it became clear that the only way to get the Germans onboard was to provide M1s, the President recanted and pledged the weapons, effectively shaming the Germans into doing the same.
It's not yet clear whether Ukraine will get tanks from or new tanks from General Dynamics, but either way, it will take up to a year before the M1s arrive—far too late for the coming spring offensive. "The Ukrainians have proven that they can learn complicated, complex, challenging systems," Singh said.
Plans to bolster Ukraine's air forces, however, are still unclear, but time could be running out on Ukraine's ability to fight in the skies.
"Unless Ukraine acquires a replacement fighter force of Western origin in the coming months, it will lose the ability to defend its airspace and support its ground forces, and without control of their airspace they will lose," warned retired Lt. Gen. David A. Deptula, dean of AFA's Mitchell Institute for Aerospace Studies. "Some have raised the practical challenges of pilot training, supply, maintenance, etc. The Ukrainian Air Force can overcome these challenges."
Other airpower analysts said providing Western aircraft and more advanced air-to-air missiles is essential to enabling Ukraine to defend its cities and infrastructure against punishing missile and Shahed drone attacks.
"The Ukrainian Air Force fighter force needs modern Western fighters and missiles to sustainably counter the VKS," wrote the Royal United Services Institute (RUSI) in a November report, referring to the Russian Aerospace Forces. "Russian pilots have been cautious throughout the war, so even a small number of Western fighters could have a major deterrent effect."
Justin Bronk, a co-author of that report, said in an interview that the addition of Western fighters would provide Ukraine with a "much better ability" to defend against Russian air threats and cruise missile and drone attacks.
Due to Russia's air defenses, he said, providing the aircraft to Ukraine "would not be a decisive battlefield swing in terms of their ability to conduct air support."
The most significant threat to Ukrainian aircraft right now, according to RUSI, are Russian S-400 surface-to-air missile sites deployed in Russian-occupied Crimea and Belarus. These systems have forced Ukrainian pilots to fly low to avoid detection, a strategy that would likely still be necessary if they were flying F-16s. The S-400 poses a threat even to stealthy fifth-generation aircraft.
"I think it's really crucial to understand the constraints that will be placed by dense and in some cases very long-range Russian ground-based threats," Bronk said. "They would all have great difficulty operating above very low level within tens of kilometers from the front line. So they would have to stay low. That would greatly constrain their weapons employment and their sensor picture options."
Still, F-16s would represent a significant upgrade in capability over Ukraine's existing air forces. The U.S. has already provided Ukraine's Air Force with AGM-88 HARM air-to-surface anti-radiation missiles that can be used against surface-to-air missile sites, and those would be crucial F-16 weapons as well. Recently, the U.S. has increased Ukraine's strike capability by providing 4,000 Zuni rocket aircraft rockets, a legacy U.S. weapon that carries a small warhead as well as providing an unspecified number of JDAM precision-guided bombs. But defense officials have repeatedly said that providing aircraft is not a priority for the Biden administration.
NATO members' decisions to provide infantry fighting vehicles, armed personnel carriers, and main battle tanks aims to help Ukraine make a push to regain more ground. The U.S. is also conducting combined arms training in Europe to help Ukraine employ those capabilities by training Ukraine troops in tactics used by Western militaries.
Biden's top U.S. military advisors, including Defense Secretary Lloyd Austin and Chairman of the Joint Chiefs of Staff Gen. Mark A. Milley are experienced ground officers (Austin is a retired Army General and Milley is the Army's former Chief of Staff) and their collective experience is skewed toward land warfare.
"The Defense Department leadership giving advice to President Biden are products of the Army, and it was Army decision-making and leadership that made Operation Enduring Freedom the longest war in U.S. history—and a strategic loss," Deptula said. "They have no comprehension of the effective use of airpower in a concerted conventional campaign."
Regardless, U.S. joint warfighting doctrine depends on airpower as a critical component in war, and Ukraine's plea for Western airpower aid is consistent with that vision, Bronk said. But it's not just a question of the aircraft, he emphasized: Western aircraft must be paired with modern air-to-air missiles, such as the AIM-120 AMRAAM, to be effective.
Sensitivity about technology leaking into Russian hands remains a major concern, however. "There's a big question mark on sensitivity about whether we would even be willing to provide those things," Bronk said.
While the U.S. struggles to decide what weapons and systems to provide Ukraine, Russia continues to shop for new suppliers. With European parts suppliers no longer manufacturing parts and supplies to Russia, China and Iran have both stepped in.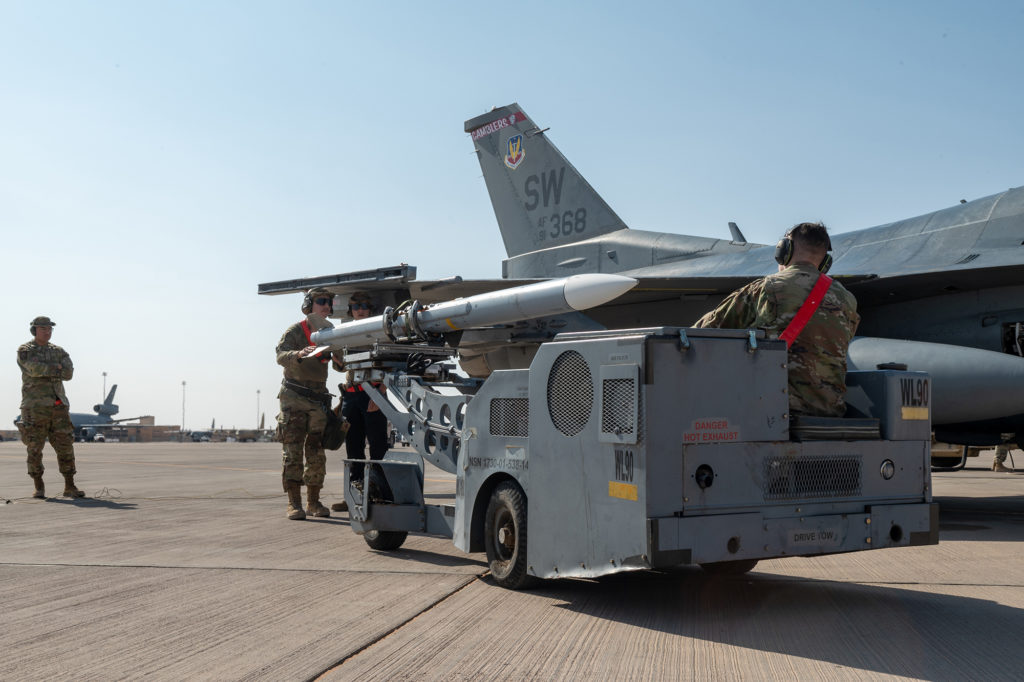 C4ADS, a data-focused nonprofit in Washington, D.C., released findings in early February in which it highlighted three examples of previously undetected trade in defense products between a major Chinese state-owned conglomerate and Russia's state defense sector. The report found:
PRC state-owned conglomerates proliferate to companies supporting Russia's invasion of Ukraine. C4ADS identified 281 previously unreported shipments of sensitive goods by China Poly Group Corporation (hereafter Poly Group) subsidiaries to Russian defense organizations from 2014 to 2022. For example, a subsidiary called Poly Technologies Inc. exported one shipment containing anti-aircraft missile radar parts to the sanctioned Russian state-owned defense company Almaz Antey.
Lack of transparency. Chinese trade data is expensive, unreliable, and incomplete, lacking details about both the products in any given shipment and the importing company overseas. C4ADS used third-party nations' reported imports from China to gain greater insight into illicit PRC defense networks.
Complex relationships. Corporate records indicate that Poly Group consists of more than 2,900 companies operating in more than 100 sectors C4ADS identified unsanctioned companies that trade in the same defense products with the same overseas partners as sanctioned entities inside; C4ADS focused their attention on individual corporate leaders to identify patterns common between known and unknown defense "proliferators."
"If China can send the Russians aircraft parts, why shouldn't the U.S. send Ukraine F-16s?" asked retired Lt. Gen. Bruce Wright, AFA's President. "Keeping Russian jets combat-capable is sustaining Russia in its unjust war. Giving Ukraine F-16s merely gives them the ability to fend off Russian aggression."
ing Russia in its unjust war. Giving Ukraine F-16s merely gives them the ability to fend off Russian aggression."