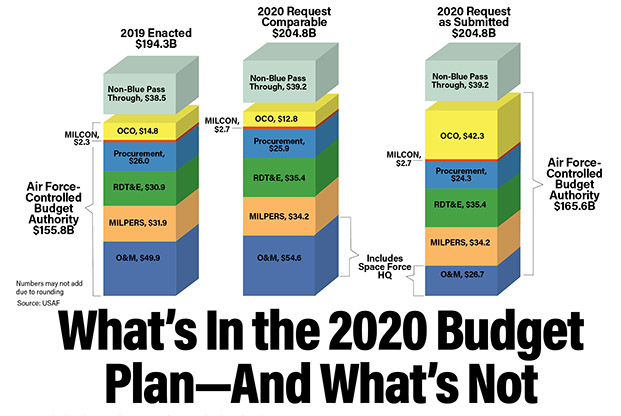 How the 2020 Budget Request Stacks Up. The president's 2020 budget submission for the Air Force is $9.8 billion greater than the enacted 2019 spending plan, not including pass through funding. But in an effort to make the base budget fit within the 2011 Budget Control Act's mandatory spending limits, the President's request shifted $29.5 billion into Overseas Contingency Operation (OCO) accounts. Below, the left chart represents actual 2019 spending; the center chart shows the 2020 plan as if it had been broken out the same way; and the third chart presents the budget request as submitted to Congress. Numbers may not add due to rounding. Source: USAF
The Air Force's $166 billion budget request for fiscal 2020 includes a $9.8 billion increase over 2019 appropriated funds and looks to start buying a new line of Boeing F-15EX fighter aircraft, includes $72 million to begin to establish a Space Force headquarters, and adds 4,400 airmen to the Total Force.
The request is part of an overall $750 billion 2020 Defense Department budget request that is $34 billion, or 4.5 percent, greater than approved 2019 spending levels. The total includes $545 billion in base defense funding, $66 billion in war funding, $9 billion in emergency funds, and $98 billion that was shifted—at the White House's direction—from the base budget to Overseas Contingency Operations because of spending caps imposed by the Budget Control Act of 2011, which limits the base budget to $576 billion.
Research and development accounts for 23 percent of the total Air Force request, including $3 billion to develop the B-21 bomber, $1.3 billion for land- and air-based nuclear missile modernization, and $1 billion for next generation air-dominance projects. Advanced engine research ($878 million) and hypersonic missiles ($576 million) are also major areas of focus.
The budget includes $1.1 billion to begin to buy F-15EX fighters, which would "initiate the refresh" of the Air Force's aging F-15Cs, which now average about 35 years of age. The initial payment covers eight aircraft and nonrecurring engineering costs, with the ultimate plan to acquire 80 F-15EXs in the five-year Future Years Defense Plan and as many as 144 over the life of the program—enough to field up to six squadrons.
The aircraft procurement plan also funds 48 F-35s, down from the 56 jets Congress funded in 2019, meaning the eight F-15EXs are a direct one-for-one swap, but at a higher cost per jet. At current pricing, the Air Force could acquire about 13 F-35s for the same $1.1 billion earmarked for eight F-15s in the 2020 plan.
On March 12, Pentagon Comptroller Elaine A. McCusker said, "The balance between the 4th and 5th generation aircraft … [was] a decision that was made by Secretary Mattis before he left."
Army Lt. Gen. Anthony R. Ierardi, Pentagon director of force structure, resources, and assessment, said the F-35 "remains a critical program for the joint force" but the F-15EX "provides additional capacity and readiness, especially in the near years to midyears, as we look at the threats and the kinds of combat potential that we needed to bring to bear."
The 2020 budget also calls for 12 KC-46s (three less than Congress directed in 2019), 12 combat rescue helicopters, and eight MC-130 special-mission aircraft, along with 12 MQ-9 remotely piloted aircraft.
Space procurement, meanwhile, is nearly flat at $2.4 billion, missiles and ammunition increase modestly to $2 billion and $1.7 billion, and acquisition for other assets like cyber tools dip to $3.1 billion.
Overseas, the Pentagon intends to reduce investment in Europe, where McCusker said the military has already changed its posture in the theater and "now we're moving into … exercises" and doing "other things" that are less costly.
The proposal would invest $5.9 billion for the European Defense Initiative, down from the $6.5 billion that will be spent this year. This "supports rotational force deployments," adds more exercises, enhances the "prepositioning of US equipment," improves infrastructure, and builds partner capacity, she said.
"When you look at the EDI in general, it really has five lines of effort," McCusker said. "And only one of those lines of effort is really decreasing in the FY20 budget, and that's the infrastructure. Because we've really done a lot of that work to this point."
The Air Force plans to spend $13.8 billion on its space enterprise in fiscal 2020, a nearly 17 percent increase over fiscal 2019, that includes a small amount of funding to stand up a new Space Force headquarters within the service.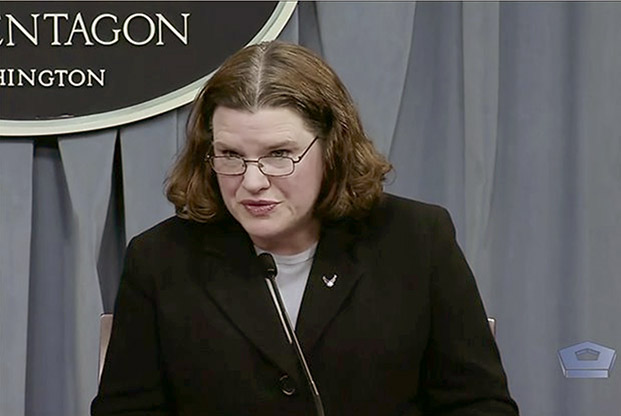 Caroline Gleason, USAF civilian deputy for budget, briefs reporters on the FY20 Air Force budget on March 12, 2019, at the Pentagon. Photo: DOD
Research and development costs account for the majority of the growth from the $11.9 billion that was enacted in fiscal 2019, according to Carolyn M. Gleason, the Air Force's civilian budget deputy.
Further investment in research and development will speed the Air Force's push toward a "defendable space posture," the service said in its budget documents. As a sole example, R&D funding for the Next Generation Overhead Persistent Infrared missile warning satellite would more than double from $643 million in fiscal 2019 to $1.4 billion in fiscal 2020.Space procurement, which comprises 9 percent of all acquisition, is expected to remain flat at $2.4 billion compared to $2.3 billion in the current fiscal year.
The fiscal 2020 budget request funds four National Security Space launches—one fewer than the year before—as well as the procurement of the first GPS III follow-on satellite, according to the Air Force.
National Security Space Launch procurement funding—formerly the Evolved Expendable Launch Vehicle program—is set to drop from $1.6 billion to $1.2 billion. Production of GPS IIIF's 13th space vehicle, a new-start program, is slated to cost about $415 million.
According to Pentagon budget documents, space initiatives will also require $1.1 billion to "[reduce] risk to satellite communications jamming," another $1.8 billion for the GPS III follow-on and the Next Generation Operational Control System, and $1.6 billion to improve space-based missile-warning capabilities.
"The Air Force will continue the production of Space Based Infrared Systems Space Vehicles 5 and 6 to address OPIR requirements, and Advanced Extremely High Frequency Space Vehicles 5 and 6 to meet military SATCOM needs," the comptroller's overview stated. "Resiliency improvements are being incorporated into the production line for SBIRS Space Vehicles 5 and 6 and AEHF Space Vehicles 5 and 6. Additional resilience initiatives will continue to be investigated and implemented where possible."
Despite months of speculation about the details of a Space Force rollout—which still needs to be approved by Congress as part of the fiscal 2020 defense policy and spending bill debates—the Air Force revealed little information. Setting up a Space Force headquarters with 160 people would cost just $72 million in its first year, including $54 million for mission support and $19 million for civilian pay, according to Air Force budget documents.
Also wrapped into the Pentagon's $14.1 billion space budget request is $149.8 million in new resources for the Space Development Agency—which may eventually fall under the Space Force—and $83.8 million for US Space Command, the newest unified combatant command that is expected to stand up this spring.
In addition, the day after the budget rollout, acting Defense Secretary Patrick M. Shanahan signed a memo establishing the SDA as the new face of Pentagon-wide space research and engineering, and he named Fred G. Kennedy to be the organization's first director. Kennedy previously served as the director of DARPA's tactrical technology office.
"A national security space architecture needed to deter or, if deterrence fails, defeat adversary action is a prerequisite to maintaining our long-term competitive advantage," Shanahan wrote in the memo. "We cannot achieve these goals, and we cannot match the pace our adversaries are setting, if we remain bound by legacy methods and culture."
The Department of Defense will transfer 587 military and civilian staffers and funding from the National Space Defense Center, Joint Force Space Component Command, Joint Navigation Warfare Center, and other groups to Space Command, according to the DOD comptroller's budget overview. Those organizations will report to SPACECOM instead of Strategic Command.SPACECOM, which will oversee daily space operations, would total nearly 620 personnel in fiscal 2020—all but 30 of whom would transfer in, according to the Pentagon comptroller. The Air Force promises to devote "greater time and resources" to training its space operators, who will become the "cornerstone" of US Space Command as it stands up this year.