SrA. Brett Campfield competes in the visually impaired classification of archery during the Warrior Games on June 7. Photo: Roger Wollengberg/DOD
Everyone's path to the Warrior Games is a little bit different and each athlete has their own reason for competing, but the Air Force, which hosted this year's games, says its goal is for the athletes and their families to leave the games stronger than they were before.
Some 300 athletes from the US Air Force, Army, Navy, Marine Corps, and US Special Operations Command, along with international athletes from Australia, the UK, and Canada, competed in the Paralympic-style events held at the Air Force Academy in Colorado Springs, Colo., June 1 to 9.
The 39 members on team Air Force earned a total of 165 medals, including 70 gold, 56 silver, and 39 bronze, during the 2018 USAF-led games.
Air Force track and field athletes SrA. Brett Campfield, SrA. Heather Carter, MSgt. Kenneth Guinn, Capt. Lawrence Hufford II, and Lt. Col. Juliana Walker broke Warrior Games records, according to a USAF release. SrA. Rafael Morfinencisco was second place in the Ultimate Champion competition, while USAF Maj. Stacie Shafran finished in fourth place.
"These Warrior Games allow all of us, from both here and watching from home, to recommit that no warrior takes the road to recovery alone," said Chief of Staff of the Air Force Gen. David L. Goldfein, during the opening ceremony. "Family, friends, and caregivers—we're on your wing for life. It's a full-contact team sport, and within the profession of arms it's family business."
About 25,000 people attended the opening ceremonies at Falcon Stadium on June 2. Singer Kelly Clarkson headlined the event for the second year in a row, and comedian Jon Stewart was the master of ceremonies for the third year.USAF SMSgt. Israel Del Toro, who participated in the inaugural games in 2010, was the first to pass the torch. Stewart—who jumped with the Air Force's Wings of Blue parachute team in the lead up to the games—gave USAF MSgt. Shanon Hampton an assist lighting the cauldron.
"Whenever I spend time with the athletes at the Warrior Games, I hope that just a fraction of their tenacity, their honor, their grace, their resilience, and their teamwork will inspire me to do better in my life every day," said Stewart.

SrA. Heather Carter and her service dog, Rocky, after a sitting volleyball match at the games in June. Photo: MSgt. David Long
SOMETHING TO FOCUS ON
Retired SrA. Brett Campfield said he loves the challenge of the games, which give him a reason to push himself physically, just as he did as an explosive ordnance disposal specialist at Scott AFB, Ill., before he medically retired from service in 2011.
Campfield, who volunteers as a strength coach with the 366th Training Group at Fairchild AFB, Wash., said he also wanted to experience firsthand what the Air Force has to offer wounded and ill airmen so he can "transfer it down to my guys in case they need it."
When Campfield enlisted in the Air Force in 2007 as an EOD technician, he said he didn't really know what he had signed up for. He deployed to Iraq in 2009 and was able to gain some real-world experience without a "high risk of danger." As his four-year enlistment was coming to a close, Campfield was offered a chance to deploy to Afghanistan. Though he was planning to get out, he quickly took the opportunity and deployed for six months to Kandahar Airfield.
After a few months at a forward operating base in Kandahar City, Campfield was sent to help set up a new FOB in a more remote location. As the team was cross loading equipment from one truck to another, a flare went off in his hand and shot into his eye, crushing the orbital wall of his skull.
"It didn't flare out, so it was just a big piece of shrapnel," said Campfield. He says he's thankful he lost his right eye in a freak accident, instead of accidentally setting off an improvised explosive device that put his teammates at risk, saying the latter would have been a lot harder to bounce back from.Doctors removed his eye during surgery at Kandahar, and then he underwent a second surgery in San Antonio to repair his skull.
Within weeks of that second surgery, Campfield was back in the gym. Though the Air Force Wounded Warrior program helped him through the medical board process, he said he lost touch with the program after retiring. That is until he heard about the Warrior Games and decided to give it a try.
Although he had never really competed before, Campfield liked the idea of having a physical fitness goal to focus on, something he hadn't really had since he retired. He called one of the team coaches and asked if he could come to the Wounded Warrior trials at Nellis AFB, Nev., in February. Most of the athletes there had participated in at least one AFW2 [Air Force Wounded Warrior] care event leading up to the trials, but he was a walk-on. He had missed the deadline to apply, but the Air Force said if he could find his own way there, he could participate.
At the trials he was introduced to various adaptive sports and was selected to participate in archery, cycling, field events, indoor rowing, and track.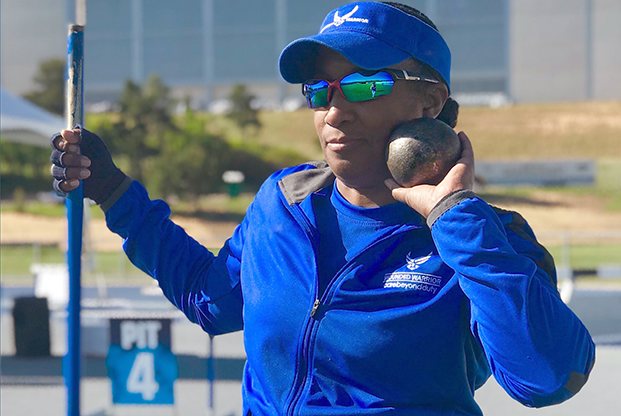 Lt. Col. Julianna Walker works on the seated shot put during field practice at the US Air Force Academy. Photo: Alexx Pons/USAF
A REASON TO CARRY ON
For Active Duty Maj. Stacie Shafran, a public affairs officer, the games are a "safe" place where she can surround herself with people who inspire her to keep moving forward.
From 2008 to 2009, Shafran was attached to a small provisional reconstruction team in Afghanistan. On Memorial Day 2009, four of her teammates, including her commander, were killed in an attack on a convoy that she was supposed to be on. For years, Shafran suffered from "survivor's guilt," struggling to come to terms with how some of her friends had to "make the ultimate sacrifice," when she didn't.
It took time for Shafran to seek help for her post-traumatic stress after returning to the States. "I didn't know I was supposed to," she said. But, she eventually went through therapy, which helped her move on with her life."I realized I'm of better use to myself, and to my friends, and family, and to our airmen … if I can move forward and have a better mindset about it," she said. "That's something that being involved in this program has helped me do."
However, Shafran didn't actually get involved with the Air Force Wounded Warrior program until 2016—seven years after her traumatic deployment. After learning more about the program during a commander's call, she decided to give it a try, and said, "It's been one of the best things I've done because it's opened the door to new possibilities and opportunities being exposed to new people."
Shafran attended an introductory camp at JB Lewis-McChord, Wash., that same year, where she was introduced to other wounded and ill airmen and the various adaptive sports available. "I was really nervous because I didn't know anything about it. I just went with an open mind, and looking back, I was probably pretty reserved about it, but I enjoyed it enough that I applied and went to a couple different events and eventually trained as a peer mentor," she said.
At the Navy-led 2017 Warrior Games in Chicago, Shafran—who has been tapped to be the next deputy commander of the program—earned a gold medal in shot put, a silver medal in discus, and bronze medals in the 400-, 800-, and 1,500-meter races. She also participated in cycling. This year, she competed for Air Force Ultimate Champion, which meant competing in eight events.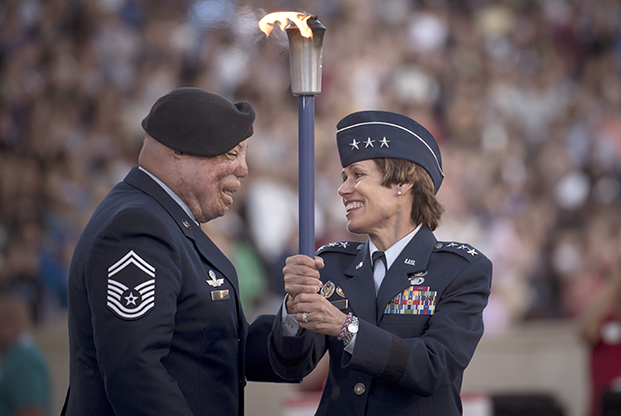 SMSgt. Israel Del Toro, a long-time Warrior Games competitor, hands off the ceremonial games torch to Lt. Gen. Gina Grosso, USAF deputy chief of staff for manpower, personnel, and services, at the opening ceremony. Photo: SrA. Dennis Hoffman
BACK WHERE IT ALL STARTED
The Air Force hosted the games for the first time this year, though the inaugural games also were held at the Academy in 2010 when they were still run by the US Olympic Committee.
The Defense Department assumed responsibility for the games in 2015, because it wanted to focus more on the athletes' rehabilitation and needed more flexibility with the rules and competition categories to make that happen. Since then, the services have taken turns hosting the event, with each putting their own twist on the games.
Although, DOD includes a "very, very small line item" in its budget for the Warrior Games, the hosting service usually ends up picking up the tab for most of the games, said USAF Col. Gina Oliver, director of the 2018 DOD Warrior Games. This year, the Air Force awarded a $23 million event management contract, which included advertising, running the opening ceremony, and other support services. That does not include expenses incurred by each team for travel costs and staff time.
Oliver said the Air Force really strived to make the games a "memorable experience" for both athletes and their families, noting planning took about 18 months and "when all is said and done, it will take about 200 to 400 people to make this happen."
The service worked with both the Navy and Army as it built its own model for the games, but said there are more similarities between the USAF and Army models because both were held at service academies.
"It's really cool for the Warrior Games to come back to Colorado Springs where this all started," Oliver said. "Folks in Colorado Springs are excited to see the progression of the games and the athletes participating in them. … It really will give a great showcase for how this program helps the warriors make a positive change and really grow with their recovery process."
Adaptive sports help wounded, ill, and injured service members in their rehabilitation process by reducing stress and dependency on pain and depression medication, increasing self-confidence and mobility, and by lessoning the chances of secondary medical conditions, according to a USAF release.
The process for getting to the Warrior Games is unique for each individual, but regardless of the path taken it requires "a lot of dedication, time, and passion to want to do sport," said Kallie Quinn, the Air Force team head coach.
The physical and emotional process each athlete goes through while pursuing sports is "part of their growth and feeds into their recovery process," said Quinn. "They are finding something else they can focus on in their lives that's a positive influence, and they get a chance to see that they can be physically active again. … Once we get them thinking along that line … then the doors and opportunities start opening up for them."
After meeting with and talking with many of the athletes, the Air Force has added three new events to this year's schedule: indoor rowing, powerlifting, and time-trial cycling. That's in addition to the eight existing events: archery, cycling, shooting, sitting volleyball, swimming, track and field, and wheelchair basketball.
"The theme is not what you can't do, it's what you can do," said Oliver. "As we make this a really integrated, meaningful, and memorable experience for both our athletes and their loved ones."
All the events, except cycling, were held in one location, making it easier for athletes and their families to get to the events and providing extra time for rest. The service arranged to include the athletes' loved ones throughout the process.
For example, there was a race for family members during track and field events, an opportunity for family members to compete against each other during seated volleyball, and families also could try their hand at archery or shooting.
"Instead of family members just coming and being spectators, they have the opportunity to participate in nearly every event we've offered," said Oliver. She added, "We want them to have an opportunity to understand what the athlete goes through and also an opportunity for the athletes to watch their families."
The service also added several other exhibition-style events this year, including wheelchair rugby, wheelchair tennis, and pickle ball (a hybrid of table tennis and regular tennis).
During the expo, which was held June 3 to 4, athletes and families could participate in a clinic, where they could walk up, sit in the chairs, learn new techniques, and play in "smaller versions of the games," said Oliver.
"We hear so many stories about how adaptive sports and the camaraderie that comes with it has really saved lives. I believe it. I see it," said Oliver. "Nothing means more to the athletes than having someone in the stands, cheering them on. This is a really unique way for people from all walks of life to come out and see the resiliency and determination of the athletes. It's a win-win. We support them and are inspired by them as well."