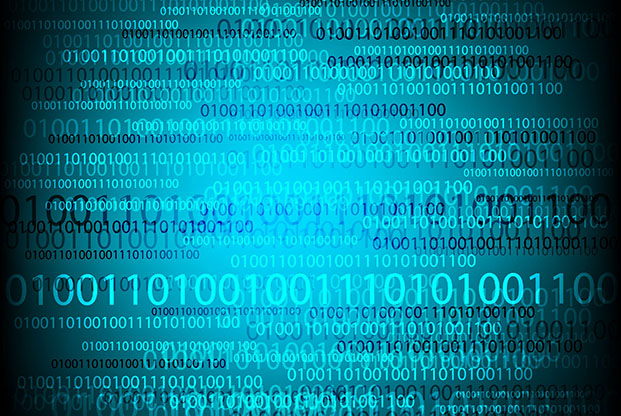 DOD Cloud Strategy. Photo: DODFORECAST: CLOUDY
"The Department has never built or implemented an enterprise cloud solution and therefore recognizes the importance of finding a commercial partner to help begin the process. … The magnitude of effort required to stand up a General Purpose cloud at the scale and complexity of the Department is initially best served through a single provider that will allow DOD to maximize pace and minimize risk."
DOD Cloud Strategy, December 2018.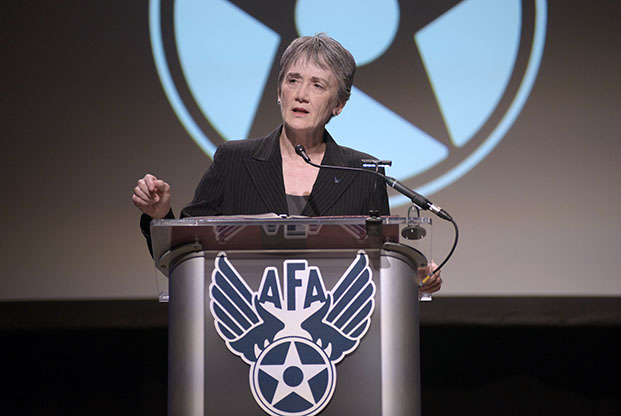 Air Force Secretary Heather Wilson. Photo: Mike Tsukamoto/staff
TEAMWORK
"In hypersonics, the Army had developed a warhead through DARPA that worked better than ours, but our booster worked better than the Navy's. So, we're putting the Army's warhead on our booster and testing it on ground, ship, and B-52 bomber platforms. … Accelerating our nation's first operational boost-glide weapon five years earlier than anticipated."
Air Force Secretary Heather Wilson on prototyping and speeding up acquisition in a speech at AFA's Air Warfare Symposium,Feb. 28.

Marine Mountain Warfare Training Center. Photo: LCpl. Rachel Young-Porter/USMC
COLD HOTSPOTS
"If you were to draw a line from here to the DMZ between North and South Korea, both of these sites are on the 38th parallel. And so, the weather here accurately replicates the weather that we would encounter in North and South Korea."
Col. Kevin Hutchison, commander at the Marine Mountain Warfare Training Center in California, nearly 8,000 feet up in chest-high snow referring to preparation for the future great power competition [Associated Press, Feb. 20].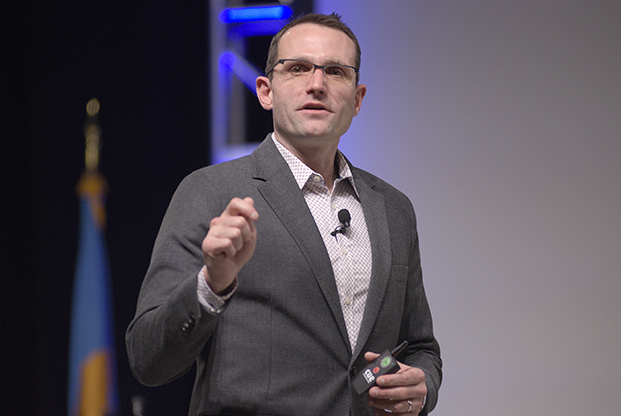 William Roper, Air Force acquisition chief. Photo: Mike Tsukamoto/staff
10-TO-1 ODDS
"I would like to bring the term 'cost imposition' into normal parlance in the Air Force. That was one of the mission objectives of my prior job: winning wars, but disrupting adversaries through cost imposition. Cost imposition is simply doing a trade of resources spent to develop versus resources countering defeat. … You're looking for a disproportionate return. I tended to like a 10-to-1 exchange on money—I can spend one increment, and it takes 10 to beat it. That's a good investment. When I look back at the early Air Force pushing airplanes all the time—supersonic, vertical takeoff and landing stuff—every one of those now has a burden of time and money to counter. And in the end, the Cold War was won by winning a spending war."
William Roper, Air Force acquisition chief, in a March 1 interview with Air Force Magazine.
ROAD MAP FOR VETS
"We owe it to [our veterans] to ensure they are not forgotten upon their return home. They may have returned from the battlefield, but their war is not over. For many, their true battle begins when their purpose in the military ends."
Sarah Verardo, chief executive officer of The Independence Fund, a veteran's advocacy group, in a statement supporting PREVENTS, the President's Road Map to Empower Veterans and End a National Tragedy of Suicide signed March 5.

Cracks in the foundation.
CRACKS IN THE FOUNDATION
"Current internal tensions expose cracks in the Air Force that affect its ability to compete as a unified service … on current roles and missions. Short of a decision about how to unify the service's culture, the Air Force risks becoming a 'conglomerate of activities.' "
Movement and Maneuver: Culture and the Competition Among the US Military Services, RAND report [February 2019].
NEVER GIVE UP
"I am hopeful, although I have no commitment yet, that we will be back at it, that I'll have a team in Pyongyang in the next couple weeks. … I'm continuing to work to find those places where there's a shared interest."
Secretary of State Mike Pompeo's remarks to the Iowa Farm Bureau on President Donald Trump and North Korea's President Kim Jong Un's denuclearization talks, March 4.
READY OR NOT
"Airmen who have been nondeployable for more than a year will be notified by their chain of command and evaluated for either a referral to the Disability Evaluation System, consideration for administrative separation, or a retention determination."
Feb. 19, 2019, memo, signed by Assistant Secretary of the Air Force for Manpower and Reserve Affairs Shon Manasco regarding the Air Force's new retention policy.