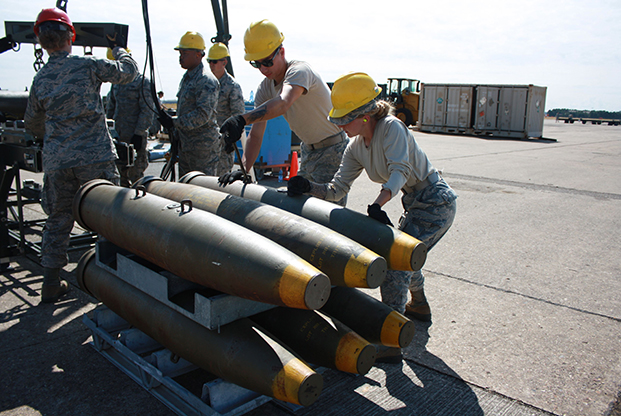 Airmen load live munitions during the first-ever in-theater Combat Ammunition Production Exercise at RAF Lakenheath, UK. Photo: Amy McCullough/staff
RAF Lakenheath, UK—
One clear sign the Air Force is ramping up readiness in Europe: its first-ever in-theater Combat Ammunition Production Exercise.
July's CAPEX saw dozens of Total Force airmen from Lakenheath; Aviano AB, Italy; Spangdahlem AB, Germany; Ramstein AB, Germany; RAF Alconbury, UK; Beale AFB, Calif.; and Little Rock AFB, Ark., show up here to build, transport, and tear down as many as 1,000 live munitions. Supported by European Deterrence Initiative funds, the exercise gave airmen direct experience with live joint air-to-surface standoff missiles, air-to-air missiles, joint direct attack munitions, laser-guided bombs, and small diameter bombs.
The exercise was a significant departure from day-to-day operations, in which mostly inert munitions are used. Although not intentionally planned this way, it also coincided with F-15 surge operations at the base, more closely simulating real-world combat operations. As teams built the weapons and loaded them onto vehicles to transport to quality check, F-15E Strike Eagles consistently roared overhead.
"Most people train like they fight," said Maj. Dan Connors, commander of the 48th Munitions Squadron. … If you're on the flight line, you launch and recover jets, whether it's training or war. In munitions, it's way different muscle movements and muscle memory you need from routine support to full combat operations."
Without CAPEX, the only chance Lakenheath airmen had to work with live munitions was during training at the Air Force Combat Ammunitions Center at Beale or when they deployed (or prepared to deploy).
"At the strategic level in USAFE, they saw a need for us to show our capabilities in this part of the world," said SMSgt. Dan Cain, production flight chief with the 48th Munitions Squadron and lead planner of the exercise. The exercise not only tested airmen's technical ability to build bombs, but also helped identify where the squadron needs more support and/or resources from higher headquarters.
USAFE hopes to rotate future CAPEX events through other bases in Europe, Cain said, much the way Pacific Air Forces does.
"We have a youth movement in the Air Force—as we're growing," said Connors. "There is no better way to get a massive amount of training than the baptism they get through CAPEX here. They get full immersion."