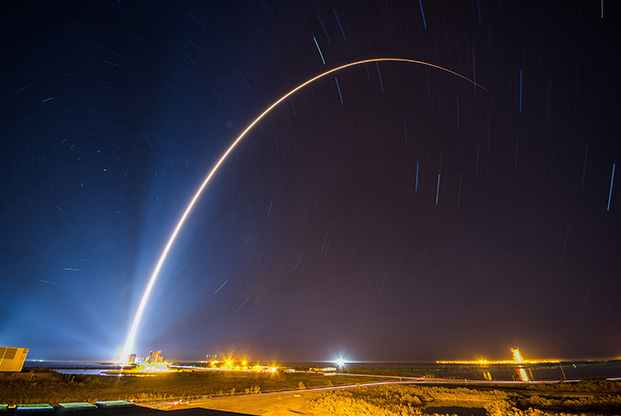 The GEO-4 Space Based Infrared System satellite is lofted into space by an Atlas V rocket from Cape Canaveral AFS, Fla., on Jan. 19. Photo: United Launch Alliance
The Air Force's space launch enterprise has done the seemingly impossible across the last 20 years or so: made rocket science look easy.
United Launch Alliance, the joint rocket venture of Boeing and Lockheed Martin, logged its 125th successful space launch in late January, when it lofted the fourth Space-Based Infrared System (SBIRS) missile warning satellite into geosynchronous orbit. Not all 125 launches were national security launches, and other companies, notably SpaceX, also have successfully orbited satellites and other payloads. But the number of failures—once the stuff of constant headlines—has dwindled while the box score of successes continues to grow.
The string of effective launches belies the fact that getting to orbit is a tough business, and one that continues to evolve.
_Read this story in our print issue:
The latest SBIRS deployment came at a time when USAF's ability to monitor the world for strategic missile launches was critical. North Korea's string of long-range missile tests suggested it could soon make good on threats to attack the US directly. "We have a constellation of satellites that detects the IR [infrared] signature of a launch. And they can tell us where the launch is coming from and characterize what kind of rocket it is, based on the launch," said USAF Gen. Paul J. Selva, vice chairman of the Joint Chiefs of Staff, when describing SBIRS to reporters on Jan. 30.
The Jan. 19 SBIRS launch was made on a ULA Atlas V rocket. Three previous SBIRS satellites were launched on ULA rockets in 2011, 2012, and 2017.
ULA has had a majority of the Air Force's space launch business in recent years. The Challenger Space Shuttle disaster in 1986 compelled the service to develop alternative ways to orbit. The "Evolved Expendable Launch Vehicle" program led to the modern day Lockheed Martin Atlas and Boeing Delta rockets. At first they competed with one another, but as the need for launch services dipped in the early 2000s, the companies joined forces to create ULA in 2006. Orbital ATK (formerly Orbital Sciences, and now a part of Northrop Grumman), founded in 1982, also lofts lighter payloads to low orbits.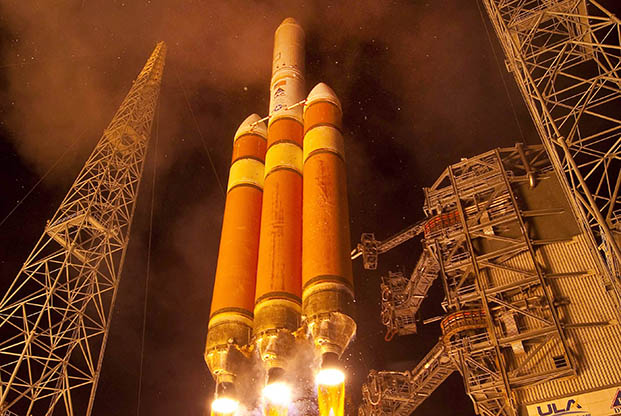 A United Launch Alliance Delta IV Heavy rocket boosts a National Reconnaissance Office satellite payload into orbit in 2010. Photo: United Launch Alliance
Despite the downturn in space, Amazon founder Jeff Bezos started up Blue Origin in 2000, with the idea of offering lower cost, reliable launch services. Fellow entrepeneur Elon Musk, who founded PayPal and later Tesla, launched SpaceX in 2002, with similar goals. Today Blue Origin offers the Shepard and Glenn rockets, while SpaceX has had a string of successes with the Falcon 9 and, in February, the Falcon Heavy vehicle. SpaceX has demonstrated the ability to soft-land its booster rockets, which it then refurbishes for re-use, significantly reducing its costs.
The Falcon Heavy inaugural launch on Feb. 6 carried one of Musk's Tesla roadsters into space, where it was boosted into a solar orbit that will take it out to the asteroid belt. Musk was aiming for Mars.
Musk has had a relationship with NASA as far back as 2008, but had to fight in court to win the right to compete for Air Force launch services work. SpaceX won that right in 2015 and began winning USAF launches in May 2017.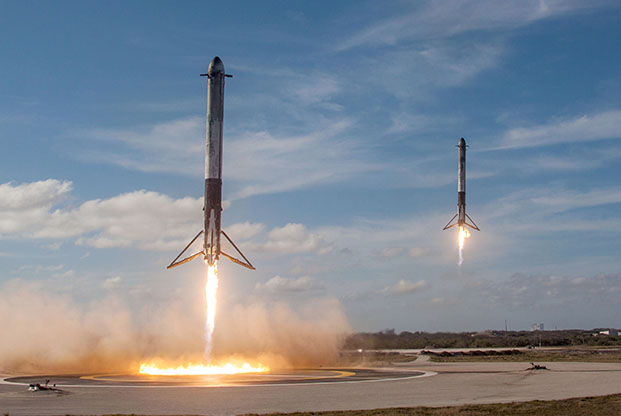 The two boosters from the SpaceX Falcon Heavy rocket gently touch down to Earth on their landing pads on Feb. 6. Photo: SpaceX
Last September, Brig. Gen. Wayne R. Monteith, commander of the 45th Space Wing, commended SpaceX for injecting a culture of speed into the launch enterprise, which allowed USAF to launch more rockets last year than Russia or China.
SpaceX "has forced us to become better at what we do," Monteith said. "We are adopting commercial business practices, we are becoming more efficient, more effective, more affordable."
Monteith's remarks came just a few weeks after SpaceX's successful launch of the secretive Air Force X-37B. Built by Boeing and managed by the Air Force's Rapid Capabilities Office, the X-37B is a mini-spaceplane which conducts classified experimental activities in orbit. ULA handled the last X-37B launch in 2015. This was one of two national security launches SpaceX had notched on its belt before 2018; the other was a National Reconnaissance Office payload.
A cherry red Tesla convertible with a dummy driver dubbed Starman is now in space, launched Feb. 6 by SpaceX's Falcon Heavy rocket. Photo: SpaceX
Things don't always go well. Underscoring the hazards of getting to orbit, something went wrong after a Falcon 9 put a secret payload called Zuma—built by Northrop Grumman—into space on Jan. 7. SpaceX insisted it had fulfilled its part of the job, while Northrop Grumman was silent. Air Force Space and Missile Systems Center commander Lt. Gen. John Thompson said through a spokeswoman that the rocket was an "FAA-licensed, commercially procured launch service," and that USAF had not identified "any information that would change SpaceX's Falcon 9 certification status" due to whatever happened to Zuma.
There are other space launch startups in the wings, readying rockets and spacecraft they hope will compete for the next stage of military and civil space access. They, too, may become an indispensible part of USAF's quest to reach orbit reliably and inexpensively, even as the service becomes evermore dependent on space capabilities.