Aggressor F-15s and an F-16 head to the fight during Red Flag 07-3 at Nellis AFB, Nev., in August 2007. The 65th Aggressor Squadron was shut down in 2014, leaving only the 64th and 18th AGRS to perform aggressor missions. They are supplemented with civilian contractor aircraft. Photo: MSgt. Kevin Gruenwald
Budget cuts in recent years have compelled the Air Force to shrink its aggressor air capability, the in-house adversaries who serve as aerial sparring partners for frontline aircrews. After the 65th Aggressor Squadron (AGRS)—which flew F-15s—shut down in 2014, only the 64th AGRS at Nellis AFB, Nev., and the 18th AGRS at Eielson AFB, Alaska—each flying F-16s—were left.
Within months, the service was forced to pull aircraft from operational units to temporarily fill the gap left by the loss of the 65th's F-15s, but this wasn't a sustainable long-term approach: The fighters were needed for real-world missions elsewhere.
In June 2015, USAF tried something new. Four Air National Guard F-16 units squared off against Douglas A-4K Skyhawk "aggressors for hire" and realistic surface-to-air threats during the large-force employment exercise Northern Lightning at Volk Field, Wis.
The Skyhawks, provided by Draken International, provided "top-notch" training and were "five times" cheaper to fly than organic assets, said Lt. Col. Richard Wigle, a pilot at the time with the Arizona Air National Guard's 162nd Fighter Wing, which also participated in the exercise.
After Northern Lightning, the Air Force began to think industry might be able to help it solve its Red Air problem. Air Combat Command asked Draken to provide similar training for the USAF Weapons School at Nellis.
"It was only supposed to be a couple of weeks, but we never left," said John Baum, Draken's vice president of strategic projects and security.
_Read this story in our print issue:
By September 2015, Draken was officially awarded a contract to provide adversary support to augment the Air Force's existing F-16 fleet at Nellis. Their contract was recently extended another year.
In the period since the original contract award, Draken has virtually taken over the role of the now-inactivated 65th AGRS, said Baum.
"Our role is to augment the 64th [AGRS] in capability and capacity to support primarily the Weapons School [and] Red Flag," he said, though the company also supports the 422nd Training and Evaluation Squadron at Nellis. It has also supported Air Education and Training Command by mock dogfighting with F-35s from Luke AFB, Ariz., in the airspace between the two bases.
"We're essentially like … having two squadrons on base," Baum said. "We operate like any other fighter squadron, … we have hangar space and operate out of the 64th Aggressor Squadron as a combined unit."
Even with Draken's support, USAF still can't meet all of its requirements for adversary air, said Lt. Col. Zach Manning, 64th AGRS commander.
"During Red Flag, oftentimes blue units will augment us and will fly on the red side for some missions. That's less than ideal, and there is still a need for additional capacity," said Manning, who arrived at Nellis shortly after the 65th shut down. "We haven't slowed down at all because Draken is here."
The average 64th aggressor pilot flies two to three times a week. "The schedule can be fairly harrowing on personnel. In general we'll have a day mission and then have a night mission," said Manning.
For night missions, pilots may show up to work at 4 p.m. but won't finish debriefing until 4 a.m. or 5 a.m. "Some of the challenges I see as a commander involve making sure I give my people appropriate time off," he noted.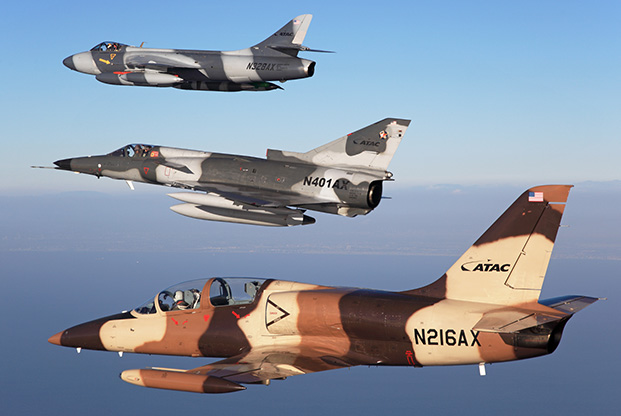 Textron's MK-58 Hawker Hunter, F-21 Kfir, and L-39 Albatross cruise over the Pacific. Photo: Ted Carlson via Textron Airborne Solutions
AN INSATIABLE DEMAND
So now the Air Force is moving forward with plans to contract out up to an additional 5,600 flying hours of realistic advanced adversary air at Nellis. Industry leaders said the service is leaning toward a single provider, though it is open to multiple contract awards. Ideally, Nellis would have the winning provider or providers flying on Oct. 1, so there is no gap in capability from when Draken's current contract ends on Sept. 30 and when the follow-on contract begins.
The contract—known as Nellis ADAIR II—will be worth a maximum of $280 million for one base year, with four option years, according to documents posted on a federal website. It is part of the service's overall effort to free up aircraft and blue-suiters for operational missions while meeting the growing demand for Red Air.
In 2019, the service plans to award multiple contracts—known as the CAF ADAIR—totaling nearly 37,000 hours of Red Air at 11 bases, including Seymour Johnson AFB, N.C.; JB Pearl Harbor-Hickam, Hawaii; Holloman AFB, N.M.; Eglin AFB, Fla.; JB Langley-Eustis, Va.; Tyndall AFB, Fla.; Kingsley Field, Ore.; Luke AFB, Ariz.; Hill AFB, Utah; and Tucson Arpt., Ariz., according to industry officials briefed on the plan.
Over the past few years, industry has been aggressively building up its fleets of potential adversary aircraft in anticipation of the contract. Once fully implemented, USAF will have the world's largest contracted adversary air force.
In December, Draken announced it had bought 12 South African Atlas-made Cheetah supersonic fighters (converted ex-French Mirage IIIs), bringing its total fleet to 110 jets. The rest of its fleet comprised nine Aermacchi MB-339s, 27 MiG-21s, 21 Aero Vodochody L-159s, 22 Dassault Mirage F1s, 13 A-4s, five Aero L-39s, and one Lockheed T-33.
The Cheetahs—nine C-model single-seat and three D-model two-seaters—can fly at speeds exceeding Mach 2 and have an average of 500 hours on each airframe, making them considerably younger than many of the USAF, Marine Corps, or Navy aircraft they could potentially challenge in a Red Air capacity.
A month earlier, Draken announced the Air National Guard had contracted it to provide adversary air support at Volk Field, Wis.; Alpena, Mich.; Gulfport, La.; Savannah, Ga.; Klamath Falls, Ore.; and Oahu, Hawaii, in addition to the roughly 4,300 annual hours it currently flies at Nellis.
If Draken provided "this bit of Red Air, I did the math, you could generate three more full classes and create another 30 F-16 pilots a year," Baum said. "You can get five Draken sorties for the cost of one USAF F-16 sortie. It's because we have airplanes that have been tried over time, but physically the airplanes are less complex. … We have third generation airplane reliability but all our jets have been upgraded from an avionics standpoint to where they have fourth gen capability."
Textron Airborne Solutions announced in September it had acquired 63 Dassault Mirage F1 aircraft previously owned by the French air force, making it the "world's largest private supersonic air force," said Jeffrey Parker, chief executive officer of the Airborne Tactical Advantage Company. Textron bought ATAC last year in anticipation of a rapidly growing contracted Red Air market.
ATAC has flown nearly 50,000 hours of contracted adversary air since the 1990s—mostly for the US Navy—and is hoping that experience and its most recent procurement will give it an advantage in USAF's competition.
"Industry is going to be working really hard to address the full requirement for the Air Force," Parker said in an interview last fall.
"It's a massive requirement, and it requires a whole lot of airplanes," he said. "I think the calculations we ran [concluded]…140 to 150 aircraft will be required to satisfy the Air Force requirement. And aircraft are a limiting factor when standing up and responding to these requirements because there is a finite number of them available and supportable in the world."
Though the third generation Mirage fleet was built in the 1980s, Parker said the aircraft have "a lot of life left and are highly upgradable, which is key."
Tactical Air Support, Inc. (TacAir) is also looking to break into the emerging market. It announced the acquisition of 21 ex-Jordanian Northrop F-5s last year, bringing its total fleet to 26.
Though the company's fleet is much smaller than those flown by its competition, company officials say they're not going after quantity but quality. TacAir is hoping to capitalize on its experienced cadre of pilots and maintainers—as well as its fighter ethos. The company employs 52 weapons school graduates and 17 former weapons school instructors, including some with more than 2,000 hours in the F-5. The fact that the F-5 is a US-built aircraft still flown by the US Navy and Marine Corps is a bonus, officials say.
"We could go out and get the sexiest thing we could find" built by a foreign manufacturer, said Scott Gallagher, Tac­Air chief revenue officer, but if you "have to go to an international service provider to maintain [the fleet] that's going to be a big problem" over time, he asserted.
"That's why we're in St. Augustine [Fla.] shoulder-to-shoulder with Northrop Grumman," Gallagher said. "When we have difficulties we can go right to the [original equipment manufacturer] and say, 'We need help.'?"
Top Aces says it's the only company with a true fourth generation capability. The company, a subsidiary of Discovery Air Defense, has a "guaranteed purchase agreement for 29 early block F-16s." A and B models sold to a partner country through a foreign military sale, said David L. Philman, Top Aces vice president. "They are essentially our airplanes. We have money down on them, and we can bring them into the country as soon as we get a contract."
Philman said the aircraft are being maintained and though they are not currently flying, they are "functional" and are considered in "flyaway condition." He said he could not release the name of the country where the aircraft currently reside, but noted that all have either undergone the Falcon Star upgrade, or the kit has been purchased.
The Falcon Star upgrade extends the service life of the jets to 10,800 hours, and Philman said they have about 3,400 hours of commercial service left before they reach that point. That translates to between 10 and 15 years of commercial viability.
"It's American built and will be flying around the world for decades to come, so it's very sustainable from a logistics standpoint," he said. "We also have a lot of maintainers and aviators that have very high experience in the F-16, so it's a way to recapture the literally millions of dollars the Air Force or Navy spends on pilots and maintainers … with our fleet."
Most of the companies say they plan to upgrade their aircraft to specifically meet USAF requirements, which were released for Nellis phase two in January.

A Jordanian F-5E is unloaded from a transport. TacAir has purchased more than 20 such Jordanian aircraft, intending to support US Navy and USAF adversary contracts. Photo: Tactical Air Support
WHAT USAF WANTS
The Air Force has said it's purposely avoiding specifying a specific platform for the job, but ideally it wants an aircraft capable of flying at Mach 1.5, with a service ceiling of 35,000 feet, and a 45 to 60 minute fight endurance.
Aircraft must be equipped with fire-control radar capable of detecting, tracking, and simulating "ordnance employment against an opposing aircraft," and have the ability to "replicate semi-active missiles out to a range of 20 [nautical miles] and active missiles out to a range of 45 [nautical miles]," according to requirements document posted online. Aircraft also must be configured to carry training and electronic attack pods provided by the government.
Within a month of contract award, the service wants the contractor to be able to fly as many as 22 sorties a day, with each sortie averaging about 90 minutes.
"Tactical profiles may include, beyond-visual-range engagements, operational test support, dissimilar air combat maneuvers, offensive and defensive within-visual-range maneuvers, multi-ship tactics, and merges and flight," according to the document.
Contractors will provide their own aircraft, pilots, aircraft maintenance, required support equipment, and quality assurance/quality control, while the Air Force will provide parking and hangar space.
The Air Force hasn't publically released the requirements for the larger CAF ADAIR contract, but industry sources said the draft requirements they've seen are about 50 pages long, a significant departure from those released by Nellis.
During a January industry day at Nellis, both prime and subcontractors urged the service to merge the requirements so they can upgrade their fleet in a more efficient and cost-effect way, rather than piecemealing the work to meet varying contracts.
"By nature, the Nellis ADAIR II and CAF ADAIR requirements are different—one looks to provide capabilities at one base for a single customer as early as fall of 2018 and another intends to provide various levels of capabilities at multiple bases with services starting a few years in the future. Both acquisitions are attempting to balance the [Air Force's] needs and time lines with current and future industry capabilities," said 2nd Lt. Marie Ortiz, a spokeswoman for the 99th Air Base Wing at Nellis. "Thus, there may be differences in the requirements in Nellis ADAIR II and CAF ADAIR," though she said "the government is considering feedback received from industry to more closely align" the requirements for both contracts.

Draken bought 12 South African air force Cheetah aircraft. The Mirage variants are young, with an average of 500 flight hours per airframe and can fly Mach 2. Photo: Draken International
IT'S NOT A PERFECT WORLD
"In a perfect world we'd have enough resources to maintain the aggressor squadrons we used to have and bring [this training] in house," Air Combat Command boss Gen. James M. "Mike" Holmes told reporters in September.
However, "in the world we're living in now, I don't want to have to trade an actual fighter squadron for an aggressor squadron because of limits on my budget. The next best thing is to see if we can contract some portion of that Red Air out. … Why spend valuable training sorties being a training aid for somebody else if we can bring on contract Red Air and not only get dedicated people to train against but also reduce the amount of time for our guys?" added Holmes.
Since 2015, Draken has successfully done just that. On a typical day, USAF and Draken will fly side-by-side, with one of the 64th aggressors serving as the lead air-to-air commander. However, service leaders say there are still some things industry simply can't provide.
For example, USAF works closely with the Intelligence Community to accurately replicate tactics used by foreign air forces. Manning said when he showed up at Nellis from his previous assignment at Kunsan AB, South Korea, he was a qualified F-16 pilot, yet when he started aggressor training he was "blown away, because I was not prepared for the level of expertise that was needed … in this assignment."
He said being an aggressor has "made me a better pilot," and that is something he will take with him to his next assignment.
Capt. Justin Bellamy, an aggressor pilot with the 64th AGRS, said he and his fellow USAF pilots are the subject matter experts on how US adversaries operate in the air.
"We're focused on teaching about our adversaries and then replicating what they do," he said. "Replication is only one portion of what we do. Thus far, contract Red Air has only been focused on the replication. We don't really refer to contract Red Air as an aggressor because they don't have that mission," meaning the additional duties of teaching adversary tactics, techniques, and procedures.
For these reasons, Holmes calls contract Red Air a "temporary measure," but he allowed that, given projected budgets, "temporary" could mean several years. The Air Force's preference is still to have Red Air as an organic mission, he said—but industry is hoping to show the Air Force that it doesn't have to be.
"All the folks in this initial tranche who are getting into this market need to provide quality service, because any one of us who stumbles will reflect on the rest of the market," said TacAir's Gallagher. He readily acknowledged that USAF will look for an alternative if the service doesn't believe it's getting what it needs from industry.
Top Aces' Dornier Alpha aircraft have been modified to meet the aggressor role. Photo: Top Aces
Though the US Navy has contracted some of its adversary air for years, the Air Force is leading the push in this emerging market, which Gallagher said he expects to be "fairly mature" in about five years.
"Between now and then we'll learn a lot, and government will learn a lot" about potential versus performance.
"Right now there really aren't a lot of options, but the free market is a self-cleaning oven … there will be more choices," said Gallagher. "The government will be well served by that competition. We've literally built our company with that value proposition in mind."
Draken's Baum, a former Viper pilot, said it just makes sense to contract out at least a portion of USAF's Red Air requirements. He noted the Air Force "literally has to bolt panels on the outside of the F-35 to let it be seen by radar" if the F-35 is to play the role of "bad guy."
The F-35 pilots also aren't allowed to turn on all their fifth-generation sensors, keeping them from flying the aircraft the way it was intended and the way they would fight a real battle.
"We're not trying to come in and say the Air Force shouldn't do any Red Air. That's not our message at all," he said. But, if USAF is going to "burn up hours" for adversary air, the service should "do it on our jets. They're never going to war. Don't do it on the brand new jets [the US] just spent billions of dollars … procuring."