Maj. Thomas B. McGuire Jr. Photo: USAF
Tom McGuire's chosen weapon was the P-38, and, in his hands, it became a terrible swift sword. He shot down 38 Japanese aircraft in 17 months.
USAF later named a base for McGuire, and not just in recognition of his gaudy kill record. He was also a superb tactician and inspirational leader. His 1944 book, "Combat Tactics in the Southwest Pacific Area," was a must-read for fighter pilots.
His dedication to air combat was total. It brought him a Medal of Honor. It also led to fiery death in a Lightning at age 24.
Thomas Buchanan McGuire Jr. was an only child, born in New Jersey. He studied aeronautical engineering at Georgia Tech, but he left college after his junior year, seeking adventure.
In July 1941, McGuire became a USAAF aviation cadet. What followed was flying training and a quiet Aleutian deployment in Alaska but not much else until February 1943, when he began flying the P-38.
It marked the start of a long haul through New Guinea, Biak Island, and the Philippines, where McGuire ran up his kill score.
In July 1943, McGuire joined the 431st Fighter Squadron, an all-P-38 outfit in New Guinea, and he soon began to make his presence felt. On Aug. 18-19, he shot down five Japanese fighters, becoming an "ace in two days."
Starved for combat, the slight, extroverted McGuire sought out every chance to hunt the enemy. His victory count grew apace.
His career nearly ended on Oct. 17, 1943, when, after downing three fighters, McGuire was himself attacked and forced to eject. With multiple injuries, he spent six weeks in a hospital but soon resumed combat.
In December, the young lion was promoted to captain and made squadron operations officer, but nothing kept him out of the cockpit. On Dec. 26, 1943, he led a flight that destroyed 10 dive bombers and three fighters.He was awarded a Distinguished Service Cross.
With the enemy retreating, McGuire suffered a long dry spell, but the hunting picked up in May 1944. By October, he had become commander of the 431st and had 25 kills to his name.
On Dec. 25-26, 1944, McGuire led a squadron covering US bombers attacking a Japanese airdrome. In that engagement, he shot down seven enemy fighters, running his count to 38.
The streak ended there. On Jan. 7, 1945, McGuire died while coming to the aid of fellow US pilots in a dogfight. In a tight maneuver at low altitude, McGuire's P-38 stalled and crashed. He was killed on impact, but his actions helped the others escape.
For his heroism on that day and in the Dec. 25-26 engagement, McGuire was awarded the Medal of Honor. He ended up two victories short of Maj. Richard I. Bong, the kills leader at 40. McGuire stands among the most-decorated US fighter pilots of all time.
In June 1949, the existing Fort Dix Army Air Base, N.J., was renamed in his honor. McGuire Air Force Base for seven decades has stood out as a preeminent air mobility hub. In 2009, McGuire was folded into the tri-service JB McGuire-Dix-Lakehurst, N.J. Even so, everyone still refers to the Air Force portion of the facility as, simply, "McGuire."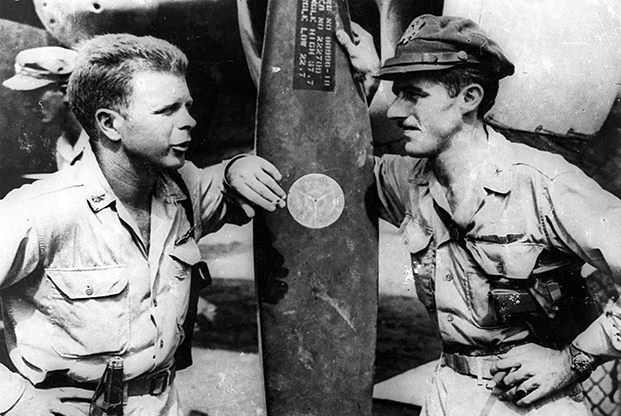 Richard I. Bong (l) and McGuire, 1944. Photo: USAF
THOMAS BUCHANAN MCGUIRE, JR.
Born: Aug. 1, 1920, Ridgewood, N.J.
Died: Jan. 7, 1945 (KIA) Visayas, Philippine Islands
College: Georgia Institute of Technology
Occupation: US military officer
Services: US Army Air Forces
Main Era: World War II
Years Active: 1941-45
Combat: Southwest Pacific Theater
Final Grade: Major
Honors: Medal of Honor (awarded posthumously); Distinguished Service Cross; Silver Star (3); Distinguished Flying Cross (6); Purple Heart (3); Air Medal (15); American Defense Service Medal; American Campaign Medal; Asiatic-Pacific Campaign Medal; World War II Victory Medal; Philippine Liberation Medal
Famous Friends: Richard I. Bong, Charles Lindbergh
Buried: Arlington National Cemetery

A C-17 is marshalled into position at JB McGuire-Dix-Lakehurst. Photo: Russ Meseroll/USAF
MCGUIRE AIR FORCE BASE
State: New Jersey
Nearest City: Wrightstown
Area: 65 sq mi / 42,000 acres
Status: Open, operational
Opened as Rudd Field: 1937
Renamed Fort Dix Airport: 1937
Renamed Fort Dix Army Air Base: 1939
Inactivated: March 1, 1946
Reactivated: Aug. 29, 1948
Renamed McGuire AFB: June 1949
Current owner: Air Mobility Command
Former owners: First Air Force, Air Service Command, Air Transport Command, Strategic Air Command, Continental Air Command, Air Defense Command, Military Airlift Command