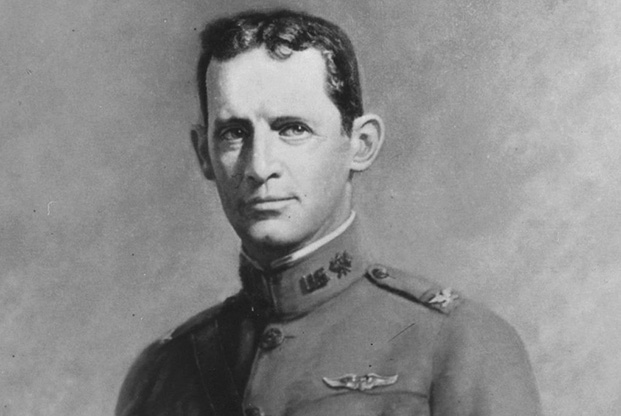 Col. Raynal C. Bolling. Photo: DOD
For airmen, the word "Bolling" stands out, it being the name of a famous air base in Washington, D.C. This title pays tribute to a World War I aviator of truly great vision and skill.
Raynal Cawthorne Bolling (given name rhymes with canal) was a New York superlawyer who, at age 38, chucked aside an easy civilian existence for a military career. It was brief but illustrious.
In a scant 30 months, he became a military pilot, organized the first Guard and Reserve flying units, helped conceptualize long-range airpower operations, and received a combat command.
Bolling, born in Arkansas, moved frequently in his early life, completing high school in Philadelphia. He graduated from Harvard College in 1900 and Harvard Law School in 1902.
Bolling rose to fame as general counsel for US Steel, a high position he attained at the age of 36. For a while, he lived the high life in an English-style mansion near New York City.
Then came World War I. The May 7, 1915, sinking of the ocean liner Lusitania by a U-boat convinced him the US would soon be at war. Bolling foresaw a key role for military aircraft and took private flying lessons, acquiring his pilot license in summer 1915.
Bolling pushed for and received authorization to create an aviation unit in the New York National Guard. On Nov. 1, 1915, he was commissioned a first lieutenant and was ordered to organize an aviation detachment. His "1st Aero Company" is recognized as the first flying unit in what became the Air National Guard.Bolling was mustered into federal service and became a Reserve Military Aviator. On May 26, 1917, he stood up the 1st Reserve Aero Squadron—the first-ever in the Army Reserve. It was renamed the 26th Aero Squadron when it reached France in summer 1917.
Before Bolling could take command, however, he was detached for staff duty and sent to Europe as head of a "Bolling Mission" to study Allied air forces and plan the creation of a wartime air force.
Bolling, impressed by what he saw as the great promise of strategic bombing, strongly recommended buying "fighting airplanes and bombers," not just support-type aircraft. He and a close friend, Col. William L. "Billy" Mitchell, pushed hard for this concept in US circles.
Gen. John J. Pershing, American Expeditionary Force chief, promoted Bolling to colonel and made him head of the Air Service's supply and training, but Bolling grew tired of political infighting at headquarters and sought a combat command.
He was picked to run Air Service, US II Corps. On March 26, 1918, Bolling and his driver were inspecting his zone of operation at the front when they were attacked by German soldiers. Bolling was shot and killed. His remains were never recovered.
He was the most senior US air officer to die in the Great War.
On July 1, 1918, the Army honored the fallen aviator by bestowing the name "Bolling Field" on a new aviation facility south of the US Capitol. Renamed Bolling Air Force Base in 1948, it has been operational for 100 years. In 2010, Bolling merged with Naval Support Facility Anacostia to form JB Anacostia-Bolling.

Gen. Stephen Wilson, Vice Chief of Staff of the Air Force, at the 100th anniversary of Bolling Field. Photo: 2nd Lt. Jessica Cicchetto
RAYNAL CAWTHORNE BOLLING
Born: Sept. 1, 1877, Hot Springs, Ark.
Died: March 26, 1918, near Amiens, France
College: Harvard (College and Law School), Cambridge, Mass.
Occupation: Attorney, US military officer
Services: New York National Guard; US Army Signal Corps
Main Era: World War I
Years of Service: 1915-18
Combat: Western Front, Europe 1917-18
Final Grade: Colonel
Honors: Distinguished Service Medal, Legion d'Honneur, Croix de Guerre (all awarded posthumously)
Famous Friends: Billy Mitchell, Hobey Baker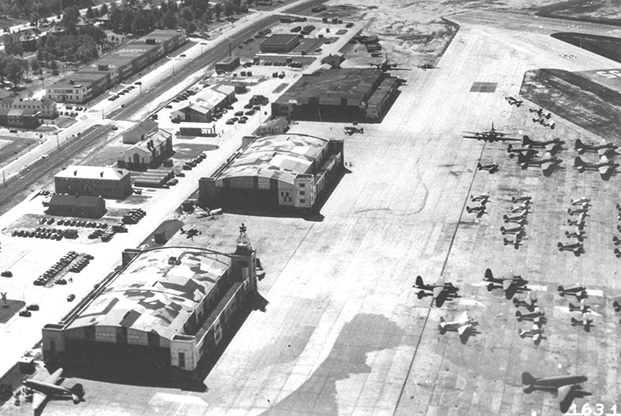 Aerial view of Bolling Field, 1942. Photo: AFA Library
BOLLING AIR FORCE BASE
Site: District of Columbia
Nearest City: Washington
Area: Approx. 1 sq mi / 607 acres
Status: Open, operational
Opened as Flying Field Anacostia: October 1917
Renamed Anacostia Experimental FF: June 1918
Renamed Bolling Field: July 1, 1918
Renamed (new site) Bolling AFB: June 24, 1948
Merged/Renamed JB Anacostia-Bolling: Oct. 1, 2010
Current owner (Bolling): AF District of Washington
Former owners: Director-Military Aeronautics, 3rd Service Command, Chief of Air Corps, GHQ Air Force, Air Force Combat Command, Second Air Force, Hq USAAF, Continental Air Forces, Strategic Air Command, Bolling Field Command, Military Air Transport Service, Hq Command USAF, Military Airlift Command, HQ US Air Force