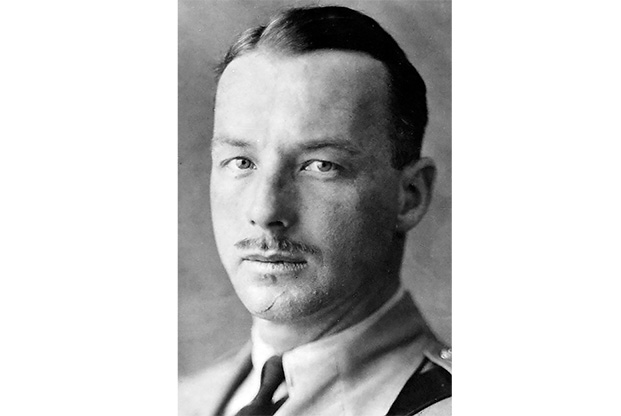 Frank Tyndall. Photo: San Diego Air & Space Museum
In 1941, US Army Air Forces was well into building a new base in Florida but did not have a name for it. Rep. Bob Sikes did.
The Florida Democrat proposed naming it after Frank Tyndall.
Tyndall was a Florida native, heroic World War I airman, and key test pilot of the interwar years. Army leaders quickly approved, and Tyndall has become one of the service's most famous names.
Francis Benjamin McCausland Tyndall—he was always known as Frank—was born Sept. 28, 1894, in Sewall's Point, a small town some 100 miles from Miami. His English-born father emigrated at 24 and served in the cavalry before marrying and settling in Florida.
Frank, upon college graduation in 1916, joined the National Guard and went to patrol the Mexico border. In 1917, after the US entered the Great War, Frank joined the Army to become a combat pilot.
He was commissioned in the US Army Air Service in 1918 and soon was in the thick of air combat on the Western Front.
Tall and handsome, with piercing gray eyes, Tyndall was only a lieutenant when he was given command of the 22nd Aero Squadron for the St. Mihiel Offensive.
On Sept. 4, 1918, he shot down a Fokker pursuit aircraft in German airspace. Tyndall led a highly successful Sept. 28 fighter sweep.
On Oct. 29, 1918, he chased a German Fokker far into enemy airspace, downed it, and returned to base, earning the Silver Star.
Ultimately, Tyndall was credited with downing four enemy aircraft, and evidence existed for another two kills.
After the war, Tyndall became a test pilot.
In a Nov. 11, 1922, test flight in Seattle, his MB-3A lost an entire wing. Tyndall bailed out and made a safe landing, only the second military airman to do so.
In 1927, Tyndall successfully flew the highly experimental Keystone X-1B Super Cyclops, a five-ton bomber designed for a five-man crew, six machine guns, and 2,700 pounds of ordnance.
Tyndall and five other Army pilots in 1929 completed training as instructors and crisscrossed the US, training new pilots.
Tyndall's last posting was to 2nd Bomb Group, Langley Field, Va. On the night of July 15, 1930, he boarded his Curtis P-1F Hawk and took off for Texas. The Hawk, in a dense fog, crashed in North Carolina. Tyndall died instantly. He was buried at Arlington National Cemetery in Virginia.
Located next to the nation's largest military aviation training range, Tyndall has served for decades as a premier pilot training base. Since 2004, it has been the top training site for F-22 Raptors. In October 2018, the base was ravaged by Hurricane Michael, a Category 4 storm that destroyed the base's housing and damaged 90 percent of its infrastructure. Estimates to restore the base approach $5 billion. While training has resumed there, almost all the base's inhabitants have been moved elsewhere. Plans call for basing an F-35 wing there in the early to mid-2020s.

Airmen clean up debris after Hurricane Michael devastated Tyndall AFB, Fla., in October 2018. Photo: SSgt. Matthew Lotz
FRANCIS BENJAMIN MCCAUSLAND TYNDALL
Born: Sept. 28, 1894, Sewall's Point, Fla.
Died: July 15, 1930 (KIF), Mooresville, N.C.
College: Valparaiso University, Ind.
Occupation: Architect, US military officer
Services: Florida National Guard; US Army (Signal Corps, Air Service, Air Corps)
Main Era: World War I
Years of Service: 1916-30
Combat: Western Front, Europe 1918
Final Grade: First Lieutenant
Honors: Silver Star, Commander 22nd Aero Squadron
Buried: Arlington National Cemetery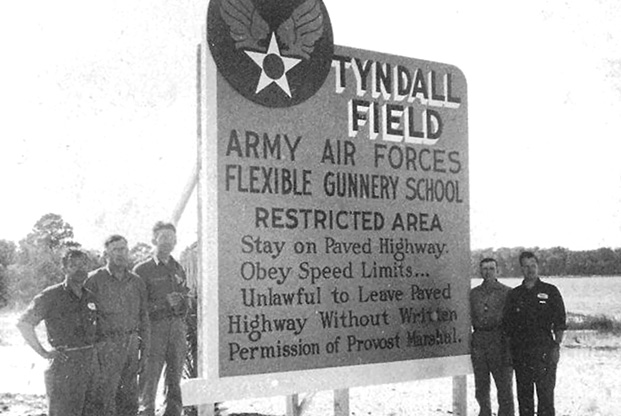 Tyndall Field in circa 1940s. Photo: USAF
TYNDALL AIR FORCE BASE
State: Florida
Nearest City: Panama City
Area: 45.3 sq mi / 29,000 acres
Status: Open, operational
Opened as Tyndall Field: Dec. 7, 1941
Renamed Tyndall Air Force Base: Jan. 13, 1948
Current Owner: Air Combat Command
Former owners: Training Command, Tactical Air Command, Air Training Command, Air Defense Command, Tactical Air Command, Air Combat Command, Air Education and Training Command