Cpl. Frank Scott. Photo: USAF
The Air Force has built scores of air bases, but only one was named after an enlisted man. That man was Army Cpl. Frank S. Scott.
Scott perished in an airplane crash in 1912, becoming the first enlisted fatality in the history of US military aviation.
Service brass in 1917 bestowed Scott's name on a new base east of St. Louis. "Scott Field" grew into today's Scott AFB, Ill.
Despite this singular honor, little is known about Scott. Records show he was born Dec. 2, 1883, in Braddock, Pa., near Pittsburgh. On May 31, 1889, he lost his parents in the historic Johnstown Flood. The six-year-old was taken in by an aunt.
Then comes a 19-year gap. Scott does not reappear in the public record until 1908 when, at 24, he joined the Army.
Scott enlisted at Fort Slocum, N.Y., near the Bronx. His military career started in the Field Artillery Branch, where he put in three years and acquired a corporal's stripes.
In July 1911, Scott contracted what proved to be a long and serious illness. Deemed unable to carry out "mounted duty," he was discharged with an "excellent character" rating.
Before 1911 was out, however, Scott re-enlisted in the Signal Corps and began hot-air balloon duty, likely at the Fort Wood, N.Y., test site.
On April 2, 1912, the Signal Corps re-opened the Aviation School at College Park Flying Field, Md. The school needed airplane mechanics and Scott, who had mechanical skills, got the job.
He soon became chief mechanic for one of the Wright Type-B biplanes there.
The scene at College Park was high-energy. Two soon-to-be famous lieutenants—Henry Harley Arnold and Thomas Dewitt Milling—served as flight instructors and test pilots.
Scott was drawn to the excitement and importuned a student pilot, 2nd Lt. Lewis C. Rockwell, to take him up some day. On Sept. 27, 1912, Rockwell agreed. Scott was to fly the next day.
On Sept. 28, Rockwell went up alone to test Signal Corps No. 4, a two-seat Wright Model B airplane. Satisfied that this machine was working properly, Rockwell landed to pick up Scott.
At the last minute, an officer tried to bump Scott. Rockwell told him, "No, you're too heavy," and Scott clambered aboard.
They took off and soared for 10 minutes. Before landing, however, the aircraft developed engine trouble, nosed downward, and crashed hard. Scott died instantly, Rockwell only hours later.
It was history's first-ever multi-fatality aviation accident.
Both were buried at Arlington National Cemetery. Rockwell's name, like Scott's, wound up on an air base—the old Rockwell Field (now NAS North Island) in San Diego.
Scott Air Force Base, with its 1917 birth date, is USAF's fourth-oldest continuously active installation. Located there are, among many service and joint units: headquarters of Air Mobility Command and US Transportation Command; the 126th Air Refueling Wing and 375th Air Mobility Wing; the Tanker/Airlift Control Center; and the Defense Information Systems Agency's Global Operations Command.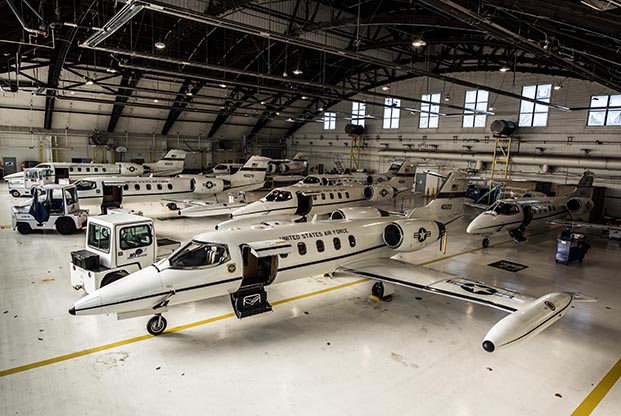 C-21s in a hangar at Scott AFB, Ill. Photo: SrA. Daniel Garcia
FRANK S. SCOTT
Born: Dec. 2, 1883 Braddock, Pa.
Died: Sept. 28, 1912 College Park, Md.
Education: Unknown
Occupation: US non-commissioned officer
Service: US Army (Field Artillery, Signal Corps)
Era: Experimental
Years of Service: 1908-12
Combat: None
Final Grade: Corporal
Dirigibles in a hangar at Scott Field in 1923. Photo: Courtesy
SCOTT AIR FORCE BASE
State: Illinois
Nearest City: Belleville
Area: 5.46 sq mi / 3,500+ acres
Status: Open, operational
Site acquired: June 14, 1917
Named Scott Field: July 20, 1917
Opened: Sept. 1, 1917
First flight: Sept. 2, 1917
Renamed Scott AFB: Jan. 13, 1948
Current owner: Air Mobility Command
Former owners: Signal Corps, Bureau of Military Aeronautics, Air Service, Air Corps, GHQ Air Force, Technical Training Command, Air Training Command, Military Air Transport Service, Military Airlift Command