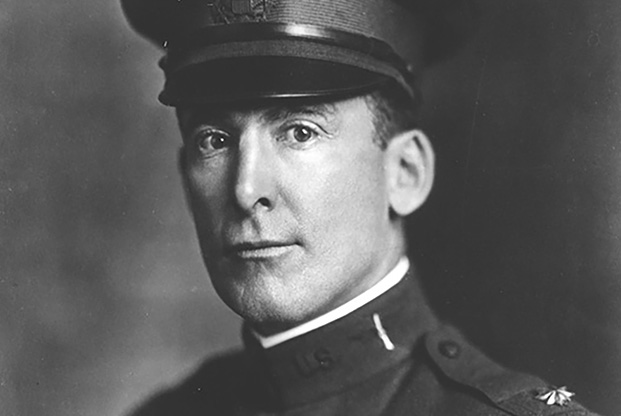 Frank Lahm in WWI. Photo: San Diego Air & Space Museum
Ever since 1948, the Mansfield, Ohio, airport has hosted an Air National Guard base. The place is important but not flashy.
In that sense, Mansfield Lahm Airport resembles its namesake. Frank Lahm was a not-very-famous airman. The obscurity belies his record.
Lahm was America's very first military aviator, honored as such in 1962 by none other than Gen. Curtis E. LeMay, USAF Chief of Staff. And who taught Lahm to fly? The Wright Brothers.
Lahm was scholarly and something of a loner, which may explain why he has gone largely unheralded for decades.
Frank Purdy Lahm was born into a prominent Ohio family. An excellent student and fine athlete, Lahm entered West Point in 1897 and, in 1901, was commissioned a cavalry officer.
The cavalry was Lahm's nominal home for 19 years (he didn't formally join the Air Service until 1920), but he had the flying bug and spent years detailed to the Signal Corps for aviation work.
In France in 1906 to study European ballooning, he learned to fly himself and won a major balloon race. He met Orville and Wilbur Wright while convalescing from typhoid fever in Paris in 1907.
The Army in 1908 contracted to buy an airplane from the Wrights. Lahm was chosen for a nascent pilot corps. It was on Sept. 9, 1908, that Lahm boarded the Flyer and, with Orville piloting, flew above Fort Myer, Va., for 6 minutes, 24 seconds.
Thus did soft-spoken Lieutenant Lahm become the first on-duty US officer in history to go aloft in an aircraft.
The next summer, the Wrights brought a new Flyer to Fort Myer. On July 27, 1909, Lahm became the first officer to make a flight in what became the Army's first airplane.
Later, the Wrights taught Lahm and Lt. Frederic Humphreys to fly. Both soloed on Oct. 26, 1909, at College Park, Md., making them America's first certified military pilots.
During World War I, Lahm organized the balloon service of the American Expeditionary Forces. He also organized and commanded the Air Service, Second American Army, a feat of organization.
After the war, Lahm's major contributions to aviation came principally in training and administration. He rose to become assistant chief of staff and helped develop new flying training centers.
In the period 1926-30, Lahm organized a new, centralized Air Corps Training Center in Texas. The dedication of the center at Randolph Field in June 1930 was a source of pride. He had the unofficial title of "Father of West Point of the Air."
Lahm's long military career ended in 1941. On Aug. 29, 1956, at 78, Lahm flew a T-33, completing his remarkable journey from wood and wire to jet power.
He died in 1963.
In 1967, Mansfield Municipal Airport was renamed Mansfield Lahm Airport. The Ohio National Guard simultaneously dedicated the new Lahm Administration Building there. Today, Mansfield Lahm is home to the 179th Airlift Wing, a C-130 outfit.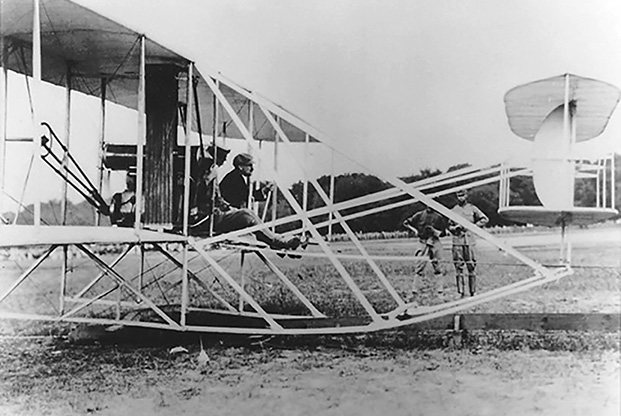 A C-130 at Mansfield Lahm Airport. Photo: 1st Lt. Paul Stennett/ANG
FRANK PURDY LAHM
Born: Nov. 17, 1877, Mansfield, Ohio
Died: July 7, 1963, Sandusky, Ohio
College: US Military Academy, West Point, N.Y.
Occupation: US military officer
Service: US Army—Cavalry 1901-20 (many Signal Corps details); Air Service 1920-26; Air Corps 1926-41; Air Forces 1941.
Eras: Pioneer, World War I, Interwar
Years of Service: 1901-41
Combat Zones: Philippines 1901-03; Europe 1917-18
Final Grade: Brigadier General
Honors: Distinguished Service Medal; Legion of Merit; World War I Victory Medal; Legion of Honor (France); Military Order of Aviz (Portugal); inductee, National Aviation Hall of Fame; inductee, First Flight Society
Famous Friends: Orville Wright, Wilbur Wright, Alexander Graham Bell, Thomas Selfridge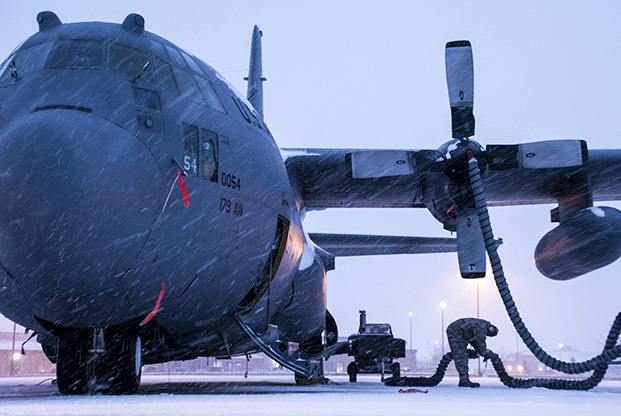 Orville Wright and Lahm (left) seated in the Flyer before the July 27, 1909, flight. Photo: USAF
MANSFIELD LAHM AIRPORT
State: Ohio
Nearest City: Mansfield
Area: 3.75 sq mi / 2,400 acres
Status: Open, operational
Opened as Mansfield Airport: 1925
Became ANG base: 1948
Renamed Mansfield Lahm Airport: 1967
Component: ANG/Air Mobility Command
Assigned tenant: 179th Airlift Wing
Former tenant: 164th TFG (and predecessors)
Owner: City of Mansfield, Ohio