Col. Einar Malmstrom. Photo: USAF
Einar Malmstrom was a courageous and talented air warrior, but the USAF officer's noncombat achievements were no less impressive.
In recognition of these accomplishments, his name was bestowed upon Malmstrom Air Force Base, near Great Falls, Montana.
Einar Axel Malmstrom, the son of Swedish emigré parents, was born in Chicago on July 14, 1907. The youth took a strong interest in military affairs and aviation.
On May 12, 1929, young Einar enlisted as a private in Washington state's National Guard. He quickly decided to become an officer and was commissioned as a second lieutenant in May 1931. He entered flight training and received his wings, but promotions came slowly in the shrunken US military of the 1930s.
On Sept. 16, 1940, he was called to Active Duty at Parkwater, Wash., and was made a first lieutenant. Then, promotions came rapidly, so that when Malmstrom was transferred to Europe in May 1943, he was already a lieutenant colonel. He was put in command of the 356th Fighter Group, a P-47 fighter outfit based at RAF Martlesham Heath, UK.
By all accounts, Malmstrom was a brave commander who led from the front. On April 24, 1944, while flying his fifty-eighth combat mission, Malmstrom's P-47 was shot down over France.
He was captured by German soldiers and, for the next 13 months, Malmtrom was a prisoner of war.
Throughout his captivity, Malmstrom was the senior allied officer in the South Compound of Stalag Luft I in Germany. He was responsible for organizing US officers for survival.
It was a sensitive and difficult job, encompassing matters of security, discipline, morale, and welfare.
He did it well. When the camp was liberated on May 15, 1945, Malmstrom was awarded a Bronze Star for his able leadership.
Malmstrom returned to the US in May 1945. By February 1954, he had been promoted to colonel and became deputy commander of 407th Strategic Fighter Wing, a Strategic Air Command outfit at Great Falls AFB, Mont.
His tenure was short—about seven months—but it was memorable. During those seven months, Malmstrom formed an unusually productive working relationship with the local community, which viewed him as a great friend.
On Aug. 21, 1954, Colonel Malmstrom was killed in the crash of a T-33 just after takeoff. Investigators concluded that Malmstrom's last act—to steer the stricken T-33 away from a populated area—probably cost him his life.
The grateful local citizenry successfully petitioned to have the base renamed in his honor.
In 1959, Malmstrom was selected as the first site for deployment of the Minuteman intercontinental ballistic missile, which went on alert for the first time in October 1962, during the Cuban Missile Crisis. Today, Malmstrom is the home of the 341st Missile Wing, one of three USAF wings that operate the Minuteman III. It reports directly to 20th Air Force and is responsible for the readiness and operation of some 150 launch facilities. Also on site is the 341st Security Forces Group, the largest such organization in the Air Force.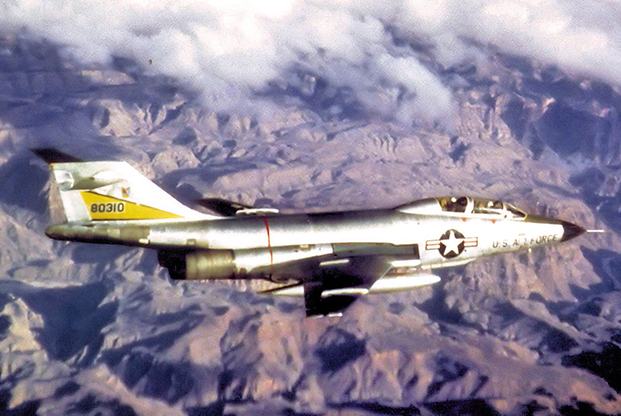 An F-101B assigned to the base in the 1960s. Photo: USAF
EINAR AXEL MALMSTROM
Born: July 14, 1907, Chicago
Died: Aug. 21, 1954, near Gore Hill, Mont.
College: Air War College
Occupation: US military officer
Services: Washington state National Guard; US Army (Air Corps, Air Forces); US Air Force
Main Era: World War II
Years of Service: 1929-54
Combat: European Theater, 1943-44
Final Grade: Colonel
Honor: Bronze Star
Resting place: Arlington National Cemetery

A Minuteman launch facility operated by Malmstrom AFB, Mont., in 2017. Photo: SSgt. Delia Marchick
MALMSTROM AIR FORCE BASE
State: Montana
Nearest City: Great Falls
Area: Main base 44.7 sq mi / 28,600 acres; Missile Complex 13,800 sq miles / 8.8 million acres
Status: Open, operational
Opened as Great Falls Army AB: Sept. 15, 1942
Renamed Great Falls Air Force Base: Sept. 18, 1947
Renamed Malmstrom Air Force Base: Oct. 1, 1955
Current owner: Air Force Global Strike Command
Former owners: Second Air Force, Air Service Command, Air Transport Command, Military Air Transport Service, Air Defense Command, Strategic Air Command, Air Mobility Command, Air Force Space Command