Charles Loring as a major in the Air Force. Photo: National Museum of the US Air Force
Loring Air Force Base, in remote northern Maine, was shuttered long ago, but many remember the warrior for whom it was named.
Charles J. Loring Jr. was a superb fighter pilot. He fought in Europe and then in Korea, where he died in a blaze of glory.
Born in Portland, Maine, Loring graduated from a Catholic school there and began a promising career as a professional boxer.
However, his life changed utterly when the US entered World War II. In March 1942, Charley Loring enlisted in the Army and soon moved on to the Air Corps. He was awarded wings in December 1942.
In early 1944, he and his 36th Fighter Group, a P-47 unit, were sent to England. They struck German forces before, during, and after the Normandy invasion. Loring once destroyed 10 German armored vehicles in a single mission, an act for which he received the Distinguished Flying Cross.
Loring flew 54 missions and ran out of luck. On Christmas Eve 1944, during his 55th mission, he was shot down and captured, after which he was a POW for six months. The experience left a scar.
"Charley was a stubborn man," Loring's father later noted. "He said he would never be a prisoner again." It was a fateful remark.
After the war, Loring was stuck for years in nonflying posts. He avidly sought combat duty when the Korean War erupted in 1950. In May 1952, Loring went to Korea and soon linked up with the 36th Fighter-Bomber Squadron, an F-80 unit concerned with flying close air support and interdiction of Communist ground targets. It took him only a few months to bag 50 combat missions.
On Nov. 22, 1952, US-led allied forces were operating near Sniper Ridge, 20 miles north of the 38th Parallel. China had massed 133 large-caliber guns, 24 rocket-launchers, and 47 anti-aircraft guns, posing a major threat. A call went out for airpower.
Loring, recently promoted to major, led a flight of F-80s to dive-bomb the Chinese guns. Shortly after he began his dive, his F-80 was struck multiple times by AAA fire, yet he did not try to pull out and attempt a risky escape and return to home base.
The other pilots looked on, stunned, as Loring, rather than abort the mission, continued to dive. At 4,000 feet, he accelerated his aircraft at a 40-degree angle in a controlled maneuver. The F-80 crashed directly into the gun position, obliterating it but killing Loring in the process.
Why did Loring do it? Some thought that it was to avoid becoming a Chinese POW. Others believed he was impelled by a sense of duty to Allied ground forces. In any event, he silenced the Chinese artillery and saved many lives.
Loring was awarded a Medal of Honor posthumously. His remains have never been recovered.
In 1947, the Army built Limestone Army Airfield in far northern Maine—the first US site specifically constructed for the storage and assembly of atomic weapons. USAF in 1954 renamed it in honor of Loring. For most of existence, the base was home to the bombers, tankers, and interceptors of Strategic Air Command.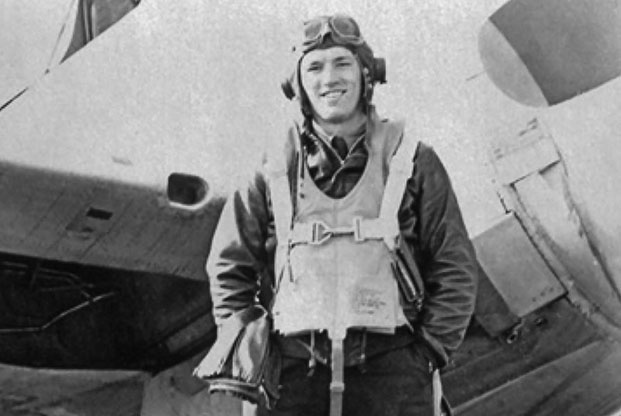 Lieutenant Loring, 22nd Fighter Squadron, 36th Fighter Group, in front of a P-47. Photo: Library of Congress
CHARLES JOSEPH LORING JR.
Born: Oct. 2, 1918, Portland, Maine
Died: Nov. 22, 1952 (KIA) Kunwha, North Korea
Education: Cheverus High School, Maine
Occupation: US military officer
Services: US Army Air Forces, US Air Force
Main Eras: World War II, Korean War
Years Active: 1942-52
Combat: Northern Europe, Korea
Final Grade: Major
Honors: Medal of Honor, Distinguished Flying Cross, Purple Heart (2), Air Medal (12), Prisoner of War Medal, American Campaign Medal, European-African-Middle Eastern Campaign Medal, World War II Victory Medal, National Defense Service Medal, Korean Service Medal, Air Force Longevity Service Award, Belgian Croix de Guerre with Palm, Korean War Service Medal.
Buried: Arlington National Cemetery (cenotaph only, body not recovered)

Loring AFB, Maine, in 1968. Photo: World War II Training Museum
LORING AIR FORCE BASE
State: Maine
Nearest City: Limestone
Area: 22.3 sq mi / 14,300 acres
Status: Closed
Opened as Limestone AAF: April 15, 1947
Renamed Limestone AFB: June 6, 1950
Renamed Loring AFB: Oct. 1, 1954
Closed by USAF: Oct. 1, 1994
Current owner: Loring Development Authority
Former owners: Strategic Air Command 1947-92; Air Combat Command (1992-94)