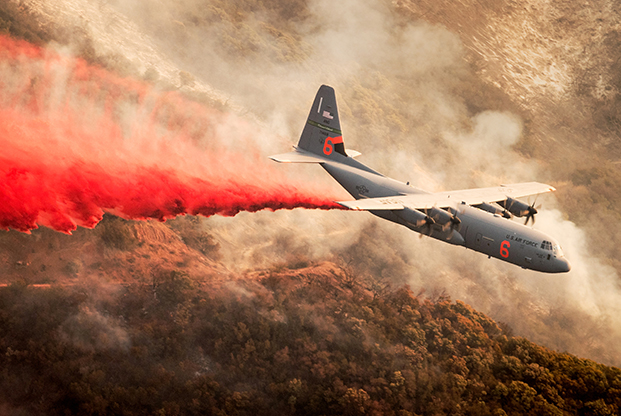 A C-130J-30 drops fire-retardant chemicals onto a ridge line above Santa Barbara, Calif., Dec. 13, 2017, as part of the effort to contain the Thomas Fire. Photo: J. M. Eddins Jr./USAF
When the state of California faced its most devastating fire season ever in 2017, Air Force Guard and Reserve units were there, trained and ready to step in.
Nearly half of USAF's tactical airlift resources belong to Air National Guard units, including the C-130Js of California's 146th Airlift Wing. The 146th, out of the Channel Islands Air National Guard Station near Oxnard, Calif., can convert C-130s from transports to firefighters with the installation of MAFFS—the Modular Airborne Fire Fighting System—employing tanks and a huge spray nozzle mounted in a modified left jump door. The MAFFS II system now in use can carry 3,000 gallons of fire retardant in a pressurized container and pump it into the slipstream.
The Air Force Reserve, meanwhile, operates strictly as a federal asset. Some Reserve C-130s of the 302nd Airlift Wing at Peterson Air Force Base in Colorado are also MAFFS-capable. Both Reserve and ANG C-130s fought the exceptional California fires of 2017.
_Read this story in our digital issue:
A full load of retardant can be released from a MAFFS aircraft in about five seconds, or it can be parceled out in multiple passes. A full swath from a MAFFS C-130 can cover a line a quarter-mile in length and 100 feet wide, providing vital protection until ground firefighters can establish permanent fire lines in the area.
Back at a reloading base, the MAFFS Hercs can be refilled for their next firefighting sortie in less than 12 minutes.
California wildfires burned over 1,266,224 acres in 2017. More than 250 fires in northern California in the summer and fall taxed the resources needed to fight them. Then in December, a rash of wind-whipped blazes struck southern California.
Modern wildland firefighting seeks balance as protection is given to people and structures, with some unpopulated areas allowed to burn. Firefighting resources are limited, and some undergrowth burning is a natural ecosystem renewal process. With California urgently battling killer fires last year, civilian air tanker assets were at times unable to keep up.
And that's when the calls went out to MAFFS-capable C-130 units. The US Forest Service, through the National Interagency Fire Center in Boise, Idaho, requests MAFFS assistance across state lines when needed.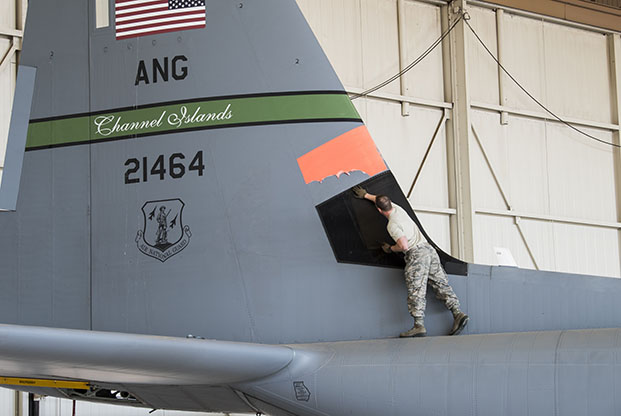 SSgt. Timothy Dawson, a C-130J Hercules aircraft maintenance technician with the 146th Airlift Wing, walks the top of a C-130J during an inspection Dec. 13, 2017. Dawson's three-level, 52-unit apartment complex burned to the ground as the Thomas Fire roared through his neighborhood. Photo: MSgt. Brian Ferguson
With retardant-release altitudes sometimes less than 200 feet above ground in mountainous terrain with tricky winds and restricted visibility, aerial firefighting can be perilous. This was shown in July 2012 in South Dakota when a MAFFS-equipped C-130 crashed just after releasing retardant. Four crew members perished.
The 302nd got the call July 27, based on increased wildfire activity all over California, the Great Basin, the Northwest, and in the Northern Rockies. Three days later, the first MAFFS C-130 was on line in California.
When the Forest Service makes the call to US Northern Command, which activates MAFFS support, an Air Expeditionary Group taps four MAFFS-trained C-130 units to share the task. These are the Reserve 302nd and three trained ANG operators—the 146th, Nevada ANG's 152nd Airlift Wing, and Wyoming ANG's 153rd Airlift Wing.
The four MAFFS-qualified C-130 units share a total of eight MAFFS equipment sets owned by the Forest Service, which also supplies the requisite fire retardant. (The firefighting agency with jurisdiction over MAFFS during an operation also reimburses the military for costs involved.)
Fire managers move the various aerial assets at their disposal, as needed, during the season. The blue-suit MAFFS aircraft, both Reserve and ANG, concentrated on California's problems by attacking more than 24 fires in that state.

Maj. Danny Ariza pilots a C-130J and follows a US Forest Service lead plane preparing to drop fire retardant on the Pier Fire, southeast of Fresno, Calif., Aug. 29, 2017. Photo: TSgt. Jeff Allen
The MAFFS Air Expeditionary Group logged 293 sorties during the main 2017 season, releasing more than 820,000 gallons of retardant in 315 drops over California by September—when the season was first thought to be over. The 153rd brought MAFFS-equipped C-130Hs to the California wildfires that month, then quickly pivoted to provide hurricane relief missions.
Then the late-blooming Thomas Fire, north of Santa Barbara, was attacked by MAFFS C-130s at the request of the state of California. The 146th flew 71 sorties between Dec. 5 and Dec. 20, releasing 209,350 gallons of retardant. Nearly all of these sorties were directed against the Thomas Fire.
MAFFS has been a part of the national firefighting mix since 1971. It is an attractive addition to civilian air tankers because MAFFS aircraft and crews can bolster firefighting resources on short notice and then return to other duties.

An aerial survey of the devastation to a neighborhood around Santa Rosa, Calif., on OCt. 11. Photo: California ANG
The Thomas Fire was the exclamation point on what was the most destructive year on record for wildfires in California. According to The Washington Post, "nearly 9,000 wildfires tore through the state, burning 1.2 million acres of land," an area the size of Delaware. At least 46 people were killed in the fires, which destroyed more than 10,000 structures.
Without the quick response and high-volume retardant offered by MAFFS-equipped Air Force units, 2017's fire devastation would have been even worse.

SSgt. Richard Glover, standing, center, 163d Attack Wing IT Specialist, shows burn areas to SSgt. Jamel Seales (seated) and SSgt. Shawn Blue (background) on Saturday, Oct. 14 at the wing's Hap Arnold Center at March ARB, Calif. The center is one of several wing assets activated to support the ongoing wildland firefighting effort in Northern California. Airmen have been working at the center around the clock to support CAL FIRE and other agencies. Photo: SrA. Crystal Housman/ANG