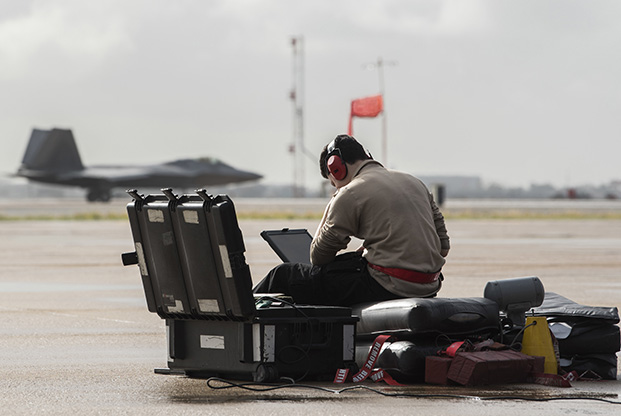 A1C Angelo Trent views a portable maintenance aid during exercise Patriot Grizzly at Marine Corps Air Station Miramar in San Diego. 5G wireless networks would deliver dramatically increased data rates to flight line equipment. Photo: A1C Caitlin Russell
Sometimes the most valuable military assets are those you can't see. That may be the case with 5G—the lightning-fast, next-generation wireless network technologies that commercial network providers such as Verizon and AT&T are now bringing online.
5G is more than a better, faster cell phone network. It's a transformative data-sharing and communications capability that will radically increase bandwidth and speed, enabling nascent technologies such as artificial intelligence to deliver their full potential over wireless connections. That means enhanced command and control and situational awareness for everything from driverless technology and improved traffic flow to predictive maintenance and high-fidelity simulation and training.
5G employs compression technology and high-speed transmission to increase wireless network speeds twentyfold over today's 4G LTE networks. That kind of performance will reduce latency, or lag time, which is what makes real-time uses like driverless cars possible.
The challenges are as great as the opportunities, however. In the United States, commercial 5G technology is for now restricted to millimeter-wave spectrum that will work well in urban areas, interiors, and over short distances, but will break down over longer distances. 5G implementations will also use spectrum beneath 6 GHz, a band largely controlled by the Defense Department in the US. That disconnect is a critical piece of the ongoing controversy pitting the US against China, and in particular, China's 5G technology champion, Huawei.

MSgt. Ryan Stark (l) leads SSgt. Krystopher Fletcher through a virtual reality (VR) scenario emulating the interior of an aircraft at Little Rock AFB, Ark. VR could get a boost from 5G wireless networks. Photo: SSgt. Mercedes Taylor
CONNECTING BASES
The Air Force, meanwhile, is forging ahead as an early adopter of commercial 5G technology. The service is teaming with 5G wireless network providers to install commercial network infrastructure on 10 bases now, with more to come. It plans to use that wireless connectivity to support secure mission applications.
The Air Force's nearest-term project enlists Verizon to bring 5G infrastructure to:
Moody AFB, Ga.
Robins AFB, Ga.
Dobbins ARB, Ga.
Seymour Johnson AFB, N.C.
JB Charleston, S.C.
Shaw AFB, S.C.
McEntire JNGB, S.C.
Tyndall AFB, Fla.
Arnold AFB, Tenn.
Grissom ARB, Ind.
By clustering small and large bases in each agreement, the Air Force is enticing companies to take on smaller populations that might otherwise be less attractive from a business perspective.
Verizon is now in the early stages of planning where antennas and other hardware should go. At the same time, Verizon and AT&T are each pursuing parallel efforts in building out 5G networks in a variety of US cities. In a sense, then, these initial Air Force forays treat military bases like self-contained metropolitan areas.
"Our base areas, we tell them, are pretty large—it's not just on the flight line, it's a big, huge circle," Frank Koniecz­n­­y, the Air Force's chief technology officer, said in a May 20 interview. Coverage is focused on where the network will be used, however. "We didn't want to go from fence line to fence line," he said. "We concentrated on where the populace was and where they would be working."
Konieczny said the rollout costs the Air Force nothing. Verizon will install the 5G infrastructure on or near Air Force property under no-fee leases stretching up to 25 years. "It's not a contract for money, it's a contract that says you can use our facilities, our ground and buildings, to put on your devices," he said. "We're not paying for any infrastructure modifications to support the commercial side. They are paying for it themselves."
Verizon beat out AT&T for the first group of bases, Konieczny said, and both are expected to compete for the next set, which stretch from California to North Dakota. A local wireless consortium could also vie for the Northwest cluster this summer, he said. Overseas bases aren't yet part of the initiative.
Some lawmakers are already backing the effort: The Senate Armed Services Committee's mark of the 2020 defense policy bill offers funding to start work at two locations.
As the Air Force connects more and more of its systems to a wireless network, it must also bake in greater security. 5G supports software-defined security features that are richer than today's 4G networks, but that does not make the networks invulnerable.
"A security standard should be established for connections to/through 5G networks, such as all traffic must be encrypted using DOD encryption standards and separated into separate secure network slices for transmission," Konieczny said.
The Pentagon is likewise considering how to deal with network traffic and establishing alternative paths for data where and when some part of the spectrum is unavailable.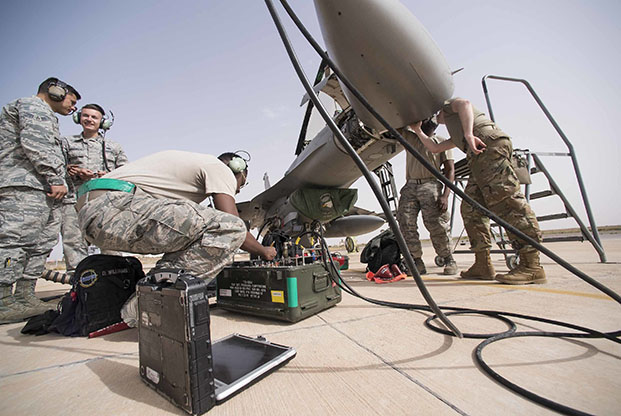 Using a laptop and portable diagnostic equipment during exercise Africa Lion 2019 in Morocco, avionics maintainers from the 555th Aircraft Maintenance Unit perform an airspeed-leakage test on an F-16C. Photo: SSgt. Ceaira Tinsley
FASTER IS BETTER
So what might the Air Force achieve if it can securely move data at rates up to 10 Gbps—20 times faster than today's fastest 4G LTE mobile networks
Imagine high-speed wireless connectivity supporting flight line test equipment, or lightning-fast animated simulation and training, or full-motion, high-definition video to support telemedicine, and instantaneous artificial intelligence for biometric identification.
Officials hope it could make operations more efficient and maintenance sensors more helpful at a reborn Tyndall AFB, Fla., where the service plans to build the technology into its "base of the future."
And 5G technology is not limited to commercial wireless networks. The same capabilities could also be used in targeting and command, control, and communications for hypersonic weapons, Pentagon spokeswoman Elissa Smith suggested.
The Defense Innovation Board said in an April report on 5G that it also "has the potential to strengthen existing missions like nuclear" command, control, and communications.
"At an enterprise level, 5G can vastly improve day-to-day tasks such as logistics and maintenance, elevating the efficiency and speed of work across DOD," the report said.
Indeed, Samsung predicted in a 2018 blog post that 5G would help reinvent how the Air Force monitors its supply chain and tracks its assets. "Flight line operations and maintenance teams can leverage secure tablets within a secure 5G environment to view real-time inventory and schematics, better utilize spare parts, manage aircraft diagnostics solutions, and more," the company wrote.
Konieczny said a "flight line of the future" project is already underway that would bring secure wireless connectivity to maintainers where they work.
At a Senate Judiciary Committee hearing in May, Christopher C. Krebs, director of the Department of Homeland Security's Cybersecurity and Infrastructure Security Agency, said greater bandwidth will provide new capacity to support the ever-expanding "Internet of things"—network-enabled devices embedded in everything from base maintenance and security sensors to training systems.
A Defense Department-wide 5G experiment will look to create a "smart" port or depot by connecting maintenance and test systems together, automating work that airmen do manually today, Konieczny said. "It's a way of actually knowing where all your assets are going," he said. Smart systems could automatically track where spare parts are installed, eliminating time-consuming paperwork. "We can link together, dynamically, what parts are existing in a particular component based upon the tags they have already attached to them."

Tyndall AFB, Fla., after Hurricane Michael in October 2018. Rebuilding plans include installing 5G networks and making it a "base of the future." Photo: SSgt. Alexander Henninger
MULTI-DOMAIN OPERATIONS
5G also promises to enable Air Force Chief of Staff Gen. David L. Goldfein's vision for multi-domain operations, speeding decision-making through enhanced situational awareness.
Air Force Chief Scientist Richard J. Joseph said in an April 15 interview that 5G capability will come first, followed by use cases that leverage it. "It's sort of 'build it and they will come,'" he said. "You will see protocols for how we move our information around, because now we're moving a lot more information.
The question is, when we have the capacity to move a lot more around, will other things happen? Will we move so much information around that our problem will be sifting through the information and figuring out what it means"
As 5G drives new ways of waging war, airmen will have to train and think differently. That promises ripple effects in areas like Air Education and Training Command's Pilot Training Next initiative and in how missions are organized and planned.
"Mission planning may be more interesting. We don't know how they're going to do that yet because we haven't talked about it yet," Konieczny said. "If we have good 5G connectivity, you may be able to get [intelligence, surveillance, and reconnaissance] information into your virtual reality headgear and understand it better."
Elsa B. Kania, an adjunct senior fellow in technology and national security at the Center for a New American Security, sees training as a natural beneficiary of increased speed and decreased latency or delay.
"The intersection between AI and 5G will be really interesting, and it goes both ways," Kania said. "You'll need AI to manage 5G systems, given the complexity, and the connectivity that 5G provides" will allow increased machine-to-machine communications so data fusion and AI capabilities run more smoothly.
Kania said more can be done in experiments as well as in evaluating potential risks and deciding how battle networks should operate in a world where untrustworthy network and hardware providers could be part of the ecosystem.
The Air Force should invest more money in basic research for next-generation telecommunications like 5G, Kania said.
"Given that a lot of 5G applications are relevant in air, space, and cyber, I think the Air Force could be at the forefront of a lot of this going forward as they build upon existing programs and research to explore new directions," she said.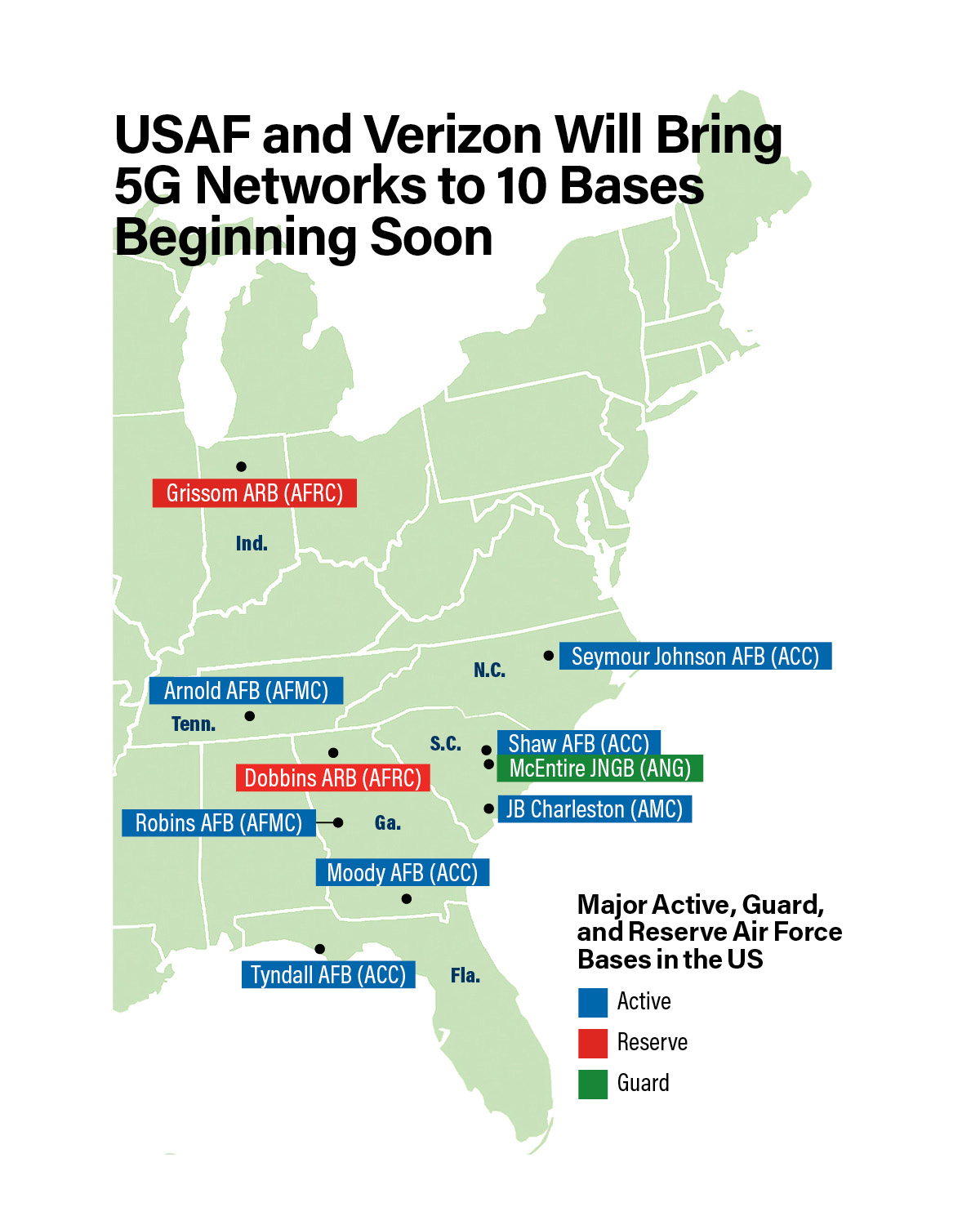 Graphic: Dashton Parham/staff
TOTALLY WIRELESS NETWORKING
While the Air Force's regional 5G rollout gets underway, another information technology pilot program could also lay the foundation for future progress: Enterprise IT as a Service (EITaaS).
Konieczny imagines the Air Force could someday replace fiber and wireline networks with a totally wireless solution.
Mike Leff, AT&T's vice president for defense, said wireless infrastructure could be transformative. "We view it as a platform to explore how the Air Force can ultimately benefit from the power of 5G and a network that delivers faster speeds and response times," he wrote in an email. "We can explore the future potential for a massive number of smart connections that can enable new mission capabilities like never before."
Under EITaaS, the Air Force is outsourcing IT services to AT&T and Microsoft under three-year agreements ending in September 2021. Instead of buying a specialized, overarching IT system, the companies will design a more efficient and secure data network using commercial products at Buckley AFB, Colo., Offutt AFB, Neb., JB Elmendorf-Richardson, Alaska, Hurlburt Field, Fla., Cannon AFB, N.M., and Maxwell AFB, Ala., according to the Defense Department.
The bases involved should see 5G by 2021 or 2022, Leff said.
Leff expects bases will see a combination of existing 4G LTE coverage across the installation, plus 5G connectivity in specific areas like the flight line that demand better connectivity.
By casting a wide enough net across its bases, the Air Force is trying to structure its 5G service in a way that airmen won't feel the difference in connectivity. It also needs to figure out how to keep people and items connected once they leave the base.
"The problem space is not going to be on the base, it's going to be off the base," Konieczny said. "We're going to have clusters of bases that have 5G but it may not be widespread enough outside of that."
Pentagon leaders have started speaking publicly about their considerations for the next decade in telecommunications, albeit in broad terms.
"In order to get relevant situational understanding, we are trading information back and forth all the time," Ellen Lord, the Defense Department's acquisition chief, said in March. "What will happen is, if we do not embrace 5G, and we are just getting going in 4G in a lot of areas, we are going to have a latency or a delay in those conversations that could render everything we have as ineffective."
Lord expects to see a "huge call to action" this year to create a national industrial policy for 5G. An "intensive dialogue" is underway about America's partnerships in Europe, where countries including Germany are attracted to infrastructure products from low-cost Chinese supplier Huawei.
Much of the discussion around 5G centers on concerns that the Chinese government, using Chinese-built 5G infrastructure, will be able to infiltrate and disrupt communications that rely on that network. Bad actors anywhere could find back doors to steal personal information and intellectual property, or use the network to launch cyber attacks and spread malware.
"Chinese telecom infrastructure dominance in a theater of operations may limit the US military's ability to conduct precision targeting that leverages signals intelligence collection on 5G telecommunications networks," Erica Borghard and Shawn Lonergan from West Point's Army Cyber Institute recently warned in a Council on Foreign Relations publication.
The US needs a framework through which it can assess risks, Krebs said, particularly when overseas operations rely on networks with Chinese components.
"If it's a mission in Europe or a mission in Africa or elsewhere, if it's running on a commercial network that's supported by Huawei … they control whether we can communicate," Krebs said. "At that point, who cares whether they're listening in? they can control whether we can connect dots. It's increasingly about availability of the networks."
None of the four major US mobile carriers—AT&T, Sprint, T-Mobile, and Verizon—will use Chinese technology in their 5G infrastructure, Robert L. Strayer, deputy assistant secretary for cyber and international communications and information policy at the State Department, told Congress in May. The next hurdle is convincing allied countries to pledge the same.
But T. Charles Clancy, executive director of the Hume Center for National Security and Technology at Virginia Tech, sees little evidence the Chinese government is driving security flaws into equipment to benefit its military. He said 5G will be the most secure wireless network to date.
Clancy does see how China could use Huawei technology in other countries' infrastructure to "fundamentally cripple" command and control during combat operations.
Kania said such problems could come from more than just Huawei.
"I worry sometimes which vendors and which companies or technologies are we not paying attention to or scrutinizing as closely because everyone is so concerned with Huawei," she said in a May 7 interview with Air Force Magazine. "From what I can tell, it's been a somewhat limited conversation so far, and I would argue, unfortunately, Huawei has been taking up too much of the oxygen in the overall conversation."
As the US spends tens of billions of dollars on advanced platforms such as the F-35 and aircraft carriers, the military can't let that money go to waste by failing to secure the networks that could enable them, Sen. Richard Blumenthal (D-Conn.) warned at the May hearing.
That's why Krebs and the Trump administration see Huawei as such a critical piece of the puzzle. Security comes down to supply chain management, Krebs said. When relying on a global supply chain that runs through countries whose policies the US may not agree with, the US must take new measures to ensure its military-grade parts are cybersecure. That's why the power to direct the government to address those supply chain risks now rests with the Pentagon.
And there is little question where then-Acting Secretary of Defense Patrick M. Shanahan stood on the issue.
"Huawei exemplifies the Chinese Communist Party's systemic, organized, and state-driven approach to achieve global leadership in advanced technology," Shanahan told a House Appropriations subcommittee in May. "China aims to steal its way to a China-controlled global technological infrastructure, including 5G."
Pentagon CIO Dana Deasy doesn't believe Huawei's rise around the world is the end of the story. "For me, that conversation is, let's get focused on, OK, what is it we now need to build out, where are the alternative sources we're going to go to" he said. "I've never seen a technology that we've ever created where we've said, 'Too late, that's it, there's never going to be another choice.'"