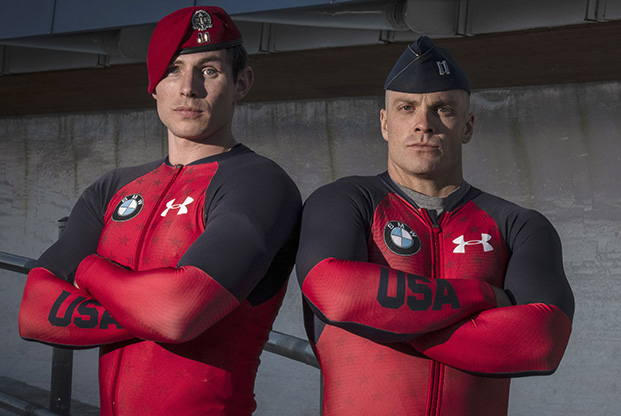 Lynch and Walsh, AFSOC airmen and members of the Air Force World Class Athlete Program. Photo: SSgt. Ryan Conroy
AIRMEN ARE SLIP SLIDING AWAY… TO THE OLYMPIC GAMES
Two airmen within Air Force Special Operations Command were selected to compete with the USA Bobsled team this year. Capt. Dakota Lynch, a 34th Special Operations Squadron U-28A pilot, and Capt. Chris Walsh, a 24th Special Operations Wing special tactics officer, are push athletes who are ultimately competing for a spot on the US Olympic Team in 2022.
"It takes four years of commitment to make yourself better with every opportunity and even then you're never really quite there … you have to keep grinding," said Walsh.
About bobsledding, Lynch said that "it's a metal and carbon fiber bullet, rifling down an ice track at speeds of 85-95 miles per hour. It's like a fast-moving jet with a monkey at the controls while getting in a fight with Mike Tyson, … it can be incredibly violent."
Both airmen say that their time in AFSOC contributed to their success. "The qualities that special tactics fosters in individuals translates very well to bobsledding," said Walsh.
Lynch and Walsh negotiated service commitments as Active Duty airmen with leadership support, and both were given permissive temporary duty by their respective commanders to vie for a chance at being accepted into the Air Force World Class Athlete Program, which WCAP provides Active Duty and reserve component members the opportunity to train and compete at national and international sports competitions with the ultimate goal of selection to the US Olympic Team while maintaining a professional military career.

Nick Hague and Russian cosmonaut Alexey Ovchinin show solidarity before their ill-fated Soyuz launch. Photo: Victor Zelentsov/NASA
USAF ACADEMY GRADUATE EAGER TO MAKE SECOND TRY FOR ISS
On Oct. 11, the Soyuz spacecraft sending NASA astronaut Nick Hague and cosmonaut Alexey Ovchinin toward the International Space Station (ISS) malfunctioned about two minutes after liftoff, forcing the two to make a trecherous, but ultimately successful, emergency landing on the steppes of Kazakhstan. The two, however, along with NASA astronaut Christina Hammock Koch, are gearing up for another launch, scheduled for Feb. 28, 2019.
Despite the harrowing aborted mission in October, in public statements Hague makes it clear that he is excited to launch in February and confident in the ability of NASA, Roscosmos (the Russian space agency), and the International Space Station program as a whole to keep he and his colleagues safe.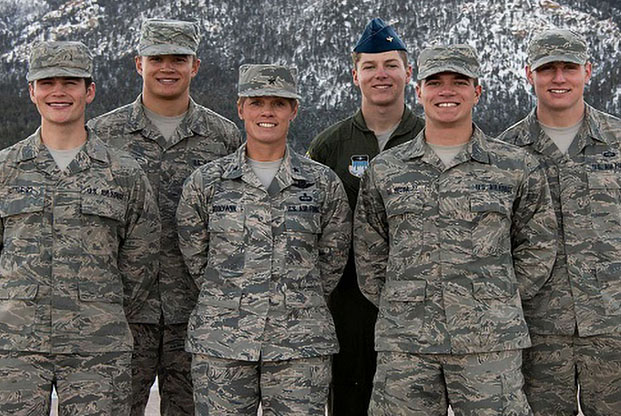 USAFA cadets, pictured with their commander, assisted a family involved in a car accident. Photo: USAFA
TO THE RESCUE! USAF CADETS AID STRANDED FAMILY
Returning from a weekend ski trip in Breckenridge, Colo., five Air Force Academy cadets saw the vehicle in front of them fishtail, turn perpendicular to the road, and slide off the ridge.
Cadets 3rd Class Connor Settle, Joseph Canoy, Karl Boerwinkle, Joel Krause, and Antonino Del Rossa were returning from a weekend ski trip in Breckenridge, Colo., when they witnessed the single-car accident.
Krause dialed 911 while the others maneuvered down the hill to locate the vehicle, which had plummeted more than 100 feet and landed upside down in the woodline. The rear of the vehicle was collapsed, but the cadets could hear the trapped driver honking the horn.
The cadets helped the driver and front seat passenger get free, but the driver kept shouting that his daughter was trapped in the back. Unable to pry the door open, Settle smashed the window in an attempt to locate and free her, but was unsuccessful. Eventually, she was able to crawl forward and escape through the same door as her parents.
The cadets lent their coats to the family and stayed with them until the paramedics arrived. The family escaped with minor injuries.