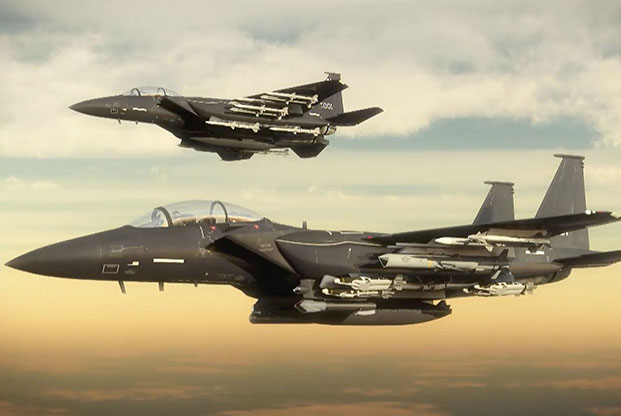 In this Boeing concept image, two advanced F-15s show off heavy weapons loads. Illustration: Boeing
While it was an open secret for months that the Air Force's fiscal year 2020 budget request would include some brand-new F-15s, one of the surprise revelations at AFA's 2019 Air Warfare Symposium was that those new Eagles weren't the Air Force's idea.
Air Force Secretary Heather Wilson, at a Feb. 28 press conference, admitted that while new "F-15EXs" are in the budget—later revealed to be eight airplanes for $1.1 billion, as a down payment on an eventual 144 aircraft—someone else at DOD inserted them in USAF's budget to help the service address its inadequate fighter force structure.
"Our budget proposal that we initially submitted … did not include additional fourth-generation aircraft," she acknowledged.
Washington wags initially suggested the F-15 was injected into the Air Force budget by Acting Defense Secretary Patrick Shanahan, who had a 30-year career with Boeing, maker of the F-15. Shanahan has recused himself from matters involving Boeing, however, and dismissed the idea that he is shilling for the company as "just noise." Nevertheless, Boeing has received a disproportionate share of major defense contracts in the last six months, including the T-X trainer, UH-1N helicopter replacement program, and the MQ-25 Navy aerial tanker drone.
At the rollout of the 2020 defense budget request, however, Pentagon Comptroller Elaine A. McCusker revealed that it was former Defense Secretary Jim Mattis who ordered the Air Force to buy new Eagles.
Creating a "balance between the fourth and fifth-generation aircraft… [was] a decision that was made by Secretary Mattis before he left," she said, noting that he had paid a lot of attention to "our cost calculus" in the field of tactical aviation.
Gen. Joseph F. Dunford Jr., Chairman of the Joint Chiefs of Staff, told members of the Senate Armed Services Committee a few days later the "framework" for the decision came from a study of the future needs of the military's tactical aircraft fleet, which showed the Air Force has a shortage in its number of aircraft and the amount of ordnance those aircraft could carry.
When combined with the fact the F-15C will age out in the 2027-28 time frame, Dunford said "the best solution" was to go with the F-15EX to "backfill" the F-15 fleet.
The EX-variant initially would only be "slightly" cheaper to buy than a new F-35, but it will be more than 50 percent cheaper than the Joint Strike Fighter to operate over its life, Dunford said.
More of the calculus was explained by Maj. Gen. David A. Krumm, USAF's Director of Strategic Plans and Requirements, who told Air Force Magazine the thinking behind the controversial add of Eagles. Essentially, he said, the National Defense Strategy demands more combat capacity immediately, or as soon as possible. And while buying more F-35s is the Air Force's preferred solution, the F-15EX move could put more iron on the ramp more quickly; mostly because the transition time for individual units would take months rather than years.
"Cost of ownership," is the key factor in the F-15EX's favor, Krumm said.
"There's 80-90 percent commonality" between the F-15C and the F-15EX, Krumm said, noting that the new aircraft can use all the aerospace ground equipment now used for the C-model of the Eagle.
"That's all already in the inventory," he said, but the similarity of aircraft also means "we're looking at a transition time of months—less than six months"—to transition units now flying the C-model to the EX. "Typically, [with] an Active unit, that [process] takes 18 months; with the Guard, it takes three years." He went on to say that "If you average that out, Active and Guard, each time we do that we save about two years of readiness," meaning aircraft available for combat, "And that's important for us."
He insisted, though, that USAF is "committed to the F-35, and I think we've outlined that in the budget."
Krumm, in a brief interview following a speech at AFA's Mitchell Institute for Aerospace Studies, said the F-35 "is a game-changer" and "we won't take one dime" out of 5th gen capability—nor will the F-15EX "take anything away from NGAD," or Next-Generation Air Dominance, the future family of systems that will complement and/or replace the F-22 and F-35.
Brand-new F-15EXs will have strong bones and could last a long time—Krumm said 20,000 hours—meaning it could potentially serve well into the 2040s or 50s.
The Air Force has said the F-15 won't be survivable against modern air defenses after 2028, so is it worth it to the service to spend the money to keep a non-stealthy, 1970s design into the 2040s
"I think what we know is that we're going to be fighting with 4th gen [aircraft] in 2028, and in 2035, we're still going to have those," he said. "The way to use these things is to collaborate on a network, and it's going to be, what can those things bring to the fight faster?"
For example, the new Eagle could be a launch platform for "standoff weapons, hypersonics. … They can go a long ways to assist the penetrating forces," he said.
Air Force leaders have said they are seeking an early, interim hypersonics capability, and having F-15s that are not speed-limited due to their age (as current aircraft are) could be helpful in that pursuit. The F-15 design is technically capable of exceeding Mach 3, and so could accelerate a hypersonic missile close to its Mach 5-plus operating regime. That, in turn, would permit smaller booster rockets for weapons such as the Tactical Boost Glide hypersonic concept. The F-35, which was never designed to be USAF's high-end dogfighter, has a top speed of Mach 1.6, and the first generation of hypersonic missiles is unlikely to fit inside its weapons bay.
"This is all about making the best use of the resources we've been given and building the best Air Force that we can," Krumm said. The F-15EX is "what we came up with. … We will find a way to make this the best we can. We have to, anyway, and this is a capacity we think we need."
MORE MISSIONS FOR THE T-X, AFTER ALL
Another programmatic bombshell from the Air Warfare Symposium came when Air Combat Command chief Gen. James "Mike' Holmes said he's put his staff to work looking at other USAF applications for the recently selected Boeing-Saab T-X advanced trainer, which will replace the T-38.
Throughout the T-X competition, the Air Force denied it was contemplating any other role for the new trainer and that the jet's potential application to any other missions filled by the T-38—companion trainer, Aggressor, lead-in-fighter, etc.—were excluded. There was no credit given, for example, if a candidate aircraft already had designed-in wing hardpoints or wiring for weapons, as the Lockheed Martin T-50A did.
"We worked hard on making the requirements for the T-X," Holmes explained in an Orlando press conference. "They were focused on the training mission. … We guarded that requirement because we wanted to hold the cost down and make it affordable, and we wanted to stick with just [those] requirements."
Now, though, Holmes said, the Air Force can "start talking about maybe some potential other uses for the airframe." He added "We're very happy with the solution that we got for the T-X. … We came in with significant savings below what was estimated."
The change is potentially huge for Boeing-Saab, which have a contract to build some 350 T-X aircraft for the Air Force, and which, according to Wilson, was bid at some $10 billion below USAF estimates. The Air Force has used scores of T-38s in roles other than as an advanced trainer, potentially increasing the USAF T-X buy by a similar magnitude.
Holmes said, "You could imagine a version of the airplane that could be equipped as a light fighter," a reference to the Light Attack experiment in which the service put commercial turboprops through their paces for use in undefended airspace in notional counterinsurgency or counter-terror missions. Goldfein has since said the experiment has been re-scoped to also look at small jets, helicopters, and remotely piloted aircraft. The Air Force has said it could buy as few as 80 light attack aircraft for Special Operations Command, or as many as 300 or more if the type was included as part of the broader fleet. The service has said it wants to use the plane as a platform on which to "partner" with allied air forces that lack sophisticated fighters like F-35s or F-16s.
AGGRESSORS AND SECOND CHANCES
Holmes also specifically wondered whether the T-X would be useful as an "adversary training aircraft." Every time a USAF combat jet is spared from having to act as a training enemy, "that's one more sortie we can use" for combat training.
He also noted that Boeing "has been out to some of the international fairs and talking to our partner nations about what they might offer."
Using the T-X offers the advantage of economies of scale, since adapting an aircraft already in the inventory in large numbers will make it "cheaper to operate those airplanes and sustain [them] for a long time." He also said that Boeing's T-X bid touted their new manufacturing abilities that will make it possible to build the T-X "faster and cheaper," potentially getting them fielded more rapidly.
Whether any of this comes to pass, Holmes said, "will depend on a lot of things. It'll depend on where the budget goes over the next few years. It'll depend on the experiment that we'll continue to do in the light-attack area," which he noted is now open to a jet aircraft. The Air Force has maintained throughout its discussions of a new light attack aircraft that such a mission would be additive to the current combat fleet and can't be considered as a substitute for any of it.
Holmes tempered his comments, though, by noting that the T-X isn't the only jet that could be considered for light attack.
"An airplane like that, and like the competitors … who competed in the T-X category" would also be candidates, he said. "We don't have any conclusions," but any aircraft of a similar size "and cost per flying hour and capability is something that I think we should definitely look at as we go forward with the experiment," Holmes asserted.
He also cautioned that anything the Air Force cooks up will have to pass muster with the allies originally envisioned as using this approach.
"One of the primary components of anything we're going to look at … is going to be how our partners feel about it," said Holmes. But as far as adapting the T-X to other missions, "those are the things that you'd expect us to look at."