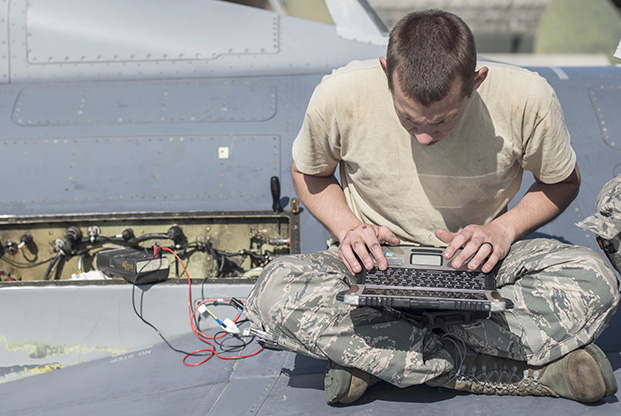 SrA. Corey Robison works on a laptop at Misawa AB, Japan. He was troubleshooting fuel flow indication to ensure all the wires were functioning properly. USAF Photo by SrA. Brittany Chase
Future warfare is going to look much different from warfare today, and the Air Force must be positioned to respond. To address the nation's future needs, Air Force Chief of Staff Gen. David Goldfein is prioritizing three focus areas: revitalizing squadrons, strengthening joint leaders and teams, and improving multidomain command and control.Goldfein likes to say the squadron is the "heart and soul" of the Air Force, and after years of cutting manpower while simultaneously adding on responsibilities, it's time for a refresh. More importantly, it's time for the Air Force to get out of "the business of legislating common sense" and start empowering airmen to think for themselves, he said at AFA's Air, Space & Cyber Conference Sept. 19. "Some of the most important work we're doing is to push decision authority back down where it belongs," said Goldfein.
This will be key because the future fight will be "trans­regional," said Goldfein, and it's likely to be contested, which means squadron commanders—and airmen at all levels—must be able to make decisions when temporarily cut off from higher headquarters.
Goldfein said USAF needs to decide whether it should think about the fight like a "game of checkers," which is linear in nature, or as "chess masters" where it is "simultaneously … providing pressure from the north and south and east and west and from below the surface to the highest of the outer reaches of space."
That's where his three focus areas tie together. The effort to revitalize the squadrons looks to create the best possible airmen, and those airmen must be capable of operating in a multidomain command and control environment. The US Air Force must be able to create a common operational picture that provides real-time information to combatant commanders so they can create military effects that will allow the United States to stay ahead of its adversaries.
"All of that has to come together with airmen that understand their sister services and contribute the best that they can to their sister services in order to win the future fight, which is going to be fast, violent, and over," said Maj. Gen. Brian M. Killough, who leads the Chief's second focus area initiative, building joint leaders and teams.
Stronger Squadrons
Brig. Gen. Stephen L. Davis, special assistant to the Chief of Staff of the Air Force for squadron revitalization, said his team was given two to three months last year to come up with a plan that dug deeper than the "symptoms" and attempted to figure out "the macro-level issues across the Air Force."
To do this his team needed data—a lot of them. They started poring through Air Force climate surveys, retention surveys, and inspector general reports to see what was working at the squadron level and what wasn't. From there they built a survey of about 20 questions and sent it to 80,000 airmen, "from general officer to airmen, civilians, Air National Guard, and Air Force Reserve."
Armed with all that data, Davis and his team set out to talk to airmen. They conducted more than 3,800 interviews, of which about 2,000 were hour-long, one-on-one interviews. The team also created a crowd-sourcing website so airmen located at the bases they didn't visit had an opportunity to chime in. (See "Revitalizing the Squadron," October/November 2017.)
The survey team "got tens of thousands of hits on that site. We got thousands of votes [on ideas presented on the site] and several hundred different ideas," said Davis.
The team now is back at the Pentagon reviewing all that information and building its initial recommendations. They will be presented to Goldfein in November.
"Decision authority is nothing short of a warfighting imperative," said Goldfein, who noted that he wants his squadron commanders to feel "empowered" to "take appropriate risks." That's why he directed the Air Force inspector general to start rewarding commanders for making a "prudent, reasonable decision to change course," especially if that decision "increased the lethality and the readiness … to accomplish their mission."
"We're not going to ding them, we're going to celebrate it," Goldfein said.
He also directed Davis not to wait to push out solutions until he has a chance to see the report. So the service is already taking a look at all Air Force instructions (AFIs) to weed out the ones that just don't make sense or that waste airmen's time. It's also in the process of creating a centralized course for commanders and superintendents at Air University, similar to the one already in place for first sergeants.
Joint Leaders For Joint Teams
The Chief's challenge to Killough was "to make the Air Force better."
"He thinks from his time on the Joint Staff that we can present even more capability to the joint force and the Department of Defense," said Killough. "We do that by making our airmen better from the very beginning. We hope to build stronger teams with our joint partners and our allied partners going forward."
Airmen need to learn to branch out beyond their stove-piped specialty, so a mechanic not only understands all the nuts and bolts of an aircraft but also what a space control squadron contributes.
Killough said his team started by figuring out how to best train airmen at the very beginning of their careers and ensure they learn to speak the same language as their joint partners. Then the service needs to make sure airmen are gaining the right experience to contribute to the joint team and just as importantly that they are being rewarded for that experience.
Along those lines, the Air Force must figure out how it should present forces to combatant commanders. The Air Expeditionary Force construct was created in the late 1990s in the middle of Operation Northern Watch—the no-fly zone over Iraq following the aftermath of the 1991 Gulf War. After nearly two decades, Goldfein said, it's "time for us to upgrade."
In the meantime, starting on Oct. 1, the Air Force was to deploy airmen in teams of at least three. "We don't
want airmen going by themselves downrange into something that could be a significant emotional event by themselves," said Killough. "We know we deploy better, work better, and are more effective as teams."
Goldfein also wants to build a core headquarters capability in the Air Force that can lead a joint task force. Killough said 9th Air Force has been designated an "instructor pilot demo" to lead the "pathfinder effort for this JTF capability."
Killough said his team is putting together a "flight plan" detailing what they have learned so far and their initial recommendations. That plan will be presented to Goldfein in December.
C2 Complexity
Of all the focus areas, improving multidomain command and control is the most complex. Operations in the information age will be quick and require the Air Force to simultaneously master and utilize multiple domains. The effort is being led by Brig. Gen. B. Chance Saltzman, Air Staff director of current operations.
His team organized around three lines. "The first is operational concepts," said Saltzman. "Think command relationships, authorities. This is where it starts to bridge with the other two focus areas. We're going to have to train our commanders at much lower levels to be able to execute these authorities," he said.
Force presentation and joint arrangements all affect command and control, said Saltzman, who noted that the three focus groups are "inextricably linked together."
The second line of interest is technology. During his speech, Goldfein repeatedly asked, "Does it connect? Good. Does it share? Even better." This at the heart of the multidomain command and control concentration and gives some insight into the direction USAF seeks to move.
Saltzman said there are aspects of technology—such as artificial intelligence, machine learning, machine-to-human interface, and automation—the service is not quite ready to take advantage of. Its process for bringing this technology online is simply too slow. But that's not just an Air Force problem. The service is going to have to work with DOD and Congress to change some authorities and speed up the acquisition process.
Still he said there is already technology available that will solve the problems the team has come up with so far. "Our challenge is how do we roll them into our business?" asked Saltzman.
One way is to go after smaller, more modular capabilities and avoid larger acquisition programs that naturally take longer to "work through the wickets," said Saltzman.
As a way to get after the "quick wins," the Air Force is standing up a "developmental operational environment" at Nellis AFB, Nev., where it can "experiment with new technologies and software in particular," he said. The initial focus will be on virtualized data sets and how USAF can leverage what industry already has learned with cloud-based data structures and the test, design, and development process.
The focus areas will not go away when the teams present their reports by the end of the year: Goldfein has made it clear that this is a four-year project. The service will try to find quick wins where it can, but revitalizing the service is a long-term endeavor.
"The Air Force is fully embracing this opportunity to become more innovative," said Killough. "Airmen are very, very intelligent and they are watching and if you don't follow-up they will know you are just talking."