An artist's concept of a Gulfstream G550, outfitted to carry the Compass Call's upgraded communications, sensor, and radar equipment. Illustration: Gulfstream
After a year-long analysis of its electronic warfare capabilities and requirements, the Air Force is still searching for answers.
While some leaders press for an enterprise approach to EW, others worry further delays will handicap US forces engaging with increasingly sophisticated challengers.
The Air Force should take a broader, force-wide look at electronic warfare instead of its conventional platform-by-platform approach, says the four-star head of Air Combat Command.
"We haven't had to concentrate on [EW] in the last 15 years of war in permissive environments against Middle East" combatants, said Gen. James M. "Mike" Holmes at AFA's Air Warfare Symposium last month. "We could operate where we wanted to, when we wanted to, with our air assets."
Not anymore. "It's time for us to do some re-look," he said.
There's no time to waste, says Pacific Air Forces commander Gen. Charles Q. Brown Jr. Each day the Air Force spends considering how to approach EW in the future results in a day's delay in acquiring future combat assets. In a March 1 interview with Air Force Magazine, Brown argued it is "an issue we've got to be looking at today."
"The Air Force that we're going to fight with five years from now is the Air Force we have today," he said. "The electromagnetic spectrum will be an area that will be contested, whether it's [communications], whether it's our ability to use our radars, whether it's the ability to use our links."
The Air Force convened an Enterprise Capability Collaboration Team at the start of 2018 to delve into EW policy and procurement to ensure EW dominance through 2040.
"Analysis will review EW in the context of nonkinetic stand-in/standoff operations against enemy integrated air defense systems," the Air Force said in January 2018. "Additionally, the team will consider directed energy, cyber delivery, and space capabilities."
To date, the study's findings have not been made public.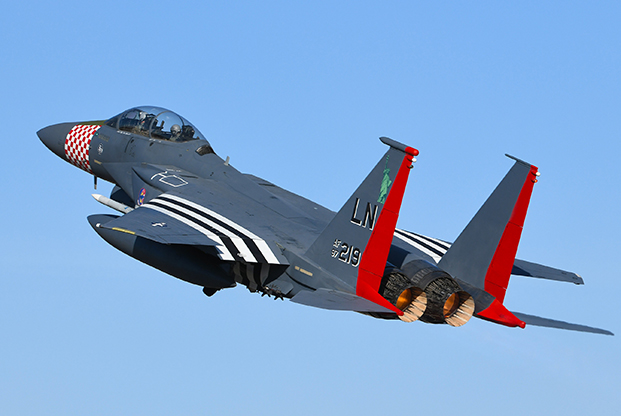 Some of the more advanced development efforts underway are the Air Force's F-15 Eagle Passive Active Warning Survivability System. Air Force photo by SSgt. Alex Fox Echols III
EW is often cited as a key threat in highly contested environments. In its 2019 Worldwide Threat Assessment, the US Intelligence Community warned that Russia is expected to particularly focus on advancing its EW capabilities this year.
Brown says airmen who are unfamiliar with EW need to prepare for that new reality and to understand that interference may not be just a blip on their screen.
"Part of this is increasing awareness that it's a risk or a threat, and then on top of that … how do we capture it and be able to analyze it going forward?" he said.
RAND Corp. researchers wrote last November that, "absent a forcing function, staffs tend to default to emphasizing traditional physical capabilities and their effects in planning and execution."
Yet, Holmes said, jamming or confusing adversaries' software complements conventional weapons and can "complicate the calculus" in battle. It can also expand the battlespace, opening access to airspace by disabling air defenses.
In Brown's view, this will require a combination of existing EW pods, new creations from industry, and the Navy's EA-18G Growler aircraft.
Upgraded legacy technology will also be critical. L3 Technologies is moving upgraded communications, sensor, and radar equipment from legacy Compass Call aircraft to the Gulfstream G550 for the Air Force. The new EC-37B Compass Calls will be the Air Force's "premier wide-area coverage airborne electronic attack, offensive counterinformation weapon system," the service said.
Going forward, the Air Force must develop new technologies that can outlast the countermeasures imposed by rival militaries, Holmes said. Enemy systems today can operate in spectrum surpassing the traditional bands used by surface-to-air and air-to-air radars.
For every US system in place, "you can see that they've laid in a system designed to try to counter, specifically, that system across the whole bandwidth … in all the areas that we operate," Holmes said.
It's not enough to play this continual game of cat-and-mouse, he argues.
Rather, the US should change the game altogether.
"Are we going to try to counter the counter to our counter?" Holmes asks. "Or are we going to go somewhere else and do something different?"
From an industry perspective, the opportunities are substantial. The Defense Department will spend more than $5 billion on EW research and development in Fiscal 2019 and continue to spend at least $4 billion annually through Fiscal 2023, Inside Defense reported last fall.
Some of the more advanced development efforts underway are the Air Force's F-15 Eagle Passive Active Warning Survivability System and B-2 Defensive Management System, the Navy's Next Generation Jammer and Advanced Offboard EW systems, and the Army's Common Infrared Countermeasures program, according to Bill Conley, the Pentagon's EW director for acquisition and sustainment.
A department-wide approach to electronic warfare is still in the works, and debate continues to simmer over whether the electromagnetic spectrum should be counted as its own domain. As the Pentagon tries to answer that question, responsibility for waging electronic combat could shift between combatant commands.
Strategic Command advocates for combatant commands to add EW into their regular battle rhythms, while the Joint Staff in recent years has looked at ways to coordinate how each service uses the electromagnetic spectrum.
Air Combat Command organizes, trains, and equips EW forces alongside the intelligence, surveillance, and reconnaissance mission under 25th Air Force.
The service is considering how to properly merge those missions with cyber operations, which are managed by 24th Air Force and recently joined ACC. A similar restructuring is underway within the Air Staff.
Inside Defense reported in November 2016 that Maj. Gen. Edward A. Sauley III, then a one-star Air Force general serving as STRATCOM's deputy director of joint electromagnetic spectrum operations, speculated that US Cyber Command could take responsibility for electronic warfare by the mid-2030s.
"I think electronic warfare and cyber capabilities will come awful close together, so they will merge a little bit," he said at an Association of Old Crows conference. "Where does advanced electronic attack end and cyber begin? Sometimes it's more of a personal opinion and—a lot of times—boils down to legal authorities and how that line is drawn between the two. The line does get blurred."